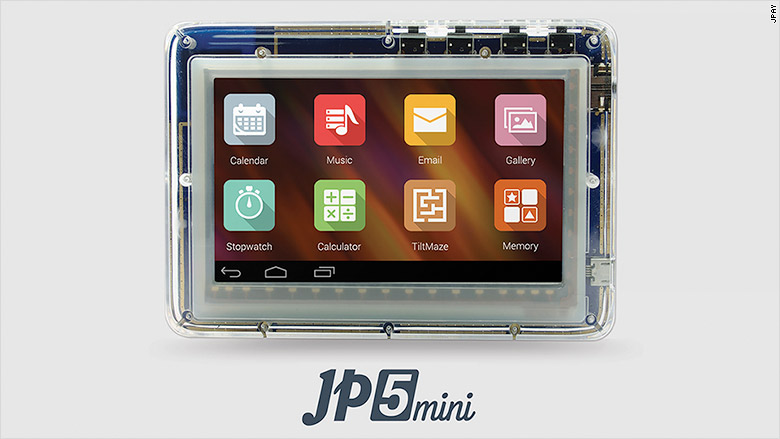 Prisoners' connections to the outside world had long been relegated to an outdated technology: landline telephones.
But JPay, a prison contractor, has helped bring prison communications into the 21st century.
The company recently released a new tablet for the prison population, called the JP5mini, which lets inmates send an e-mail, e-cards and videograms to friends and family.
The tablets allow prisoners to entertain themselves, educate themselves and maintain communication with near and dear ones so they can foster skills and relationships to better reintegrate into society upon release.
Around 60,000 tablets of JP5mini's 2010 predecessor, the JP4, are currently in use in 11 states. JPay claims that the JP5mini has been adopted by correction facilities in Idaho and New Jersey so far.
The revamped tablet is superior in terms of graphics, speed, and computing power, and it has four times the storage capacity at 32 gigabytes.
Inmates can purchase the $69.99 tablet from a kiosk in their facility or someone can purchase it for them.
To communicate with inmates, people can access JPay's web platform or get the free JPay app on iPhone or Android. To email or send video-messages, inmates and people on the outside need to purchase 40 cent stamps each time.
Troy Schulz, Deputy Warden of North Dakota State Penitentiary, said he "couldn't put a price tag" on how much mail room staff time JPay's messaging service saved.
"In the past we had cassette players and CD players. The motors from these were used to make tattoo guns," Schulz told CNNMoney. "There's less material for staff to search through now."
JPay started as an electronic payment service for prisons. Then, the business provided correction facilities with kiosks with access to music, books and messaging, according to Ryan Shapiro, JPay CEO.
The Catch: JPay allows facilities to create their own stringent guidelines for filtering messages. Currently, Schulz's facility flags around 8,000 words such as "escape," slang, gang names and more.
"We can also identify certain inmates by the level of threat their custody levels poses," said Schulz. High risk inmates have all their messages screened manually.
Devices also come electronically tagged with the inmates' information so they cannot abandon them after misuse.
Having a tablet doesn't mean inmates are on Facebook (FB)and Twitter (TWTR). The device is equipped with a secure bootloader on an Android operating system so no other operating system can be installed, and inmates cannot manipulate the platform.
"It's not like Gmail or Yahoo. Family members also have to get access to the platform via the website or the iPhone and Android app," says Shapiro.
Everything is run on the JPay platform. Inmates have no internet access-- for the most part. The JP5mini does have wireless capability if a correction facility chooses to enable it.
Schulz estimates that around 75% of inmates have adopted the JP4. He also added that inmates are excited about the JP5mini.
"Anytime there's something new—especially inmates serving life sentences—they want to have the newest models. They like to have the new stuff. It's very similar to how society works."