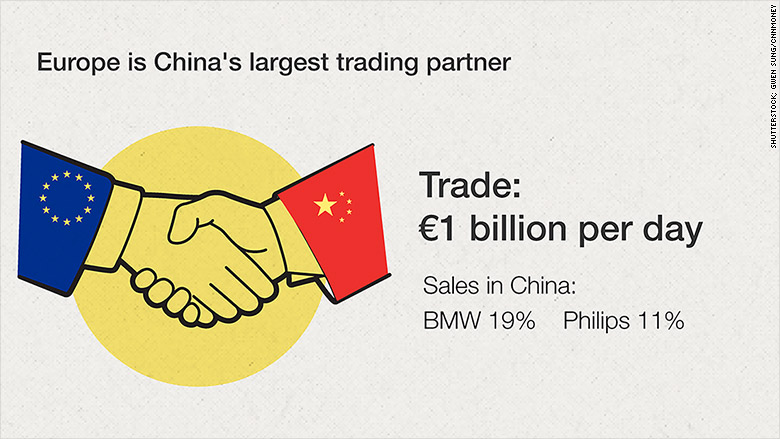 China's market crash is spreading fear among investors around the world and putting Europe -- its biggest trading partner -- on edge.
Markets across the region fell sharply on Monday after a horror plunge on China's key indexes. Shares in Germany and France lost more than two percent.
The savage drop has reignited fears of a deepening economic slowdown in China, which could pose new threats to Europe's tentative recovery.
Here's why it matters: The latest official figures show European exports to China hit a record 148 billion euros ($164 billion) in 2013. And trade between the two is worth more than one billion euros ($1.1 billion) every day.
Slowing growth and the market rout are clouding China's outlook, and big European brands such as BMW (BAMXY) and Philips have already warned of damage to their business.
Monday's slump shows Beijing's recent efforts to calm the market may not be as effective as previously thought. Plenty of damage has already been done to confidence by the loss of $3 trillion in stock market value during last month's bout of extreme volatility.
The investors most at risk are small savers. That means consumer spending could take a hit, threatening earnings at a raft of European exporters from carmakers to luxury brands.
Related: China's stock market crash...in 2 minutes
Europe's exposure
Philips CEO Frans von Houten warned Monday that his firm is "increasingly concerned" about China's economy. China is the second biggest market for the healthcare and consumer products maker after the United States, and accounts for 11% of sales, according to Factset data.
The uncertainty adds to an already difficult environment for luxury brands and automakers following a recent crackdown on corruption and lavish spending.
European carmakers are major players in China. BMW -- which derives nearly 19% of sales from China - says its Rolls-Royce division is suffering. Rolls-Royce sales were down 10% in the year to June to the "significant slowdown in the luxury sector in China."
Related: America: The new destination for rich Chinese shoppers
Luxury brands Richemont and Prada (PRDSF) have also pointed to China headwinds in recent trading updates, and there could be more to come from companies reporting earnings this week. Investors will be paying close attention to what luxury conglomerate LVMH (LVMHF), drinks giant Diageo (DEO) and engineering firm Siemens (SIEGY) have to say.
Fragile recovery
Europe's economy has found a firmer footing this year but China's turbulence presents a fresh -- if not its largest -- risk. The eurozone economy grew by 0.4% in the first quarter and the annual rate of growth picked up to 1%.
Capital Economics chief European economist Jonathan Loynes said there were bigger threats to Europe's recovery than China: unfinished business in Greece, and the possibility that other supportive "temporary factors" such as the weak euro and low oil prices may be reversed.
And while China's economy is slowing, annual growth of around 6% to 7% should generate plenty of demand for European exports in the near term.
But that doesn't mean China's market gyrations can be ignored. If they wash over into European stocks, that could have damaging repercussions.
"If falls on Chinese stock markets have a knock-on effect on European markets...then that starts to have negative effects for the European economy, because of the [impact on] wealth and confidence," he said.
- Paul La Monica and Ivana Kottasova contributed to this report