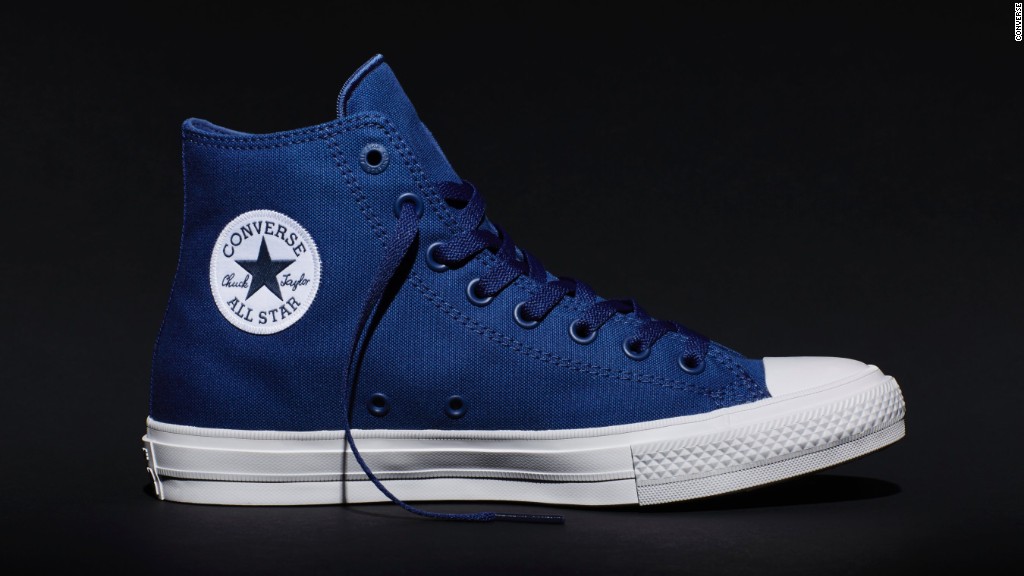 The classic Converse sneaker known for its vintage look just got a big update in the comfort department.
The new shoe, called the Chuck II, went on sale Tuesday morning. They're displayed on illuminated, lime green columns at the Soho Converse store in Manhattan.
There was no line out the door, no chaos at the cash register -- but most customers who tried the updated All-Stars were happy.
"I like the simplicity," said James Anderson, a 32-year-old New Yorker who does marketing for Coca-Cola (KO).
Anderson has worn Converse for years, and said they represent the 1970s era of punk rock and basketball before they were commercialized. He added that the more comfortable materials and small design tweaks haven't ruined the shoe's classic appeal.
That was exactly the brand's intention, said Geoff Cottrill, a vice president and general manager of the Converse brand.
"We redesigned everything, yet redesigned nothing," he added. "We focused on the comfort that customers were asking us for."
The updated Chucks offer arch support with Nike (NKE) Lunarlon soles, and have a perforated suede lining.
They're also made from a sturdier canvas material and have a padded tongue that Cottrill said won't slip to the side. "Anyone who wears hi-tops understands what I mean," he said.
They look a lot like the originals on the outside, but with a slightly more streamlined profile.
As Cottrill shuttled around Manhattan stores Tuesday morning, he said the shoes were selling well. Online sales were outpacing his expectations, and the black hi-tops were completely sold out at Converse.com by 2 p.m.
Chuck II's are available at Converse, Nordstrom (JWN) and Journeys stores. They come in hi-top and low-cut, and in black, white, red and blue.
Related: Converse hopes the Chuck Taylor II is a game changer
Related: Under Armour is on fire. It's ready to play ball with Nike.
Correction: An earlier version of this story incorrectly stated that the Chuck II's are for sale in Nike stores.