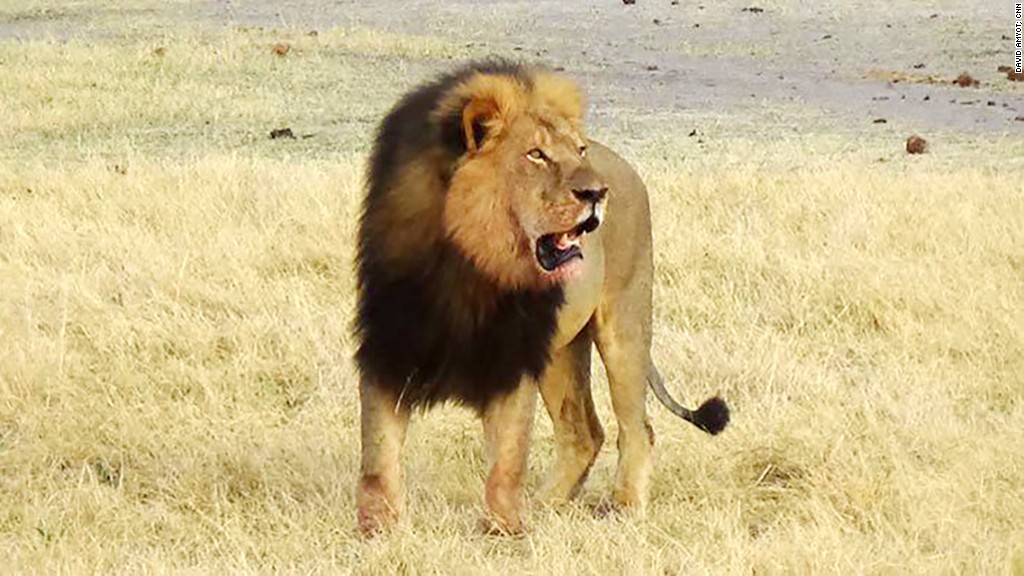 Hunting lions is a big draw in Africa. And it costs big bucks.
Luxury Hunts, which operates in South Africa and Zimbabwe, charges $49,000 for a 10-day safari to hunt lions. There's also other big game to be had. African Sky Hunting in Zimbabwe offers a 10-day elephant hunt for $35,145. The prices don't include flights to Africa.
Hunting safaris are popular among well-heeled hunters, who go to Africa and shoot exotic animals. They stay in lodges and get driven around on guided tours, led by professional trackers. When they shoot the animal, lodge staffers skin it and mount it as a trophy, ready for shipping.
"You're treated like a king over there," said Mick Jameson, a Nebraska farmer and safari consultant for U.S. clients of Wild Africa Hunting Safaris. "You go over there and you think it's a trip of a lifetime. But everybody wants to go back."
Related: TrackingPoint smart rifle gets hacked
Jameson, who advises clients on what to bring and what to expect, said he doesn't have the funds to hunt dangerous game like lions and elephants. But he's found more modestly priced safaris that take place on private land and cost $7,500 for 10 days of hunting plains game, like warthogs and wildebeests.
During his last visit, Jameson shot four animals including an impala and an antelope. He plans to go on another in September. He said the rates generally do not include taxidermy fees.
Animal advocates are outraged that a Minnesota dentist paid $55,000 to kill a lion.
The Internet was abuzz after the dentist killed Cecil, a protected lion who was a major tourist draw at Zimbabwe's Hwange National Park. The shooting led to poaching charges against the safari guides.
It has even drawn condemnation from the Dallas Safari Club, an organization of U.S.-based safari hunters, which said it "supports prosecution of convicted poachers."
The environmental group called International Union for Conservation of Nature has said that tourist hunters kill around 105,000 animals per year.
Killing 600 lions out of a total population of around 25,000 is not sustainable, the group said.