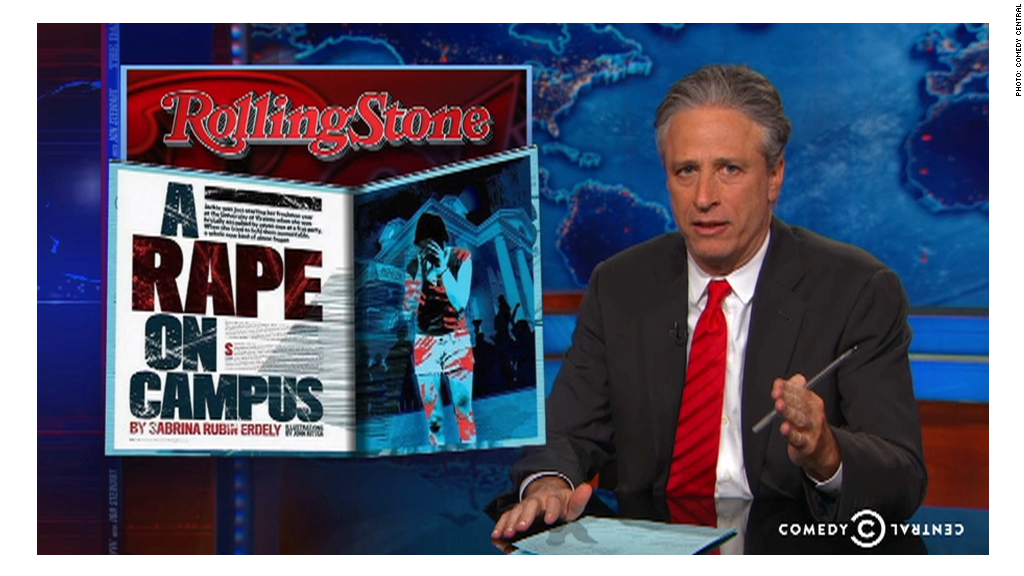 Three members of a University of Virginia fraternity sued Rolling Stone magazine Wednesday for a discredited story accusing frat members of gang raping a woman.
The suit also names the magazine's publisher, Wenner Media, and the reporter, Sabrina Erdely.
The suit was filed in Manhattan federal court on behalf of George Elias IV, Stephen Hadford and Ross Fowler. The three men, who graduated in 2013, were members of the Phi Kappa Psi fraternity that was cited in the Rolling Stone story.
They are seeking unspecified damages for defamation.
The Rolling Stone article did not name the three men, but Elias lived in the frat's bedroom that fit the description of the room "most likely" to be where the rapes took place, the suit states. It claims that the three former students were "devastated" and "humiliated" by the magazine's allegations.
Related: Rolling Stone reporter apologizes
The 2014 story titled "A Rape on Campus" described in lurid details how a woman identified only as "Jackie" was allegedly invited to a party at the frat and lured to a bedroom where she was raped by frat members during a three-hour ordeal.
The story created a storm of criticism and the fraternity was suspended by UVA.
But questions arose over the magazine's reporting and the details of the story until Rolling Stone was forced to retract it.
A postmortem conducted by the Columbia Journalism School found numerous flaws in the magazine's reporting and editing that allowed the bogus story to get into print.
Related: Major failures found in Rolling Stone story
The fraternity itself hasn't filed a lawsuit, but it said in April that it "plans to pursue all available legal action against the magazine."
The lawsuit was the second to be filed against Rolling Stone because of the story. Nicole Eramo, a UVA associate dean of students, sued the magazine and Erdely for $7.5 million, claiming the story depicted Eramo as a callous bureaucrat during the aftermath Jackie's supposed assault.