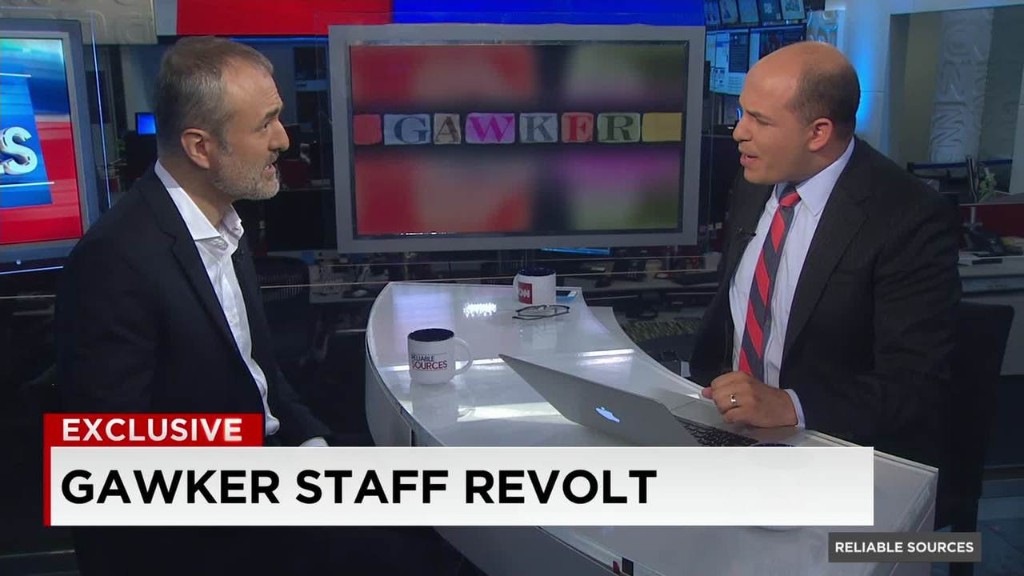 Gawker named two of its veteran editors Thursday to temporarily take charge of the site.
The gossip news site has been wracked with turmoil and departures in recent weeks.
John Cook, Gawker's editor of investigations, was named acting executive editor of Gawker. He replaces Tommy Craggs, who quit after Gawker founder and CEO Nick Denton removed a post after it was published, enraging staff members.
Deputy Editor Leah Beckman, who has been with Gawker since 2011, will become acting editor-in-chief. She will replace Max Read who also resigned in the aftermath of the controversy.
Related: Gawker loses two top editors over deleted article
Related: Gawker retreats and deletes controversial story
During the turmoil, tension between Beckman and Denton spilled onto Twitter (TWTR). On July 21, Beckman tweeted, "Hi @nicknotned I'm the interim EIC of your blog Gawker. It's been 36 hrs since Max & Tommy resigned & you have not said one word to me. Hi!" Denton's Twitter handle is @nicknotned.
A search committee will be formed to find a permanent executive editor and editor-in-chief.
In a memo to staff obtained by CNNMoney, Cook conceded, "It's been a god-awful two weeks."
"My agenda is: A Summer of Peace. Stability. Quiet," he wrote.
"All I want is to help you all do your jobs and to foster a supportive, calm, and secure environment in which to produce good stories," Cook wrote.
Besides Craggs and Read, at least four other staffers have taken buyouts from the site.
Related: Departing Gawker editor calls it a 'miserable place'
Cook and Beckman will take over a staff that is still fuming over the removal of the news story.
The article that prompted the staff revolt detailed efforts by a married publishing executive to hire a gay porn star for a sexual tryst. The executive was related to a former member of the Obama administration.
The post triggered an avalanche of criticism and for the first time since Gawker was launched, Denton ordered the story be pulled down.
Denton has promised a more mature Gawker that will be "20% nicer."
CNNMoney's Brian Stelter and Tom Kludt contributed to this story.
Related: Gawker's Nick Denton promises 'second act' for gossip site