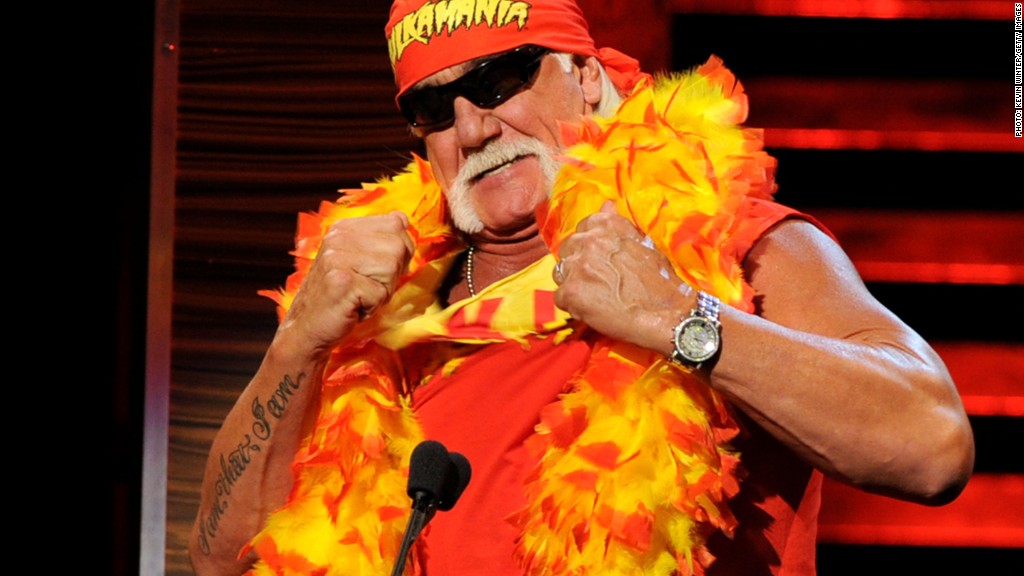 The Hulk Hogan versus Gawker smackdown has been put off until next year.
Florida Judge Pamela Campbell, who will preside over Hogan's lawsuit against the gossip site, said her docket was clogged with cases until March 2016.
Hogan's corner had sought a trial date for this fall.
Hogan, whose real name is Terry Bollea, is suing Gawker for $100 million claiming an invasion of privacy for showing a sex tape that involved Hogan.
The expected trial delay came a day after lawyers for Hogan accused Gawker of leaking a sealed tape of Hogan making racist comments. The racist rant was reported by the National Enquirer.
Hogan's attorneys filed a request in court Wednesday for additional discovery, essentially an investigation into how the tape became public.
Related: More Hulk Hogan sex tapes in Gawker case
The revelation of Hogan's racist rant prompted the World Wrestling Entertainment to cut ties with Hogan, one of their most famous performers.
"Mr. Bollea files this motion to find out who was responsible for disseminating highly confidential information protected by this Court's protective orders," the filing said.
It asked that computers, phones and other devices belonging to Gawker be examined by a forensic expert to be determine if there had been contact with the National Enquirer.
Hogan's lawyers cited a post by Gawker founder and CEO Nick Denton that they say implicates Gawker in the leak of the racist rant.
"There will be a third act which we believe will center on the real story: the additional recordings held by the FBI, the information in them that is Hulk Hogan's real secret... In the way of so many news stories, the deeper you go, the more interesting it gets," Denton's post said.
Related: Hulk Hogan sex tape trial could destroy Gawker
"The timing of this disclosure, coupled with Denton's comments about the case and Gawker Defendants dismal prospects of prevailing at the soon to be re-scheduled trial, strongly suggest that Gawker Defendants may have been the source of the leak," Hogan's filing states.
In response, Gawker repeated a statement that is in the court filing: "Hulk Hogan has only one person to blame for what he said and no one from Gawker had any role in leaking that information."
CNNMoney's Tom Kludt contributed to this report
Related: Gawker's Nick Denton promises 'second act' for gossip site