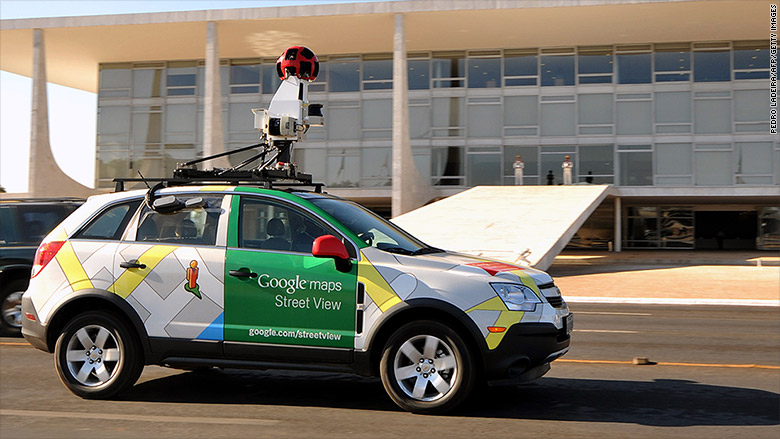 What if air pollution data were as readily available as transit directions or weather forecasts?
Google (GOOGL) and a San Francisco-based startup called Aclima are trying to make that happen.
Aclima has equipped Google's Street View cars with environmental sensors. Google drives the Street View cars around the streets of the world to collect data for Google Maps. With Aclima's technology along for the ride, these cars now have a second use: mapping urban air quality.
On Tuesday, Aclima announced a partnership with Google Earth Outreach as well as the Environmental Protection Agency. The plan is to expand air quality mapping efforts to the San Francisco Bay Area over the next year.
They piloted the program with a month-long initiative in Denver in August 2014 where three vehicles collected over 150 million air quality data points -- sometimes monitoring one area intensely or otherwise monitoring different parts of the city.
The EPA currently relies on an extensive network of stationary equipment to monitor air quality.
Dan Costa, the EPA's research director, said the Google-Aclima interaction is "an obvious next step and a perfect way to move this whole science forward."
Aclima revealed that it has been monitoring the indoor environment in 21 Google offices across the world for several years, and the company processes 500 million data points each day to gather real-time data.
The startup measures all aspects of air quality including humidity, temperature, and emissions.
In a video message, Google Earth Outreach manager Karin Tuxen-Bettman said she hopes people use Aclima's data to "be part of that dialogue to make improvements to our environment, to our air."
The long-term goal is to collect hyper-local data in various places for use by citizens, scientists, policymakers, businesses and governments.
"Our hope is that one day this info is as accessible as the weather, that you can access this information on daily basis and that together we can make billions and billions of smarter decisions that add up to change," Davida Herzl, CEO of Aclima, said in the video.
"For the first time, we'll have a human scale understanding of what's happening in our environment."