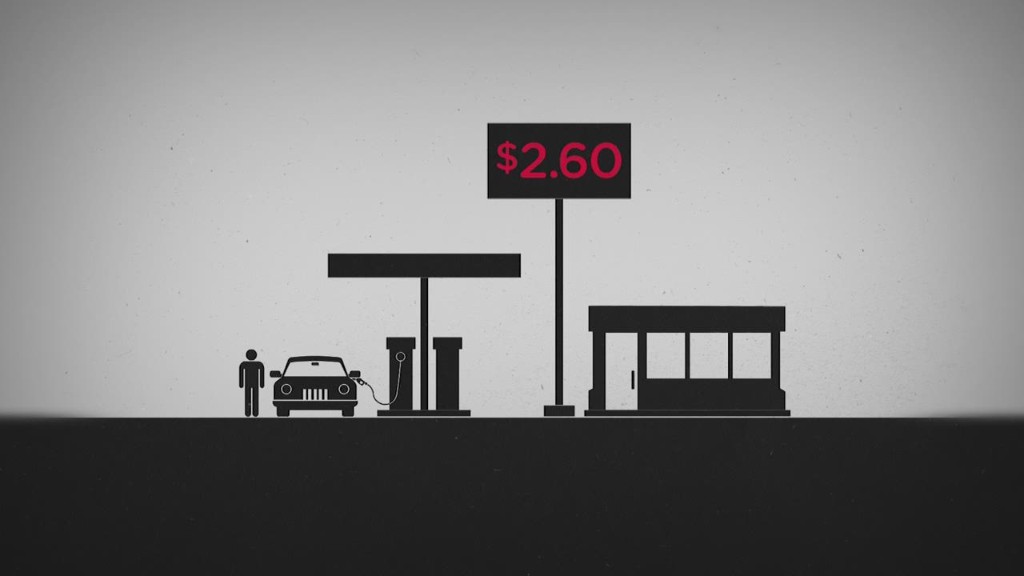 Drilling for oil used to be one of the most profitable businesses in the world. Not anymore.
Big Oil earnings have nosedived in the past year. The latest results that came out Friday were even worse than expected.
Chevron (CVX) announced a 90% drop in earnings on Friday. It went from bringing in $5.7 billion in the second quarter of 2014 to hauling in a mere $571 million this year.
Exxon Mobil (XOM) isn't much better. It raked in $8.8 billion in profits for the second quarter of 2014. This year, it earned less than half that amount -- $4.2 billion.
The problem for these companies is well known by now: Oil and gas prices have plummeted from over $100 a barrel last summer to under $50 now. It's a lot harder to make money when you can only sell your product for half of what it used to be worth.
Related: Oil prices have plunged nearly 20% this month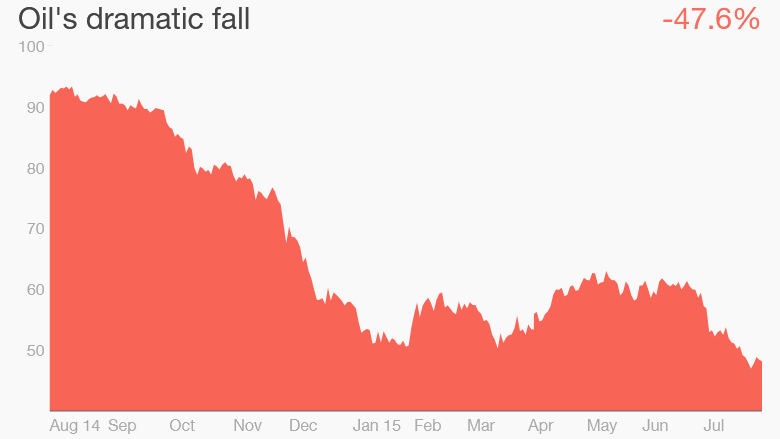 Many experts don't see oil prices rebounding any time soon. July was actually the worst month for oil prices since October 2008.
The world simply has too much oil for sale these days as the Middle East continues to pump out "black gold" and the United States capitalizes on an energy boom of its own. Even oil rich Saudi Arabia has hinted that it doesn't see prices rebounding much in the coming months.
If the Iran nuclear deal goes through and sanctions are lifted on the country, that could add even more supply. Iran has the fourth largest oil and gas reserves in the world and is eager to sell some of that again to other nations.
To put in perspective just how much the picture has changed for Big Oil, Exxon used to be the biggest company in the world by market capitalization in 2009. Today is has fallen to No. 5 -- behind tech giants like Apple (AAPL), Google (GOOG) and Microsoft (MSFT).
Some investors are looking at stocks of oil companies like Exxon and Chevron and trying to decide if now is a good time to buy since the shares are trading so low. Exxon stock is down about 20% in the past year and Chevron has fallen 30%.
Related: Smart money is buying energy stocks. Should you?
But with prices expected to remain low, the general consensus on Wall Street is still tepid. The stocks of both companies slid about 5% Friday.
S&P Capital IQ upgraded Exxon's stock on Friday to a "buy" rating and downgraded Chevron's to a "hold."
"We think Exxon's core business is generating solid return on invested capital and notably above-peer free cash flows," wrote equity analyst Stewart Glickman for S&P Capital IQ.
A key metric is how much each company is spending on exploration and capital investments. That's a sign of what they really think about the future prospects. Capital spending is down about 12% so far this year compared to last for both Exxon and Chevron.