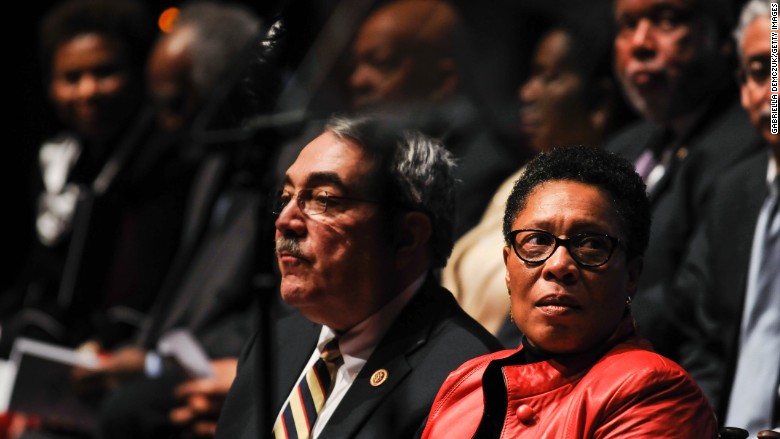 The Congressional Black Caucus delegation is going to visit Silicon Valley to help tackle Big Tech's diversity problem.
The CBC Diversity Task Force will travel to Silicon Valley from August 2 to August 4 to meet with companies at the forefront of innovation -- but lacking a diverse workforce.
Members will visit many of the tech giants, including Apple (AAPL), Bloomberg, Google (GOOG), Intel (INTC), Kapor, Pandora (P), and SAP (SAP), according to the press release.
In 2014, three companies had almost homogenous headlines when their diversity reports were released. Google, Facebook and Apple all came with similar warning signs: "mostly white, mostly male."
Only 7% of the Apple's almost 50,000 strong workforce was black. Just 2% of Google's workforce is African-American.
Call for change
Launched in May, the CBC TECH 2020 is a five-year plan to address the under-representation of African-American workers in tech. This visit will entail meetings with executives with the most influential tech companies to encourage them to "implement a diversity plan that will place more African Americans in the tech pipeline," said Rep. G. K. Butterfield, CBC chairman and co-chair of the task force.
"This will potentially lead to a wide range of opportunities, from student internships to positions on the boards of tech companies. Building a coalition of leaders from the public and private sectors ensures greater diversity and full representation of African Americans at every level of tech by 2020," he said.
Many of the tech giants like Intel, Microsoft (MSFT), eBay (EBAY)and Apple are already taking steps to dilute their mostly white male workforces.
Earlier this year, Google made a $150 million commitment to diversity-- they said half that money will go to outside organizations and communities, while the other half will be used internally to make Google more inclusive.
Less women work in the tech sector today than the 1980s. Pinterest impresses with a 42% female workforce. But even there, only 8% of employees are not white or Asian-- the company is tacking on an "early identification intern program" for students from underrepresented backgrounds and it is making it mandatory for managers to interview at least one woman and one person who belongs to a minority group.
As part of the TECH 2020 plan, the CBC has outlined diversity principles, best practices, resources for African American students and entrepreneurs, and introduced legislation focused on increasing STEAM education. The delegation will share their insights with executives from the top tech firms.
Congresswoman Barbara Lee, co-chair of the CBC diversity task force said, "Increasing diversity and inclusion within the tech sector is not only a moral imperative, it's good for business and vital to continue economic growth."
"As we work to advance the TECH 2020 initiative and achieve full representation of African Americans in the tech sector, I look forward to continuing to work with these companies. We must all play a role in finding innovative solutions that bring diversity to Silicon Valley," she added.