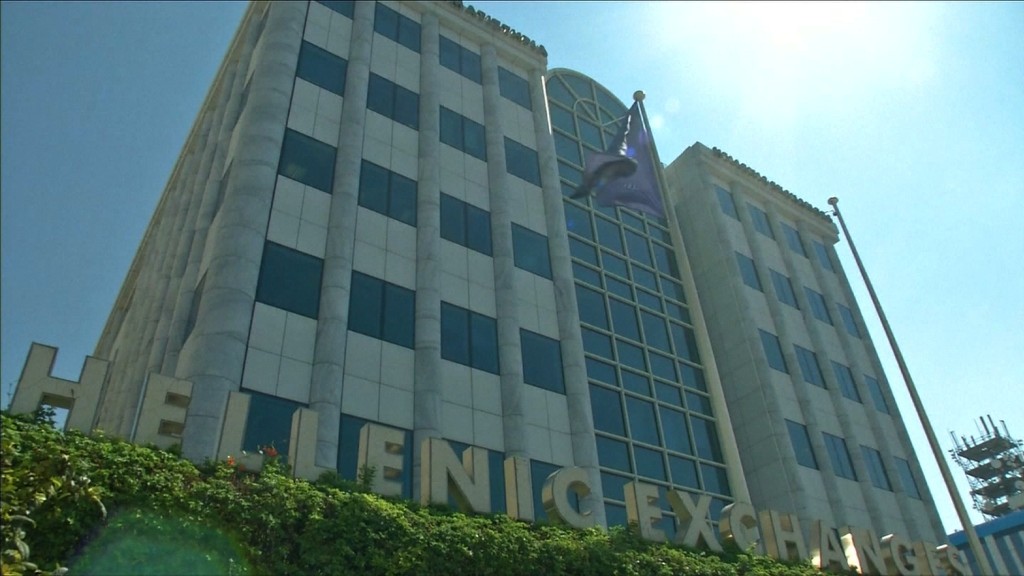 Shares in Greek banks crashed 30% Monday as trading resumed on the Athens stock exchange for the first time since the country was nearly forced to abandon the euro last month.
The benchmark index in Athens opened nearly 23% lower, with banking stocks the biggest losers. The country's four biggest lenders -- Piraeus (BPIRF), Alpha Bank (ALBKF), the National Bank of Greece (NBG) and Eurobank all plunged 30% -- the daily limit -- immediately after the open.
Stocks in other sectors recovered slightly during the session but the index still shed more than 16% by the close.
Greece suspended all trading at the end of June when the country fell into default on its debt. Capital controls were introduced, including the closure of banks and financial markets, to prevent billions of euros from flooding out of the country. ATM withdrawals were limited to 60 euros ($66) per day.
The banks reopened on July 20 -- with some restrictions -- after Europe agreed in principle to a new bailout.
But the shutdown caused large parts of the economy to seize up.
The extended closure had a devastating effect on Greek factories, where activity slumped to its lowest level on record in July. There was a huge drop in new orders, and many companies were forced to limit operations because they didn't have the cash to pay for supplies abroad.
The European Commission expects Greece's economy to shrink by 4% this year. Latest available data show unemployment was 25.6% in June.
Related: These investors are getting killed in Greece
Massive cash withdrawals by account holders in the first half of the year, and the economy's collapse back into recession has left Greek banks in a dire state.
They are relying on emergency cash from the European Central Bank to stay afloat. Europe's new $96 billion bailout plan includes 25 billion euros ($26.7 billion) to repair the banks' finances.
But even with the bailout, investors are bracing themselves for huge losses as they may have to contribute to the rescue of the banks.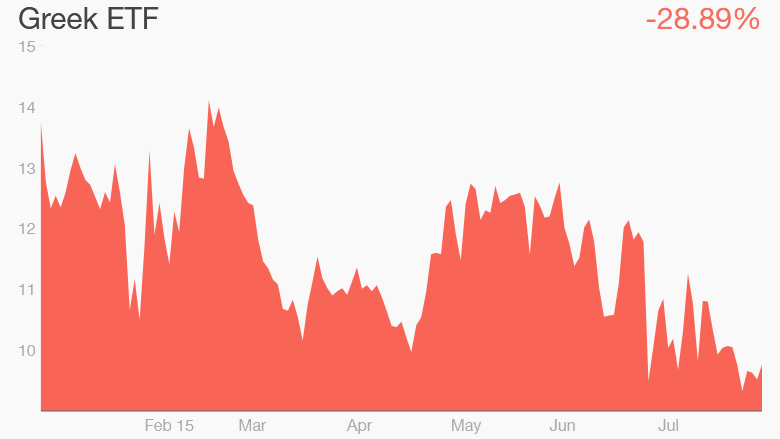 That's because Greece was required to adopt European Union rules on restructuring banks as part of the new bailout agreement. These rules are designed to place more of the burden of bank rescues on investors and major depositors rather than taxpayers.
Greece urgently needs money before August 20, when it must make a payment to the ECB if it wants to stay in the euro. Europe has already provided Greece with 7.16 billion euros in a bridging loan. Some analysts say Greece might need another emergency loan if details of the bailout deal are not agreed on time.
Greek authorities announced a ban on short selling Monday, and some other restrictions on trading remain in place. Local investors are only allowed to buy shares with existing holdings of cash, and are not be able to draw on their Greek bank accounts.