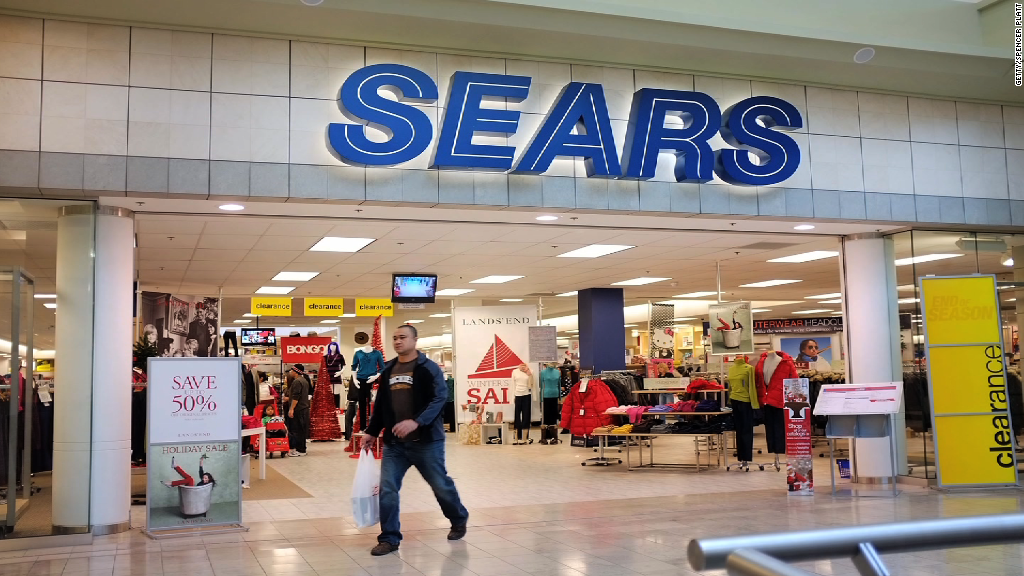 Sears is about to book its first profit since 2012.
But don't be fooled. Sears Holdings (SHLD) is in terrible shape. Sales at its two flagship brands -- Sears and Kmart -- are still tumbling. The only reason it's making money in the second quarter is because of a complex financial transaction involving its real estate holdings.
Wall Street wasn't cheering the news. Sears shares tumbled 8% on Monday, leaving them down 40% so far this year.
"We're still watching the slow destruction of a once-venerable company," said Paula Rosenblum, managing partner at retail consultancy RSR Research. She was referring to Sears, adding that Kmart has been crumbling for much longer.
Related: Magnitude of Kmart's downfall is stunning
Extremely rare profit: Sears Holdings said on Monday it expects to post a profit of $155 million to $205 million for the quarter that ended on August 1. That would represent the first quarterly profit for Sears since April 2012. The company will report its formal earnings on August 20.
It's highly unusual for a major retailer to suffer losses for that many consecutive quarters. Even Amazon (AMZN), which is known for investing virtually all of its cash flow back into the company, posted a profit recently.
But the Sears profit would only be because of a huge gain tied to a complicated deal to raise cash by selling hundreds of its best stores to a real estate investment trust, or REIT. Investors, including Sears Holdings' CEO and majority shareholder Eddie Lampert, will receive shares of the REIT.
Related: Amazon is now worth WAY more than Walmart
Financial engineering? Analysts have criticized the move as an asset strip. They say that rather than investing in a real turnaround, Lampert is just selling off the only thing of real valuable: the company's vast real estate holdings.
"Nobody is smarter in terms of financial engineering than Eddie Lampert. He will line his pockets with cash as long as he can," said Robin Lewis, CEO of The Robin Report, a retail strategy newsletter.
Sears expects the REIT deal to generate a gain of about $1.4 billion. About $510 million of that gain will be recorded during the second quarter of 2015, while the rest will be reported later on.
Related: This giant oil company suffered a 90% profit drop
Sales continue to crumble: Even news of the profit on Monday was also accompanied by warning signs. Kmart same-store sales are down 7% so far this year. It's part of a much larger trend. Kmart sales have plummeted from $37 billion in 2000 to just $12.1 billion last year.
Things look even worse lately at the Sears brand, where sales have tumbled just over 14% year-to-date. Much of that decline has been driven by the consumer electronics business, an area that Sears said it is "altering to meet the changing needs of our members."
Lewis puts the blame on CEO Lampert, saying he has "done nothing" to turn around the brands since he took over in 2004.
"It's very sad story. As many ways as I can look at it, it's just a tragedy," said Rosenblum.
Related: This company will mint money thanks to Star Wars