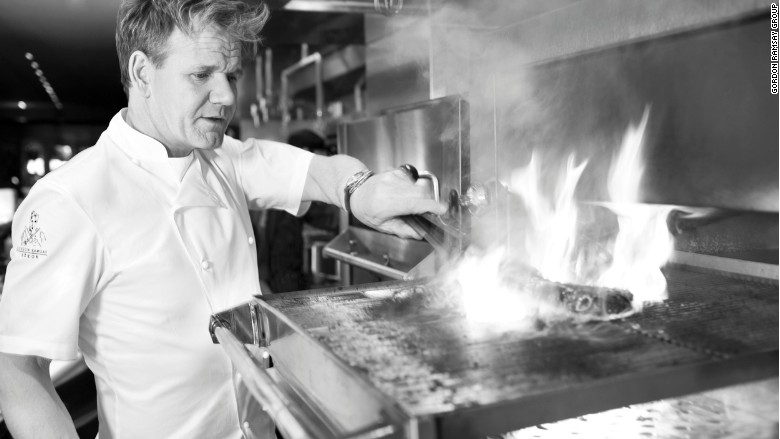 This is the first installment in a week-long CNNMoney series looking at the 5 best airport chefs and restaurants around the world. First stop: London Heathrow Airport, Terminal 5.
Gordon Ramsay knows what travelers say about airport food. It's "flavorless crap."
But the renowned chef is changing that with his "Plane Food" restaurant at Heathrow.
"Airline or airport food has always been something people loved to dismiss as disappointing, flavorless crap -- and they weren't necessarily wrong," the TV series "Masterchef" judge told CNNMoney. "I wanted to bring my passion for food into that space and build a quality establishment that caters to the traveler."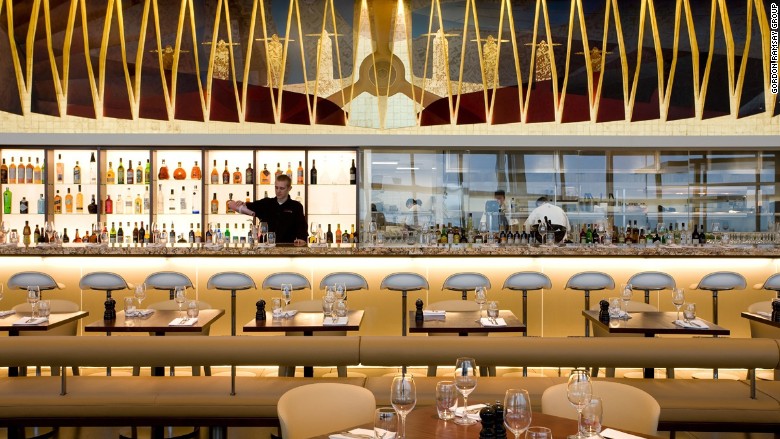 Plane Food, of course, doesn't serve typical plane food.
With 14 Michelin stars securely tucked under his apron, the Scottish-born Ramsay draws inspiration from years spent in Michelin-starred kitchens and his global network of high-end restaurants.
Diners could start with burrata and black truffle served on toasted focaccia or salt and Szechuan pepper baby squid, before moving on to in-house specials -- the Plane Food short rib burger or some saffron butter chicken curry with cumin rice. Don't forget dessert. Indulge in a local favorite -- Banana sticky toffee pudding -- or perhaps coconut sorbet.
Fine food delivered with speed: Ramsay's secret ingredient is time.
"Our goal was to be able to serve multiple course meals within 25 minutes, as well as sell takeaway cool boxes which are designed to be taken on flights," he said. "We've designed Plane Food with that in mind, so whether you're a businessman or woman rushing to catch a connecting flight or a family of four who has some down time before taking off, we've got it covered."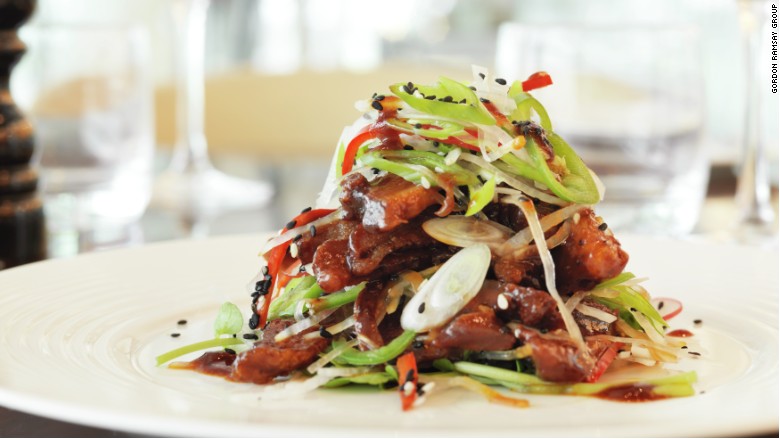 The restaurant, however, has received lukewarm responses from Tripadvisor, Yelp and Opentable, receiving an average of 3.5 stars out of 5. British restaurant journalist and critic Jan Moir once commented that Plane Food's food "is simply not good enough to tempt first class and business class passengers out of their exclusive lounges."
Besides his airport gastronomic joint, Ramsay operates 27 restaurants bearing his name that stretch across Europe, the US and Asia. His signature restaurant, Restaurant Gordon Ramsay in London, has been consistently awarded three Michelin stars since 2001.
He is also the face of TV series and cooking shows, with programs on both sides of the Atlantic.
Ramsay's famous Hell's Kitchen cooking competition series first aired in the UK in summer 2004 before making its debut in America the following year. His famous hot-tempered TV persona earned him his no-nonsense reputation.
Superchef Ramsay's favorite dishes at Plane Food: "You can't go wrong with the White Onion Soup, the Pulled Pork Sandwich, or the Butter Chicken Curry with Saffron and Cumin Rice, along with a hearty glass of Rioja Reserva from Spain. For the kids, I'd have to say Mac and Cheese -- simple and delicious."
COMING TUESDAY: Superchef Cat Cora and her "Cat Cora's Kitchen" restaurant at George Bush Intercontinental Airport in Houston, Texas.