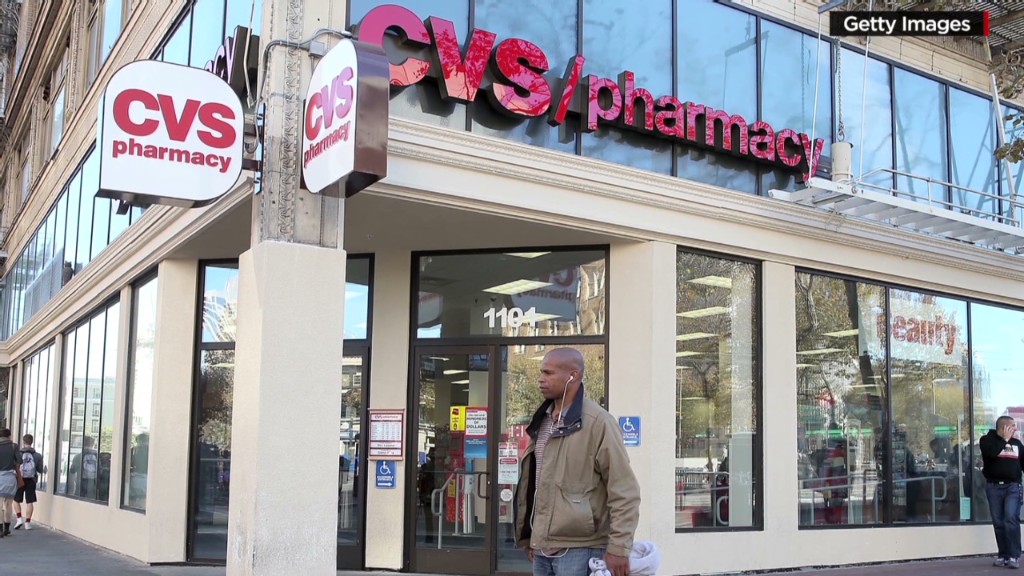 Sales at CVS Health are getting "smoked."
Last September, CVS became the first major pharmacy chain in America to stop selling cigarettes and other tobacco products in its stores. The drug store chain said it was the right thing to do -- even though it would hurt sales.
Now CVS (CVS) is detailing just how much the tobacco ban is impacting the company. While prescription sales continue to rise, general merchandise sales tumbled nearly 8% last quarter on a same-store basis.
CVS blamed the slump on the tobacco ban. The company said front-store sales would have been flat compared with the year before if they didn't make the change.
Conlumino analyst Stephen Ward believes that while the smoke ban was a "sensible move" for CVS's brand, it has come at a cost. "It has most certainly affected sales both directly, and indirectly, through the reduction in impulse purchases that tobacco customers made," Ward wrote in a report.
Related: Smoking is not cool. But cigarette stocks are hot
CVS stock dropped 3% on Tuesday after the company sounded cautious about the current quarter. The bar had been set very high as CVS shares have soared 40% over the past year and hit all-time highs just last week.
$2 billion hit to sales: The decline in front-store sales stands in stark contrast to the much larger prescription business. CVS said pharmacy sales jumped over 4% last quarter as Americans continue to ramp up health care spending.
The fact CVS is hurting a bit from its tobacco ban is not shocking. When CVS first announced the move in February 2014, it warned sales could take a $2 billion hit. That's just a fraction of the $139 billion in annual sales CVS generates, but it's not nothing.
"By eliminating the sale of cigarettes and tobacco products in our stores, we can make a difference in the health of all Americans," CVS CEO Larry Merlo said when the ban took effect last September.
To coincide with the smoke ban, CVS also changed its name from CVS Caremark to CVS Health.
Related: Tax the poor! States raise sales, cigarette taxes
CVS has room for improvement: CVS is clearly betting the move will improve its brand image, especially among the growing population of Americans who don't smoke. Now the company is focused on selling more profitable items like beauty products.
CVS said it once again gained market share in its health and beauty categories last quarter.
Ward, the Conlumino analyst, believes CVS can offset its tobacco challenges by taking a page out of Walgreen's (WBA) playbook. He said CVS needs to step up its game by improving the general shopping experience, especially in the beauty category.
"The trick for CVS is to match momentum in retail with the momentum it has built up in its pharmacy business," Ward wrote.