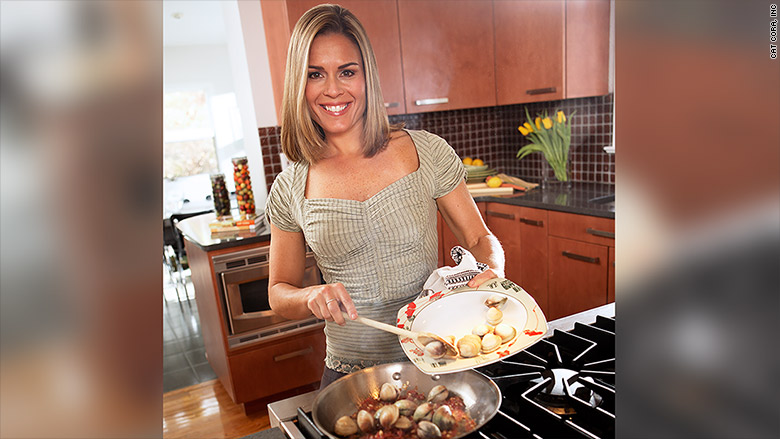 The second installment in CNNMoney's week-long series on the world's best airport chefs.
Cat Cora loves her grill.
She fires it up at the George Bush Intercontinental Airport in Houston, offering a healthy gourmet twist to the Texas staples.
Opened in 2011, Cat Cora's Kitchen does serve up plenty of grill, influenced by Cora's Greek and southern heritage.
But if you aren't up for meat, Cora still puts grill on your table: Try the grilled avocado cobb salad or grilled artichokes with creamy caper sauce.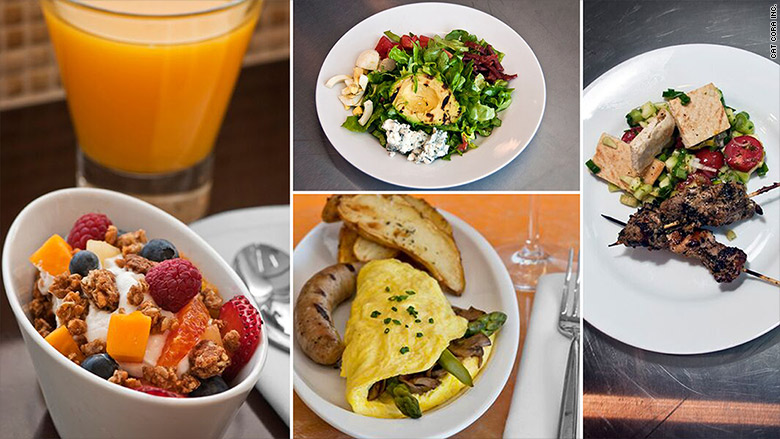 Cora told CNNMoney she wants travelers to dine with her guilt-free.
"Typical airport food is known to be greasy, unhealthy fast food," Cora said, "Here we offer a variety of delicious salads and dishes in a fine dining setting. Our food represents the modern take on classic American cuisine with an international influence."
Cora's Kitchens also are located in airports in Salt Lake City and San Francisco. She sources all her ingredients locally and the menus in each restaurant are designed to complement the location.
"In San Francisco, we serve more fresh seafood dishes, while here in Houston the dishes are more reflective of the amazing surrounding ranches," she said.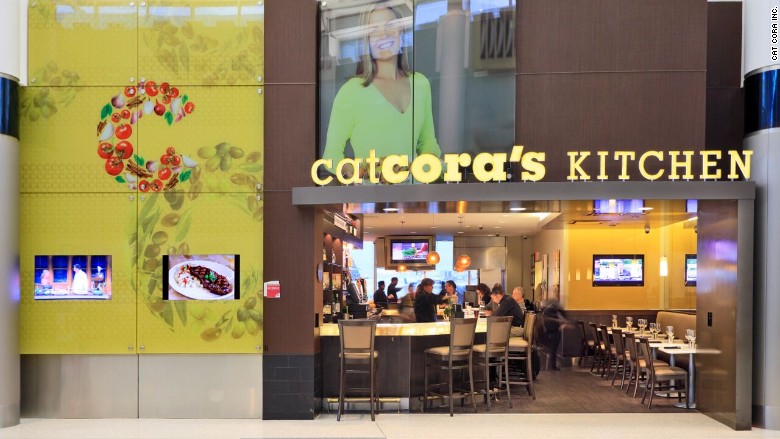 Cooking techniques: Grilling is not the only cooking style used at Cora's kitchen. "We also do a lot of braising and flame flying," Cora said. "But I do love those grills."
Taking inspiration from mentor and America's sweetheart chef, Julia Child, Cora said her cooking style has been influenced by her upbringing in Jackson, Mississippi, and her food-loving Greek family.
She has been awarded the 2006 Teacher of the Year award by Bon Appetite Magazine and also made television history in 2005 by being the first and only female chef on Food Network's "Iron Chef America."
Superchef Cora's favorite dishes at Cora's Kitchen, Houston: New York grilled steak with lobster mac n' cheese, classic tomato soup with a grilled cheddar cheese sandwich. For drinks, Cora's signature Ouzotini -- ouzo, chilled vodka, pomegranate juice, pineapple juice -- straight up!
COMING TOMORROW: Superchef Marco Akuzun of Stuttgart Airport's "Top Air" restaurant, the only Michelin-starred airport eatery in the world.