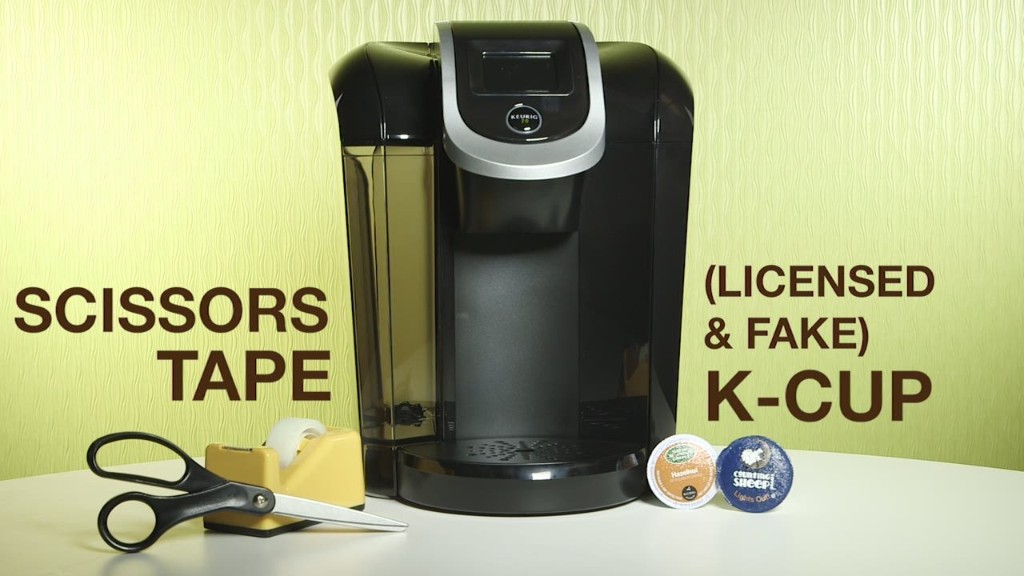 Brewing your favorite coffee one cup at a time with a pod? That's so 2014.
Keurig Green Mountain (GMCR), which sells single cup makers and the K-Cups to go with them, reported disastrously bad results on Wednesday.
Sales of both the brewers and pods fell in the second quarter. The company is laying off 5% of its employees.
The stock plunged nearly 30% on the news. It's now down 60% this year. It's worth asking if making one cup at a time instead of a full pot is a fad that's close to peaking.
It seems that Keurig alienated its core customers with its newest machine, the Keurig 2.0. Some consumers balked at the $199.99 price tag.
Related: Keurig shares dive after layoffs and weak earnings
But what really irked caffeine addicts was the fact that the new Keurig could only make coffee with officially licensed K-Cups.
Keurig sells its own coffee but also has K-Cups from brands like Starbucks (SBUX), Dunkin' Brands (DNKN) and Maxwell House from Kraft Heinz (KHC).
But there is a big cottage industry of cheaper, private label coffee pods that were compatible with older Keurig machines.
Two makers of those cups, TreeHouse Foods and Rogers Family Co., have both sued Keurig Green Mountain and accused the company of anti-competitive practices.
Rogers went as far as creating a "Freedom Clip" that lets Keurig 2.0 customers brew non-licensed pods.
And many other people, including members of CNNMoney's tech team, have figured out how you can "hack" a new Keurig to let it brew non-licensed cups.
So in some respects, the rapid fall from grace for Keurig could be viewed as validation for the little coffee guys.
Related: Inventor of K-Cups regrets the idea
But there's a problem. TreeHouse Foods reported earnings Thursday morning and it is having problems in the coffee business too.
TreeHouse said that profit margins sank for its coffee pods because "challenges in the single serve beverages market have escalated."
The company said that competitors are being even more aggressive with pricing and that was not expected. Shares of TreeHouse (THS) fell more than 4% Thursday.
And TreeHouse CEO Sam Reed took a jab at Keurig in the company's conference call with analysts. While he did not mention Keurig by name, he said that one manufacturer was selling a second-generation machine that has "been clearly priced too high and still have restrictive customer features."
It makes sense that if Keurig is now having problems selling machines, then that hurts the whole single-cup food chain.
Related: The K-Cup 'Freedom Clip' lets you brew unauthorized coffee
Keurig executives also said during Wednesday's conference call with analysts that they felt competitors had "excess capacity" and this was a reason prices were going down across the board.
So apparently there is too much oil and too many coffee pods flooding the market right now.
But some companies in the Keurig ecosystem are holding up okay. Cott (COT), which makes the Javarama K-Cup brand, reported 12% growth in single serve coffee sales in the second quarter.
The company's CFO said during a conference call with analysts last week that trends in single-serve coffee growth were improving.
Dunkin' Brands reported strong sales of its K-Cups as well.
So there is some hope for Keurig and the rest of the industry. But Keurig has to find a way to boost sales of its machines. Pod sales will then follow.
Fortunately. Keurig has a pretty big ally. Coca-Cola (KO) has a more than 16% stake in Keurig and it is partnering with Keurig on its upcoming Kold machine for home-made sodas.
But given how poorly SodaStream (SODA) is doing -- it reported lousy results on Wednesday, too, and its stock is down nearly 50% in the past year -- it's possible that the DIY cold beverage craze may be over.