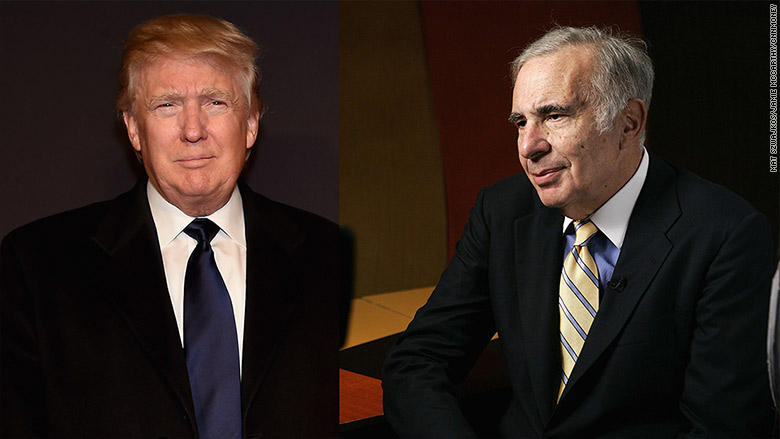 Score another point for Donald Trump.
Hedge fund manager Carl Icahn was so impressed with Trump's debate performance Thursday night that he's ready to be part of President Trump's cabinet.
"After last night's debate I decided to accept @realDonaldTrump offer for Secretary of Treasury," Icahn tweeted Friday afternoon.
It's a major turnaround for Trump. Only a few weeks ago, Icahn, a 79-year-old billionaire famous for pressuring companies to restructure, told Trump "no thanks" to the offer to be Treasury Secretary.
"I was extremely surprised to learn that Donald was running for president and even more surprised that he stated he would make me Secretary of Treasury," wrote Icahn in a June 19 blog post.
But since then, Trump's "surprise" candidacy has picked up momentum. He's surging in the polls, and he was by far the most talked about candidate at the debate.
Related: No one eclipses Donald Trump at GOP debate
Trump has yet to lay out an economic plan, but he's stressed his business success and ability to create jobs. In the first debate, he claimed he could "straighten out" the national debt.
Trump originally suggested that Icahn would make a good Treasury Secretary in an appearance on MSNBC's "Morning Joe" in June. One of the show's hosts asked Trump who he might pick to help guide the nation's budget and economy.
"I'd love to bring my friend Carl Icahn," Trump said on the show. Trump also mentioned private equity titan Henry Kravis and former GE (GE) CEO Jack Welch as top Treasury Secretary candidates.
Trump followed that up this week by saying Icahn would be the right man to negotiate with China and Japan.
But while Trump's star may be rising, Icahn's funds are not. The stock of Icahn Enterprises (IEP) is down 17% this year. That comes after a 2014, when Icahn Enterprises shares lost nearly 30%.