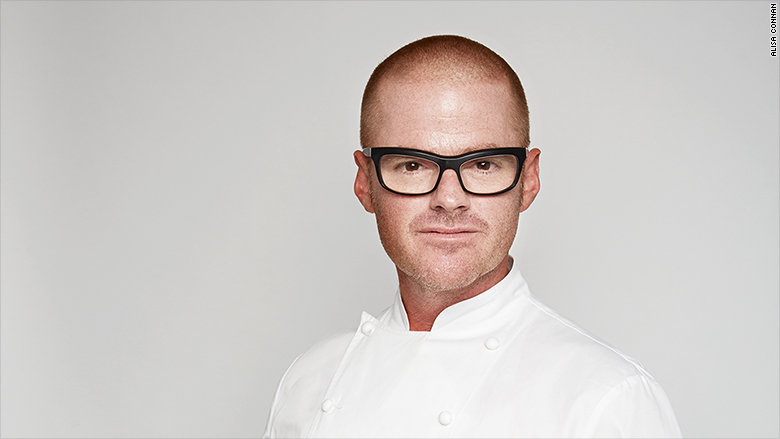 The fifth and final installment of CNNMoney's week-long series about the best airport chefs in the world. We end where we started -- London.
Heston Blumenthal is a scientist of a chef, and he has set up his lab at Heathrow Airport.
The Perfectionists' Cafe, Blumenthal's aptly named eatery, has metal tubes running in and out of compressor-like stainless steel capsules, vapors puffing through metal mixers, and roaring fires flaming out of the pizza oven. The cafe, which opened in 2014, looks more like a science lab than a restaurant and its retro-British design elements create a quirky and whimsical atmosphere.
But the food is the real star.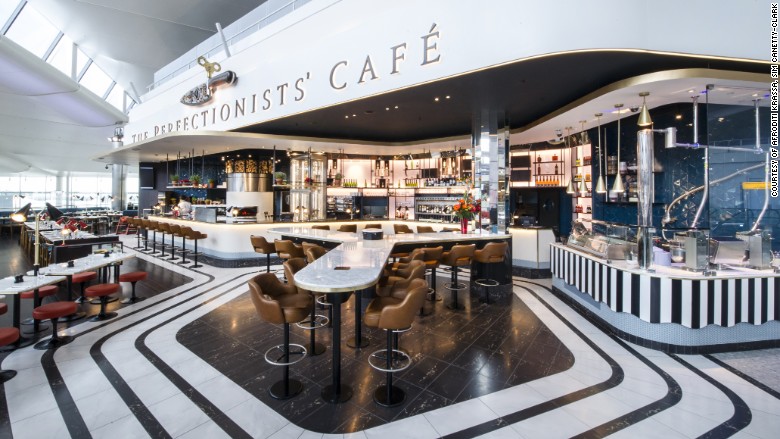 The menu hews closely to Blumenthal's television series -- "In Search of Perfection" -- the inspiration behind the restaurant.
"During the TV series, I traveled the globe talking to chefs, farmers, scientists and historians to explore every aspect of Britain's favorite dishes," Blumenthal told CNNMoney. "The menu at The Perfectionists' Café puts some of these culinary discoveries into practice."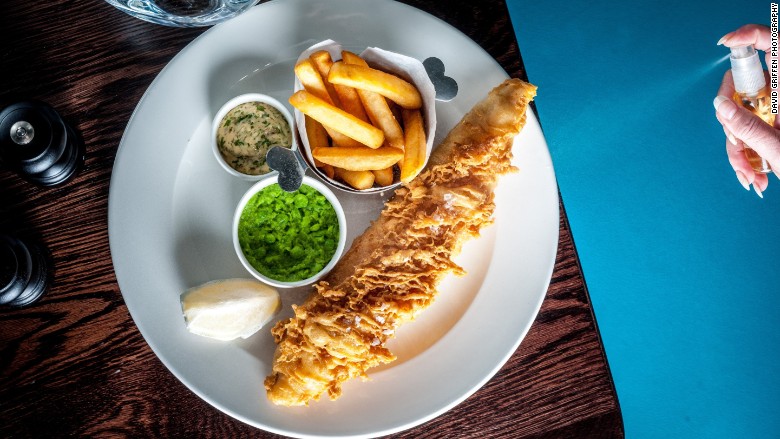 Heston's philosophy: Cooking with science.
Like a true scientist, Blumenthal says everything is about precision: Silky smooth ice-cream created through a high-tech nitrogen dosing system that freezes the mixtures at -196°C (-320.8°F) and fish & chips made from siphon-aerated beer batter served with an atomizer of malt vinegar pickled onion juice.
Britain's Independent newspaper called the fish & chips miraculous and the best the reviewer had ever tasted.
"The drive is to offer travelers of all ages food that is not only fast but also captures my passion for unique and creative food -- this should not be limited to Michelin-starred restaurants," Blumenthal said.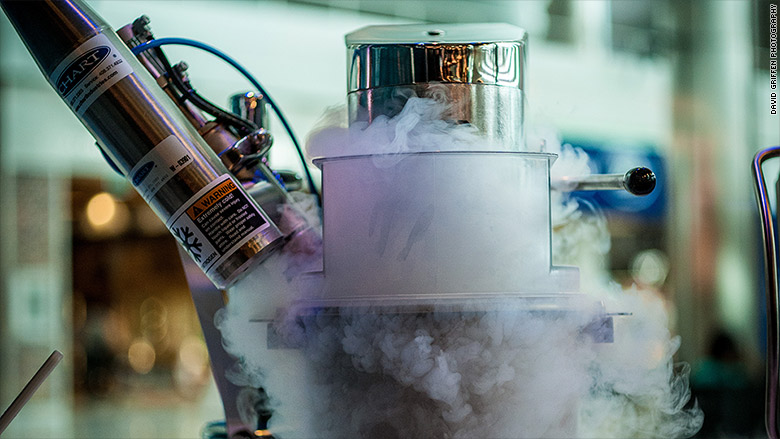 Blumenthal, 49, also runs his flagship The Fat Duck (three Michelin stars), Dinner by Heston Blumenthal (two stars) and the Hinds Head (one star).
The scientist-chef is set to to take his experiments beyond Britain's shores. After numerous appearances on Australia's TV cooking competition show, MasterChef Australia, Blumenthal is preparing to open Dinner by Heston Blumenthal in Melbourne.
Superchef Blumental's favorite dishes at The Perfectionists' Cafe: The BFG -- a nitro sundae, bringing together flavors of a Black Forest Gateaux and served with a Kirsch atomizer. For drinks, a London classic, the Rob Roy -- served with a Cavendish Tobacco-scented vapor cloud.