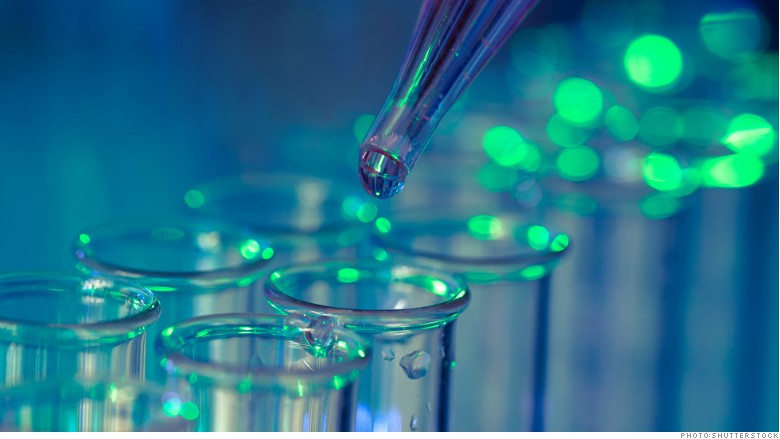 You've probably never heard of Aquinox Pharmaceuticals, a tiny biotech based in Vancouver.
But the stock is the new favorite plaything of day traders. They've been batting it around back and forth like a bunch of kittens with a ball of yarn.
Shares were trading for less than $2 on Friday. They closed on Tuesday at about $21 -- a staggering gain of nearly 1,100%.
Aquinox actually went as high as $55.75 at one point Monday. At that point, the gain since Friday was 30,000%!
But on Tuesday, the shares fell as much as 18% at one point before staging a huge comeback in the last half hour of trading to finish the day up 11%.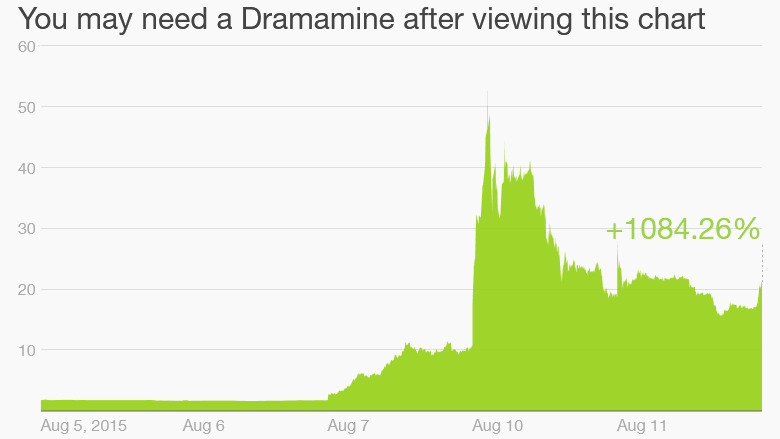 What the heck is going on? Aquinox (AQXP) was not immediately available for comment.
The stock first exploded Friday after Aquinox announced favorable test results after the closing bell Thursday for its AQX-1125 drug, developed to treat bladder pain.
Related: Small cap biotechs have been big winners this year, but ...
Aquinox soared again Monday after one of its top shareholders, biotech-focused hedge fund Baker Bros. Advisors, disclosed in an SEC filing that it bought 3 million more shares of the company.
Baker Bros. became the biggest shareholder in the company with that purchase. It now owns a nearly 40% stake.
Investors may also be excited by the fact that Aquinox also has the backing of two giant drug companies. Johnson & Johnson (JNJ) and Pfizer (PFE) each own more than 10% of the company according to their most recent SEC filings.
So there is an air of legitimacy with the company.
J&J and Pfizer were not immediately available for comment about why they invested in the company in the first place and whether or not they have sold any stock following its recent surge.
But is it healthy for any stock to go up this much in just a few days? There are a couple of important lessons here for average investors.
Related: Health care companies see $ signs as Baby Boomers age
First, investing in small biotechs is incredibly risky. Unless you really understand the science, you're flying blind. These stocks tend to move more on headlines about clinical trials, not earnings reports.
Second, don't chase the hype when it's this extreme.
Anyone who bought Friday is still sitting on a profit. But those poor folks who got suckered into buying it near $56 Monday? Or even at $35 on Tuesday?
Finally, investors should probably avoid shares of companies that are this small. Aquinox is worth just $175 million ... and that's after its phenomenal runup. Before Friday, its market cap was just $18 million.
There are only 4.5 million shares available for public investors. And those shares have been changing hands at a feverish pace.
The trading volume on Friday was 62 million shares. It wasn't as frantic Monday, but volume was still abnormally high at 18 million shares.
Aquniox has been trending on investing social media site StockTwits for the past few days.
One trader summed up the stock's insane moves the best: "Many were warned, should have went to Vegas instead," wrote a user named smallpotatoe.