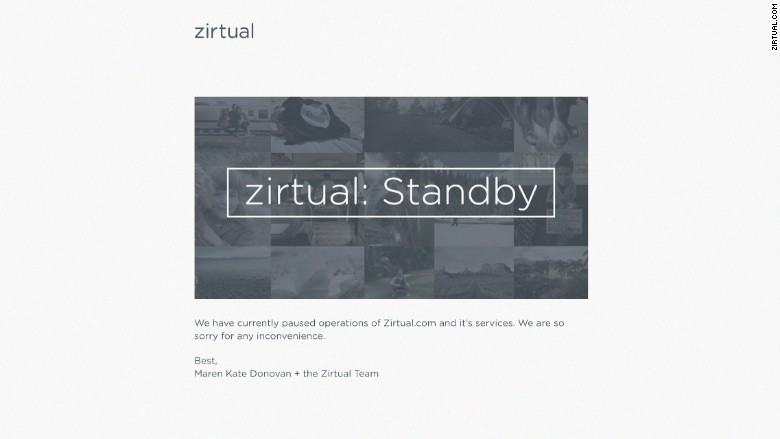 There may be a second chance for Zirtual, the startup that abruptly ceased operations on Monday, firing over 400 employees via email.
After two days of silence, founder and CEO Maren Kate Donovan finally surfaced, explaining that the 4-year-old company had simply grown too fast.
In short, it was "burning" more cash than it was taking in, wrote Donovan in a Medium post on Tuesday evening.
In a twist, though, she said that Zirtual worked out a "deal" to be acquired by Wil Schroter, CEO of Startups.co, a startup launch platform. It will buy Zirtual and relaunch the service, which provides personal assistants to help clients with tasks like managing calendars, booking travel and doing research.
Startups.co did not disclose the purchase price.
Zirtual employees were also notified of the acquisition and given the opportunity to re-apply. It was not clear how many would be hired back, though Schroter noted in a separate post that it wouldn't be all of them: "Ideally we'd like to keep everyone, but given that the previous state of the company was unsustainable, it's not reasonable to think we can continue to do so."
Zirtual had been on a hiring spree in recent months -- it announced in March that it would be filling 100 new jobs on the West Coast, a move that one employee said was unwarranted. "It's pretty common knowledge that most of the Zirtual employees were scrambling around for work on a daily basis," said Daniell Wells.
Payroll for its employees was an issue. In her blog post, Donovan noted the increased cost that came from converting its workers from contractors to employees with benefits, a move that can add 20% or more to labor costs. (Other startups like Instacart have also shifted away from the 1099 contractor model to W2s in recent months.)
An e-mail from Zirtual co-founder Collin Vine presented the "good news" of the acquisition to employees. But according to Caitlin (a former employee who asked that her last name be kept private), the sentiment from employees has been "total outrage."
"We were encouraged to seek out relationships with our clients independently of Zirtual given the status of the company, and this is being perceived as trying to now steal the clients back and make us interview for our old jobs," she said in an e-mail.
Clients may also be frustrated. The service cost $399 a month for 16 hours of assistance; some paid for multiple months up front. An FAQ on Startup.co's website said it cannot offer refunds to clients directly. Zirtual said clients have the option to seek charge backs from their bank or credit card company.
Why did the collapse come as such a surprise? "The reason we couldn't give more notice was that up until the 11th hour, I did everything I could to raise more money and right the ship," wrote Donovan.
But even investors were caught off-guard. Angel investor Jason Calacanis, who invested in Uber's first round, had Donovan on his podcast, This Week in Startups, just last Friday. At that time, she spoke optimistically about the company and its plans for global expansion.
After the news broke, Calacanis tweeted: "Being on @TWistartups & shutting down 5 days later is troubling; show will remain published to be studied by all."
Zirtual's failure raises questions about the sustainability of other tech start-ups.
"Burn is that tricky thing that isn't discussed much in the Silicon Valley community because access to capital, in good times, seems so easy," said Donovan.