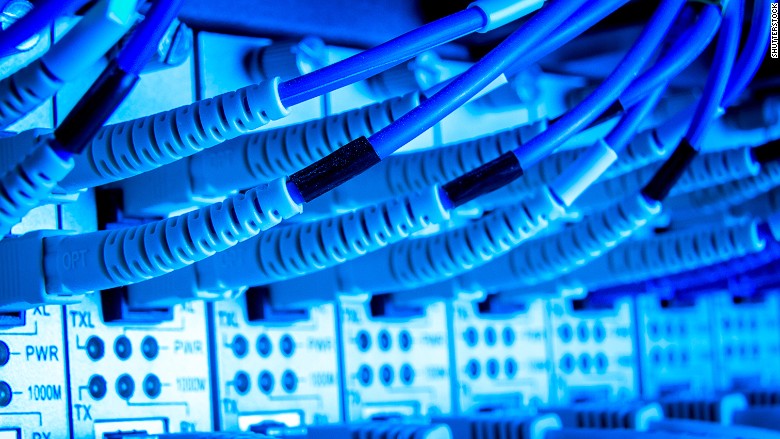 A federal judge has ruled that Verizon's Wi-Fi really is faster than Cablevision's.
And he also ordered Cablevision to quit calling Verizon a liar when it claims to have the fastest network.
The ruling stems from an ad that Cablevision (CVC) has been running, which charges that Verizon (VZ) is lying when it says it has the fastest Wi-Fi. Cablevision also filed a federal false advertising suit against Verizon in January.
But a federal judge on Long Island handed Verizon a victory this week, calling Cablevision's arguments "unpersuasive."
"Our economic system encourages spirited competition. But when a competitor exceeds the bounds of decency by falsely impugning the integrity of a competitor, it runs afoul of the law," said Judge Gary Brown from the bench Tuesday afternoon.
The judge specifically stated in an Aug. 7 ruling that "[Verizon] FiOS does offer a faster connection to the Internet than Cablevision."
Related: A much faster Wi-Fi is coming soon
A Cablevision attorney argued that the judge doesn't have the power to order it to stop calling Verizon a liar, but Brown rejected that argument.
Cablevision vowed to continue its fight. "We will challenge Verizon's claims, not only through the legal system but also in the court of public opinion," said Cablevision's statement.
Verizon heralded the decision as an important legal and public relations victory.
"Cablevision's obfuscation of the truth is nothing but a campaign to keep accurate and factual information away from consumers. It's clear, and confirmed by a court, that if you want faster Internet upload and download speeds, and the ability to access those speeds wirelessly, Verizon offers it," said Susan Retta, Verizon vice president of consumer marketing.
Despite Brown's ruling, Cablevision insists its service is just as fast as Verizon's.