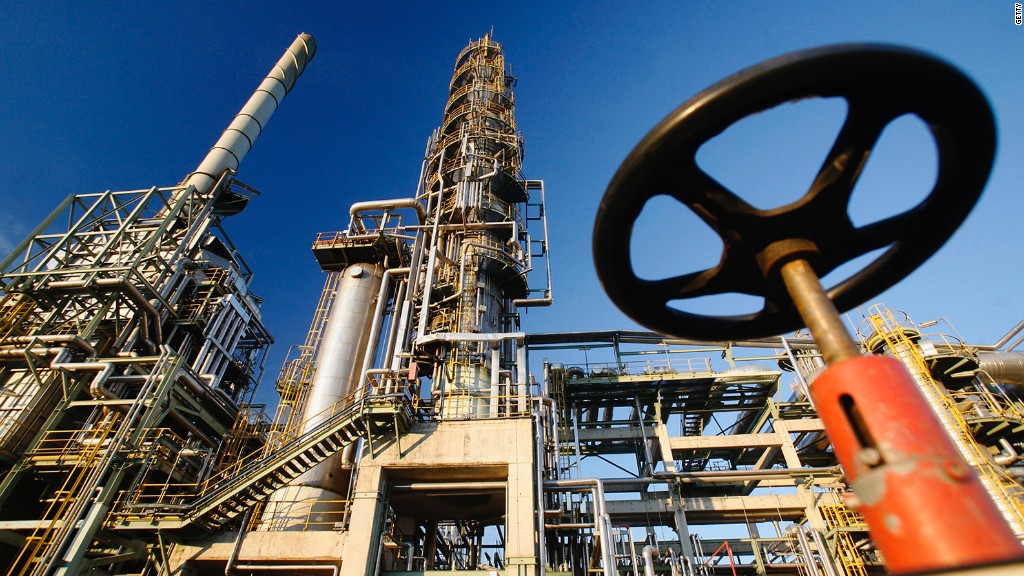 Just over a year ago oil was comfortably hovering above $100 a barrel. Today it's struggling to stay above $40.
Crude oil slipped to $41.35 a barrel on Friday, the lowest intraday price since March 2009. Oil is now on track for a seventh weekly loss in a row. That's the longest weekly slump since January.
Low oil prices has already been causing pain in oil hotbeds like Texas and North Dakota, even though it's great news for American drivers.
The average price of a gallon of gasoline has tumbled by nearly $1 to $2.62, according to AAA. Some believe gas prices will soon break below $2 a gallon, saving millions of consumers lots of cash.
So what's going on? Simply put, there's more oil than the world knows what to do with. When supply outstrips demand, prices tend to fall.
Related: Iran is hiding more oil at sea than we realized
Oversupply
The American energy revolution created a flood of new oil that has caused a supply glut. Rather than balance the market, the global oil cartel OPEC has decided to keep pumping oil -- despite low prices.
The cartel, led by Saudi Arabia, fears further losses in market share to the U.S., Canada and other producers. That's why oil prices fell significantly during the second half of last year.
America's shale producers also continue to pump
To the surprise of many, U.S. oil output remains stubbornly high. American producers have continued pumping oil aggressively. Despite cheap prices, rig counts have crept higher each of the past four weeks, according to Baker Hughes.
That persistence is why some believe the oil market won't balance itself until U.S. output is curtailed by a wave of oil mergers or even bankruptcies.
Related: Some U.S. oil companies may need to die
Demand is sluggish
Global economic growth has been anemic. Developed economies are struggling. The countries that are doing well like the U.S. have implemented efficiency standards that are limiting oil demand. At the same time, emerging markets are slowing down. That's keeping a lid on demand growth for oil.
China no longer on fire
The main driver of global growth for years was China. But that economy is going through some significant growing pains. The slowdown is cutting China's appetite for raw materials of all sorts, including crude oil.
Strong dollar could tamp demand
Like other raw materials, crude is priced in dollars. That means when the American currency gains in strength, it makes oil more expensive for buyers in overseas markets. The U.S. dollar has soared 7% so far this year against a basket of currencies. China added to the pressure on oil by devaluing its currency this week.
Iran could flood the world with more oil
As if all of that wasn't enough, Iran is looming in the distance. The country's nuclear deal with the West could pave the way for lots of new Iranian oil to flood the market at just the wrong time. There are new signs Iran is hoarding more oil at sea than previously realized.