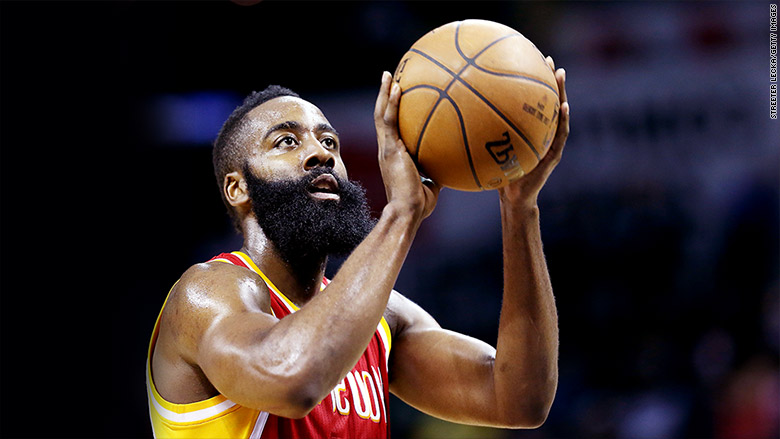 Nike has had to watch its back as pesky upstart Under Armour makes waves in the athletic apparel industry. But Nike can't ignore its older rival Adidas either.
Adidas announced Thursday that it had signed Houston Rockets superstar James Harden to a new deal. Harden -- and his epically awesome beard -- had been with Nike.
Harden will star in a new ad campaign for Adidas (ADDYY) that's set to kick off on October 1 -- a few weeks before the start of the NBA regular season. As part of the deal, Harden will get his own sneaker as well as an apparel collection.
"He's already one of the most recognizable sports figures because of his game, his look, his hunger to win and his style on and off the court," said Chris Grancio, global basketball general manager for Adidas in a statement.
Terms of the deal were not disclosed. But ESPN reported that it's a 13-year deal worth $200 million. Adidas had no comment about the specifics of the contract. Harden's agent, Rob Pelinka of Landmark Sports, was not immediately available for comment.
Harden is a big get for Adidas. He's young (he turns 26 at the end of August) and was the second-leading scorer in the NBA last year, trailing only his former Oklahoma City Thunder teammate Russell Westbrook.
Related: Under Armour is on fire and ready to play ball with Nike
Harden played his first three seasons for the Thunder before being traded to the Rockets in 2012. He had career highs in scoring, assists and rebounds last year and finished second to Stephen Curry of the Golden State Warriors in the MVP vote.
The Rockets lost to the Warriors in the NBA's Western Conference Finals.
Harden joins several other young NBA stars at Adidas, such as Damian Lillard of the Portland Trailblazers, John Wall of the Washington Wizards, former NBA MVP Derrick Rose of the Chicago Bulls and last year's Rookie of the Year Andrew Wiggins of the Minnesota Timberwolves.
Adidas, which also owns Reebok, is way behind Nike (NKE) in the basketball footwear and apparel market.
Related: LeBron James teams up with Warner Bros. to make TV and film
Nike was not immediately available for comment about Harden. But it is interesting that they either chose to let him walk or were unable to outbid Adidas.
That wasn't the case last year when another Oklahoma City Thunder star, Kevin Durant, received a big offer from Under Armour (UA) to leave Nike. The House of Swoosh re-signed Durant for another 10 years.
So it could be a sign that Nike is far more concerned about any threats from Under Armour, who has Curry as a spokesman, than from Adidas.
Also, Nike isn't exactly hurting in the NBA spokesman department. Kobe Bryant, Chris Paul and LeBron James are also Nike endorsers. And Nike continues to mint money from Michael Jordan's line of shoes as well.