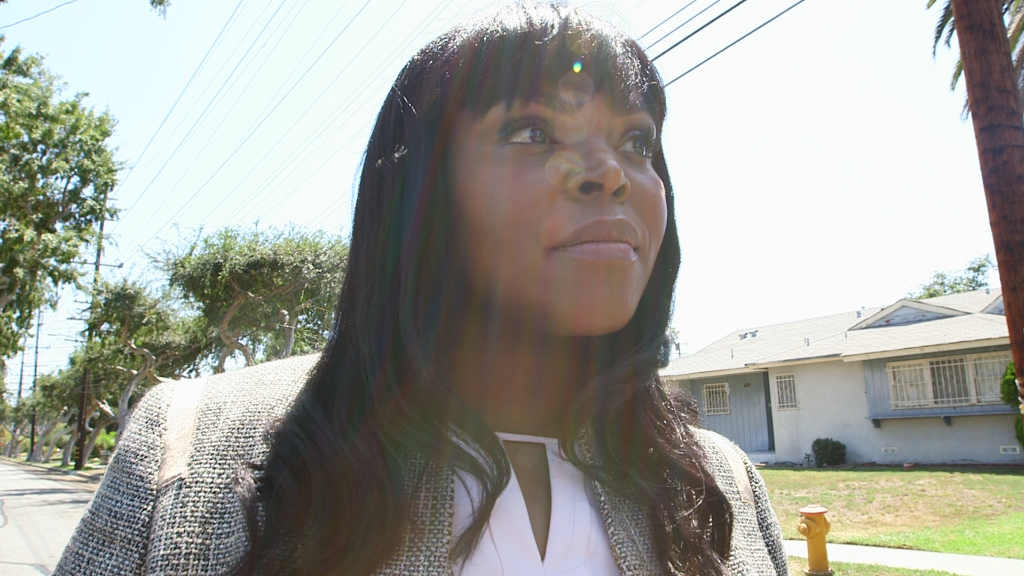 There's a new image consultant on the streets of Compton. It's 33 year-old mayor, Aja Brown. She's aiming to revitalize and re-brand one of the poorest, most gang ridden cities in the nation -- and she has got a big to-do list: Safer streets. More outlets for youths. Jobs.
If Brooklyn can do it, so can Compton, says Brown, the city's youngest serving mayor.
"Compton has everything that it needs to succeed," she says.
In 2013, Brown was elected in a surprise victory over incumbent Eric Perrodin, Compton's longest serving mayor. Opponents criticized her because she was born in the wealthier suburb of Altadena, California, claiming she was out of touch with Compton's real problems of poverty, crime, and unemployment.
"The mayor is very youthful... her intentions may be well," said council member Janna Zurita. "To say an outsider knows best is dismissive and insulting."
Brown says the basic things that make cities successful are the same no matter where you live. "I was able to provide a fresh perspective in terms of what's normal, what needs to be in place in order for a city to thrive, and I'm not invested at all in the status quo," she says.
When Brown took office, she inherited a city plagued by gang violence and teetering on the financial brink. Unemployment was at a staggering 18% -- nearly triple the national average. And with a $42 million deficit, the city was about to file for bankruptcy protection. 
But in the past two years, she has led efforts to renegotiate part of the city's outstanding debt with HUD, restructure the city's bonds and get the city council to approve a 15-year repayment plan to eliminate the city's deficit, she said.
Brown is also finding ways to create more jobs. While still high compared to the national average, the city's unemployment rate -- at 11% -- is down significantly since she took office.
One way she is doing that is by attracting new employers. Developer Trammell Crow, will break ground on a one million square-foot building this September. According to Brad Cox, the senior managing director of the project, the $100 million investment could provide up to 1,000 jobs for the city.
But one of Brown's most important accomplishments so far is her work with Compton's gangs.
Through a grassroots program called Compton Empowered, members from different gangs meet to talk about their issues at a local community center.
It's an unthinkable gathering given Compton's track record. By 1991, the year leading up to the L.A. riots, Compton had the highest murder rate in the country, and the city would eventually become home to 65 different gangs and 10,000 members.
Fred Staves was in a gang from 1974 to 2004. He said he joined Compton Empowered to set an example for future generations. "Its important because you are saving lives on both sides," said Staves. "If we can stop the membership, the gangs will eventually die out."
Homicides in Compton are down by more than 50% year-over-year. That's compared to Chicago, Baltimore or St. Louis, where homicide rates are climbing.
But not everything has gone smoothly. In July, Darrell "Shadow" Hines was shot and killed at a candlelight vigil. The mayor believes it was gang retaliation -- a sign that progress comes at a price.
"People have built lives invested in gang activity," said Brown, after attending Hines' vigil.  "Some people are walking away from what they consider to be their families for their whole lives to go in a new direction. There's a lot of sacrifice that's happening here."
While Brown has brought about a lot of positive changes for Compton, she is not without her detractors.
People have complained that she makes too many trips to D.C. and is not spending enough time in Compton. They've also questioned her friendships with high-profile celebrities. 
"I think that there's just a lack of understanding that, in order to tell the Compton story, we have to actually reach out to the outside world. If we don't really address the perception of the city of Compton, we're not going to be able to have a systematic change. I think that they haven't necessarily understood the value of partnerships and collaborations and really growing the relationships that are critical to bringing resources back to our community," she said.
Brown has leveraged her new found star power to bring celebrities back to Compton like Kendrick Lamar, and Venus and Serena Williams. 
"Just having their presence for our children can just be so inspiring because they lived in the same streets that they live in and they played on the same tennis courts that some of our kids play on," said Brown.
Her biggest partnership to date is just beginning.
Billionaire Dr. Dre who grew up in Compton, put the city on the map when he was a part of the gangster rap group N.W.A. The group wrote about corruption, police brutality, and poverty in the city. Now Dr. Dre is coming back to the city for a different reason. He is partnering with the mayor to open a performing arts center, especially for the youth. The royalties he makes from his new album will help to build it. It's appropriately titled, "Compton."