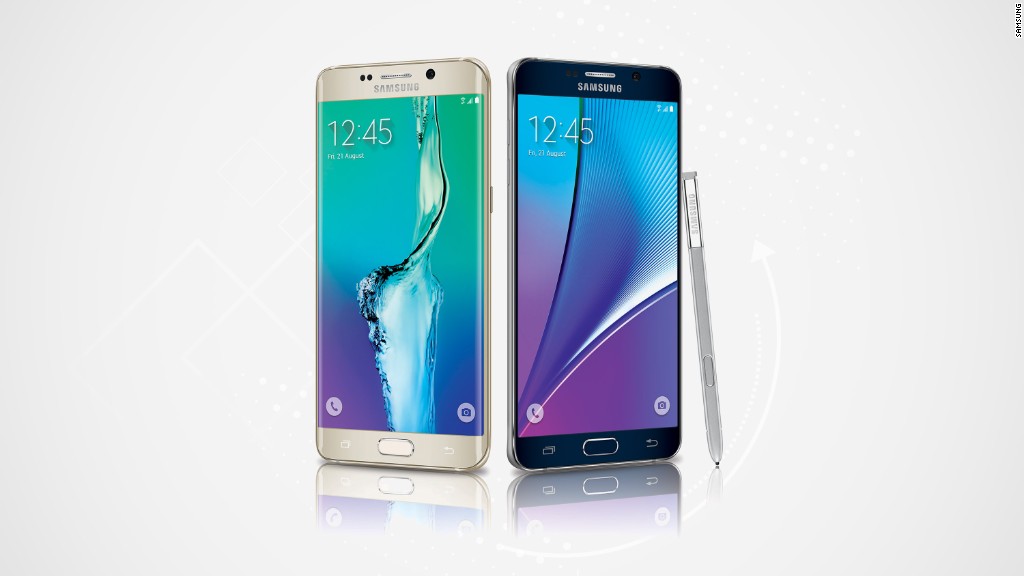 Samsung has introduced the better, sleeker Galaxy S6 Edge+ and the Note 5 updates to its mega-successful giant phone lineup.
Both new phones try to give users as much screen space and processing power as possible in a more solid and slimmer design than their giant-screened predecessors, the Note 4 and the Note 4 Edge (now rebranded S Edge+).
"We're still betting big on big screens," said JK Shin, Samsung's mobile CEO, during the company's "Unpacked" event in New York on Thursday.
Pre-orders for the devices began Thursday afternoon, and they will be available in AT&T (T), Verizon (VZ), T-Mobile (TMUS), Sprint (S) and Best Buy (BBY) stores Friday for people to play around with. The phones will be on sale in stores in the United States on August 21.
Here's what you need to know about each device compared to their predecessors, the Note 4 and the Note 4 Edge.
The Galaxy Note 5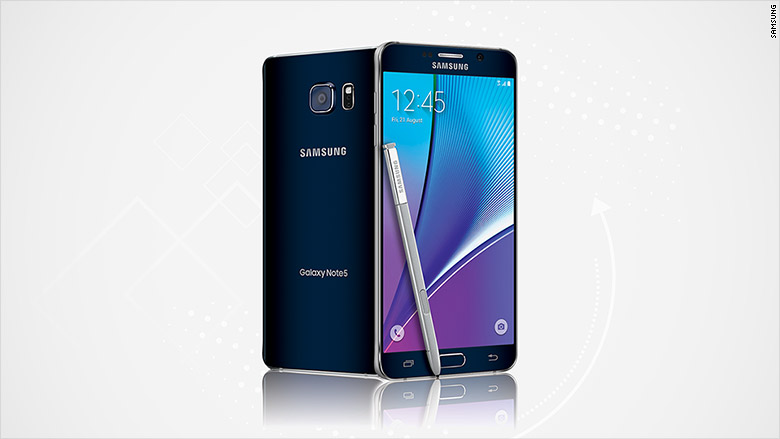 1. Slightly smaller and thinner. At less than 0.3 inches thin, six-inches long and less than three-inches wide, the metal and glass bodied Note 5 is smaller than the Note 4 without sacrificing any of its giant 5.7-inch screen size. Samsung said this phone was designed with multitasking in mind.
2. Better camera. Samsung bumped up the selfie camera to 5 MP in the Note 5 (up from 3.7 MP in the Note 4). Like the Galaxy S6 Edge+, video shot on the Note 5 can be viewed on a 4K TV. For all you Periscope and Meerkat lives-streamers -- there is also a brand new full HD Live Broadcast feature, which lets you stream video privately or publicly to YouTube.
3. An improved pen. The Note's signature "S Pen" stylus got some upgrades. You can now write things down even when the screen is off. There's a scroll capture feature, which will let you screen-shot an entire website from top to bottom, and a way to save an image of just part of a page.
4. Battery life could be a bit worse. The Note 4 had a 3220 milliampere battery, while the new Note 5 has a smaller 3000 mAh battery. It's unclear yet what that will mean for battery life -- sometimes software upgrades can improve battery-life more than smaller batteries shorten it.
But Samsung also said its wireless charging has improved so that a full charge takes two hours now instead of three. If you use a cord, expect to wait an hour and a half.
5. Four color options and two memory size options: black (which sometimes looks like a dark blue), white, gold, and silver. In the United States, only the black and gold will be available. It comes with either 32 GB or 64 GB of memory storage. Samsung has removed ability to add expandable memory.
6. Prepare to pay at least $250. That's how much a 32 GB version with a two-year AT&T or Sprint contract will cost. A hundred dollars more will get you a 64 GB version. Without a commitment, expect to hand over $740 or $840 at AT&T, and about $20 less at Sprint.
Galaxy S6 Edge+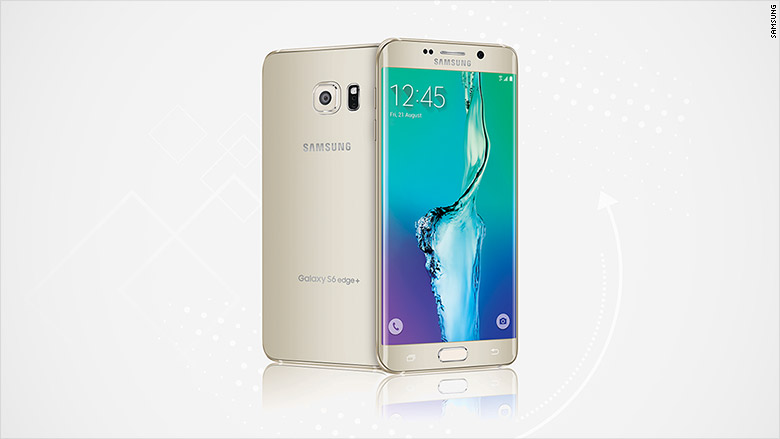 1. Screen is curved on both sides, and it's very light. Unlike the Note 4 Edge, which was only curved on the right side, the Galaxy S6 Edge+ curves on both edges. Similar to the smaller Galaxy S6 Edge, the Edge+ 5.7-inch screen allows users to program shortcuts that can be accessed while the phone is face down.
2. Same camera, better filming and broadcasting. The Edge+ features a 16 MP rear camera and 5 MP front camera. Video shot on this phone should look good on a 4K TV, and there is a new live-stream feature which lets you broadcast to contacts or on YouTube live in HD.
3. Only two memory storage sizes. The new phone has a 4 GB RAM and comes in either a 32 GB or 64 GB size. (The Edge also has a 128 GB option.) Samsung has removed ability to add expandable memory.
4. Battery should last longer, but it's still not great. With 3000mAh, it's exactly the same as last year's Note 4 but a bit better than the Edge, which has a 2600mAh battery.
5. There are four two color options: black, white, silver, and gold. In the U.S., only the black and white will be available.
6. It gets expensive. A no-contract 64 GB sized Edge+ will run you $915 at AT&T, or $888 at Sprint. With a two-year agreement, it's $400 at AT&T or $450 at Sprint.
The smaller sized 32 GB will cost $300 with a AT&T contract, and $814 without. Sprint's 2-year agreement deal is $350, and $792 without a contract.