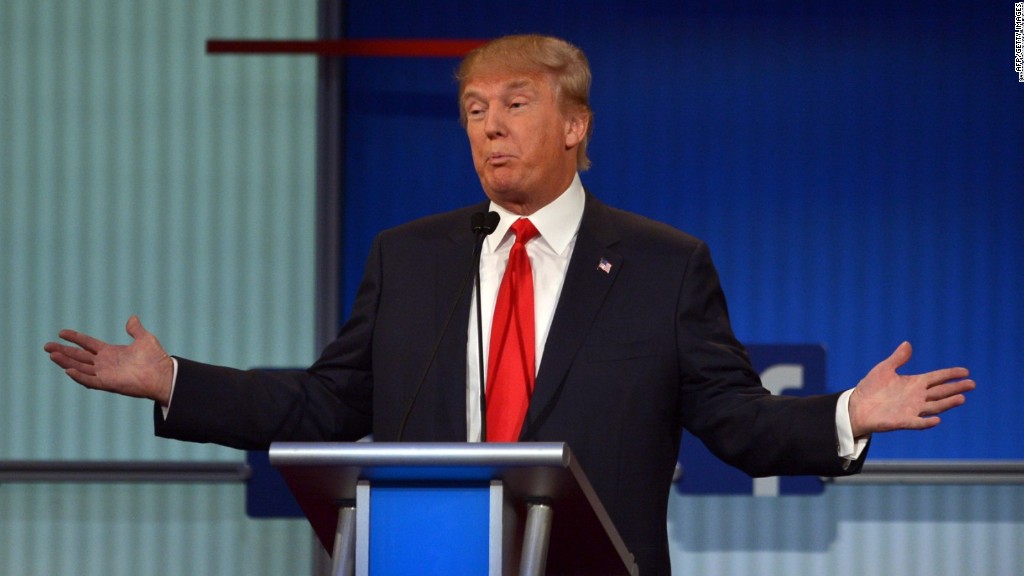 Fox News has a new message for Donald Trump: Don't believe the conspiracy theories about Megyn Kelly's vacation.
Trump has been complaining about Kelly, the Fox News host, ever since she challenged him at the GOP debate on August 6.
The candidate's war of words against Kelly and Fox as a whole culminated in a phone conversation with Fox News chairman Roger Ailes on Monday morning. There seemed to be a truce -- but now that's unclear.
Kelly began a 10-day vacation after her Wednesday night broadcast. Fox says the vacation was planned well ahead of time. But some bloggers and commentators have circulated theories that Kelly was sidelined as a result of the Trump dispute.
In an interview with Newsmax TV on Friday, Trump indicated that he was inclined to believe the theories.
"There probably was" a connection, he said. "But I wouldn't know about it."
He added that "people were very very surprised that all of a sudden she decided to go away for 10 or 11 or 12 days."
Fox News responded with a sharply worded statement on Friday night.
"The conspiracy theories about Megyn Kelly's vacation rank up there with UFO's, the moon landing and Elvis being alive," a network spokeswoman said. "Megyn is on a pre-planned, annual summer vacation with her family, which is much deserved. To imply otherwise as Donald Trump and his campaign operatives have is not only wildly irresponsible, but downright bizarre."
The spokeswoman added, "Perhaps Mr. Trump thinks it's advantageous to his poll numbers to keep talking about Megyn, but that doesn't change the fact that Roger Ailes has fully supported her and her tough journalistic questioning since day one and is thrilled with the added exposure from the debate, which resulted in even higher ratings of 'The Kelly File' this week."
Kelly talked on Wednesday's program about how she hasn't had a real vacation for six months. She'll be back on August 24.
Speaking with Newsmax's Steve Malzberg on Friday, Trump said that Ailes "couldn't have been nicer" when the two men spoke by phone on Monday.
Trump refuted a story published by CNNMoney earlier this week that said days of tension between his campaign and Fox News ended with a "very blunt" talk with Ailes.
At one point in the phone call, according to anonymous sources, Ailes said to Trump, we "can resolve this now, or we can go to war."
Malzberg asked Trump about the quote, and Trump said "that story was a false story."
"Roger knows that's not the way to talk to me, because if people talk to me that way, you know what happens," Trump said.
"That was not Roger," Trump added. "It's not the way he deals with me."
Related: Roger Ailes to Donald Trump: 'We resolve this now or go to war'
The CNNMoney story relied on sources from both sides who asked to remain anonymous. Spokeswomen for Trump and Ailes declined to comment at the time.
At the crux of the dispute was tough questioning by Kelly and the other moderators at the first GOP presidential debate. Trump thought the questions were unfair.
In the Newsmax interview Friday, Trump also revealed that he had multiple phone calls with Ailes leading up to the so-called truce.
Previously he had only confirmed a Monday morning call, which resulted in interviews on Fox with Steve Doocy and Sean Hannity the next day.
But Trump told Newsmax that Ailes "called me up on a Saturday, and he said, 'How do we get this thing solved?'"
This matches the timeline that sources described earlier this week.
By Sunday night, Ailes thought the two sides had reached an understanding -- that Trump would stop attacking Kelly and Fox. Ailes was then furious when Trump went on MSNBC's "Morning Joe" on Monday morning and said he thought Kelly should apologize to him.
According to the sources, Ailes then called Trump and had the heated but brief conversation that resulted in the "truce."
Trump then tweeted kind words about Ailes, and Ailes issued a statement that said "the air has been cleared."
On Friday night, the Fox spokeswoman said, "Anyone who knows Roger is aware of how historically and consistently loyal he is to all of his talent and how he protects them at all costs. As Governor Terry Branstad said today, 'when you're a candidate, you've got to basically answer the questions. You can't just attack the person asking the questions. That doesn't work.'"
A Trump campaign spokeswoman did not respond to a request for comment Friday night.
For both sides, there are benefits to cordial relations: Trump gains access to Fox's big right-leaning audience, and Fox gets a Trump bump in the ratings.
But as the week drew to a close, tensions remained high between the two sides.
The Friday interview with Newsmax shows that Trump is still upset with how he was treated at the debate.
Along with saying Kelly's question to him was inappropriate, he said there was "hatred" in a question from another moderator, Chris Wallace.
Trump indicated that is partly why he spurned an interview request from Wallace and agreed to sit down this Sunday with Wallace's rival Sunday morning host, Chuck Todd of NBC.