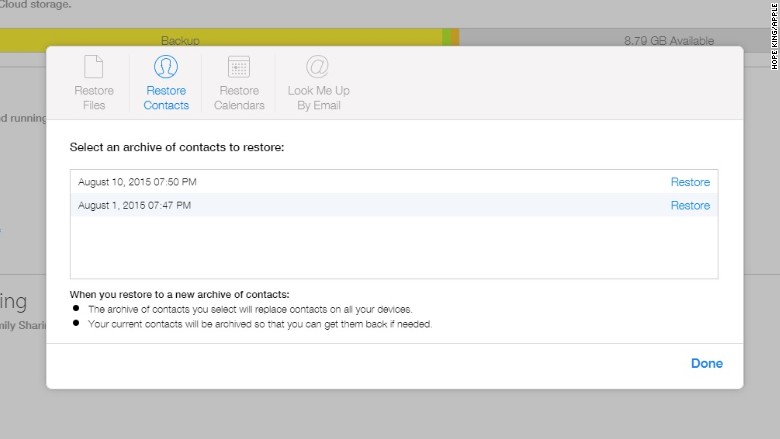 Did you delete that file off your iPhone by mistake? No need to panic: Restoring deleted iPhone files just got easier with a new iCloud update.
Now when you go to iCloud.com, you'll see three options under Advanced Settings: Restore Files, Restore Contacts, and Restore Calendars and Reminders.
A list of dates and times will appear in each category, presumably to indicate the last time Apple synchronized your iOS devices through iCloud. There seems to be a pattern between the dates -- about three days for calendar settings, and a week or so for contacts. (Apple did not immediately respond to request for comment.)
By clicking "Restore," you'll set your iPhone back to the state it was in when it last synced with iCloud. That means deleted files, calendar appointments and reminders will be restored.
But the new feature has its flaws.
Before you hit restore, Apple warns that if you had previously shared calendars and reminders and then deleted them, you'll have to re-share them with your contacts after restoring them.
More troubling: If you had canceled an event and deleted it, restoring that event will send another invite to your contacts.
Also, after you hit restore, you won't see any notifications on your iPhone that old files were restored, so it won't be immediately clear what got restored either.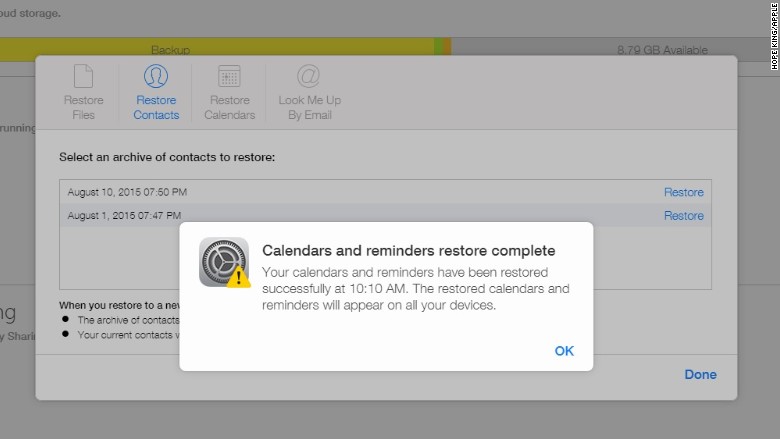 This update was first reported by Benjamin Mayo at 9to5Mac.