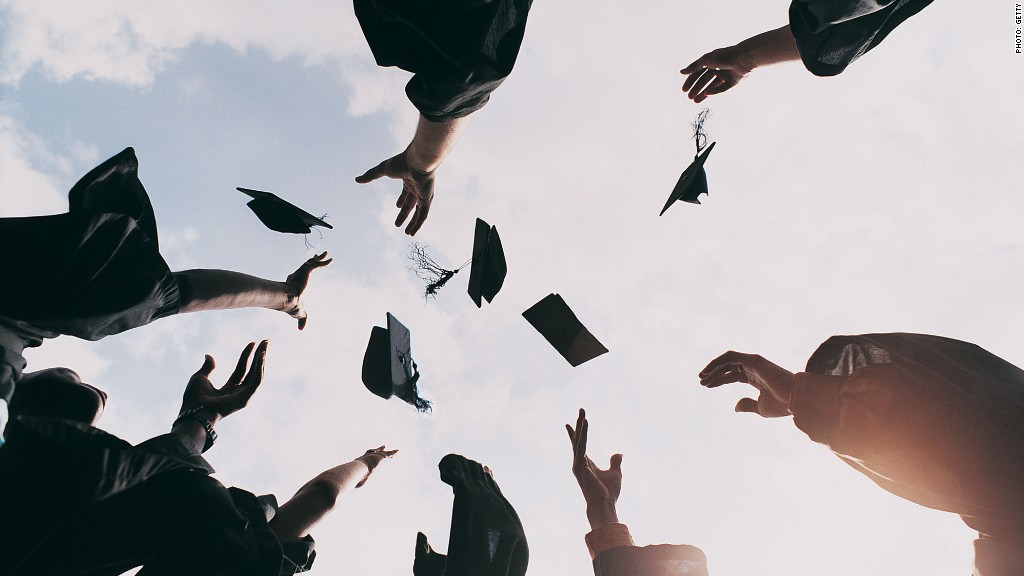 College-educated blacks and Hispanics have seen their wealth and income shrivel over the past 20 years.
What's more, these folks have not only fared worse than white and Asian graduates, but also black and Hispanics without four-year college degrees, according to a new report from the Federal Reserve Bank of St. Louis.
The median income of blacks and Hispanics who finished college declined between 1992 and 2013, while for whites and Asians, median income grew by double-digit percentages, respectively.
For example, black graduates earned $52,150 in 2013, a drop from $59,300 in 1992.
The income divide among the races stems mainly from lingering discrimination, said William Emmons, a St. Louis Fed economist. Blacks and Hispanics continue to face inequities in hiring.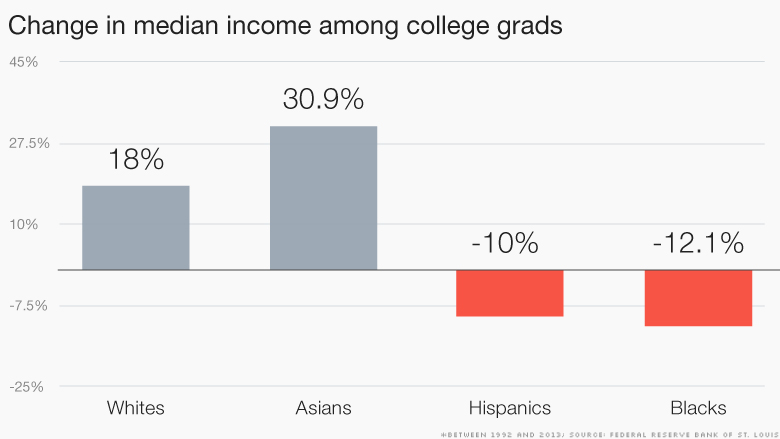 Separately, many high-paying fields, such as technology, are dominated by whites and Asians.
Also, many white and Asians obtain advanced degrees, which allow them to command even higher salaries.
Surprisingly, blacks and Hispanics without degrees saw their incomes climb 17.3% and 15.6%, respectively, while degree holders suffered.
As to why blacks and Hispanics who lack college degrees saw their incomes grow? Emmons doesn't know.
When it comes to median wealth, which includes the value of assets like homes and savings, degree-holding blacks and Hispanics also suffered losses, while whites and Asians saw big gains over the past two decades.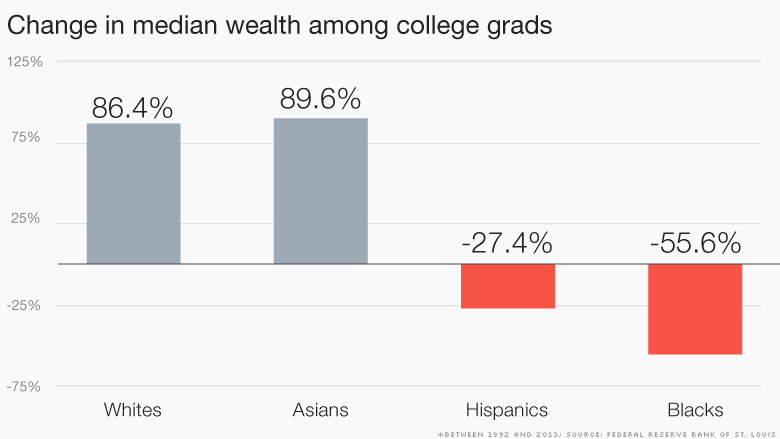 What's behind such discrepancies?
Part of the reason is that college-educated blacks and Hispanics carried much more debt than any other group going into the Great Recession. And their wealth was more tied up in their homes.
So the collapse of the housing market hit them harder, with the average value of homes owned by educated blacks falling 51% and Hispanics dropping 45%, compared to 25% and 6% for whites and Asians, respectively.
Blacks also borrow more to earn their bachelors so they leave school in greater debt than whites and Asians, according to a separate report from Demos, which advocates for low-income Americans. Hispanics take on more student debt to graduate from private, non-profit colleges, the report found.
Meanwhile, blacks who didn't go to college saw their net worth slip 3.8%, while Hispanics enjoyed a 30.8% increase in wealth.
This is not to say that college degrees have no value for blacks and Hispanics. The median annual family income for blacks and Hispanics with four-year degrees was $52,150 and $68,400, respectively, compared to $26,600 and $30,450 for those who didn't finish college, according to the St. Louis Fed report.
The median net worth for black degree holders was $32,800, compared to $9,000 for blacks with no degree. For Hispanics, the gap is even wider -- $49,600 for grads and $12,150 for non-grads.