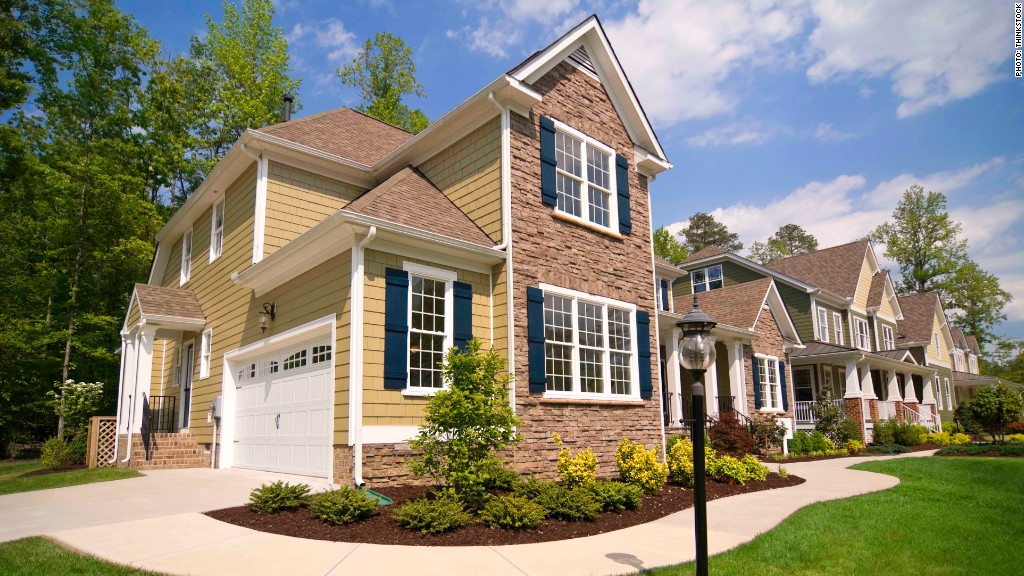 U.S. housing is finally lifting itself off the mat.
The latest evidence came from Home Depot (HD). The world's largest home improvement retailer on Tuesday revealed it experienced a record number of transactions in the last three months. On average, shoppers spent more than at any point since 2006 and sales at stores open for a year or more jumped 6%.
All of that suggests Americans are ramping up spending on efforts to spruce up newly-purchased homes or ones they'd like to sell. While housing might not be back to pre-crisis levels, it's certainly looking a lot healthier.
"We continue to see positive signs in the housing market," Carol Tome, Home Depot's chief financial officer, told analysts during a conference call.
Home Depot is confident enough to upgrade its outlook for the rest of 2015. Investors loved the news, driving Home Depot stock up 3% to all-time highs. It's up 47% over the past year.
Related: The median home price here is $980,000
More people bought goods that cost $900 or more
Home Depot said housing turnover and household formation -- two critical metrics -- are now running ahead of where the company anticipated. Home prices also continue to increase moderately.
"When consumers believe their home is an investment, not an expense, they spend differently. We are seeing that," Tome said.
Americans increased spending on appliances, tools, plumbing, décor, lighting, kitchen and bath hardware and flooring. Another positive sign: The amount of Home Depot transactions exceeding $900 rose 6% last quarter. Home Depot also said sales momentum built during the summer, going from 3.5% growth in May to 8% in July.
Related: Walmart profits hit by strong dollar, higher wages
More new homes are being built
Home Depot isn't the only one that's optimistic. So are home builders.
Construction on new single-family homes soared nearly 13% in July from June to the best level since December 2007, the beginning of the Great Recession, according to a new government report released Tuesday.
A measure of confidence from the National Association of Home Builders climbed to the best level in August in nearly a decade.
"Housing is indeed picking up after a very slow start to this recovery," said Bob Baur, chief global economist at Principal Global Investors. "
Wall Street seems to be recognizing this. Shares of Home Depot rival Lowe's (LOW) rallied 1% on Tuesday. Home builders like KB Home (KBH), PulteGroup (PHM), Lennar (LEN) and Hovnanian (HOV) enjoyed even stronger rallies.
Share your story with CNNMoney! Have you been hurt by falling oil prices?
Are Millennials starting to jump in?
The financial crisis changed the psychology for potential homebuyers. Countless Americans either lost their homes or witnessed their friends and neighbors lose theirs.
"They really got chastened on how much debt they should have. But some of that caution is beginning to diminish a little bit," Baur said.
One of the best signs of improvement has a stronger jobs market, which has led to household formation -- young people starting to move to their own homes and buying furniture, appliances or other goods.
"Kids stayed in their parents' home and others moved back into their parents' houses. We're beginning to see that trend turn around. Millennials are starting to come back into the housing market," Baur said.