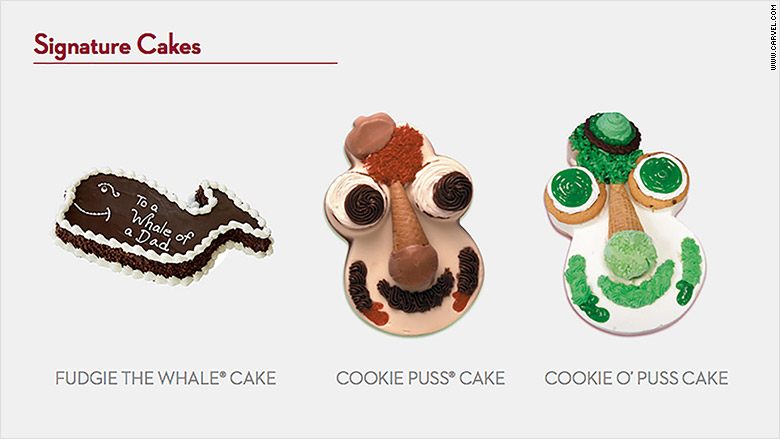 No need to get up, couch potatoes, because Carvel's got a delivery app that is going to bring Cookie Puss right to your door.
Focus Brands is rolling out the service for all its brands next week, including Carvel, Cinnabon, Auntie Anne's, Moe's Southwest Grill, McAlister's Deli and Schlotzsky's.
Focus promised to deliver in less than one hour, thanks to its partnership with Postmates, an app and web platform.
There is no minimum purchase. You can order a single Cinnabon if you want. But the typical Postmates fees apply, which start at $5 and can go higher depending on how far the Cinnabon travels and whether surge-like fees are in effect.
This is a high-tech departure for an 80-year-old company like Carvel, which is famous for its low-tech commercials advertising ice cream cakes like Fudgie the Whale, Cookie Puss and the Irish-themed Cookie O' Puss.
Focus said the delivery service applies to 34 locations in Atlanta, where it's headquartered, New York City, Dallas, Austin, Los Angeles, San Francisco and Portland, Ore.
Focus Brands said the delivery service is a "convenient opportunity for fans to savor the products they crave, like a Cinnabon Classic Roll, a Texas sized spud from McAlister's or even an ice cream cake or a sundae from Carvel."
Related: Cleveland Clinic kicks out McDonald's
Delivery is all the rage for food companies that have traditionally relied on walk-in customers.
Taco Bell, owned by Yum! Brands (YUM), launched a delivery service last month, partnering with a startup called DoorDash, in California and Dallas. Chipolte and McDonald's (MCD) started experimenting with delivery in New York City this year in conjunction with Postmates. Starbucks (SBUX) is testing a delivery service and Dunkin' Donuts (DNKN) is planning one as well.
Amazon (AMZN) started one-hour food delivery in May in Manhattan, partnering with D'Agostino, Gourmet Garage and Billy's Bakery.