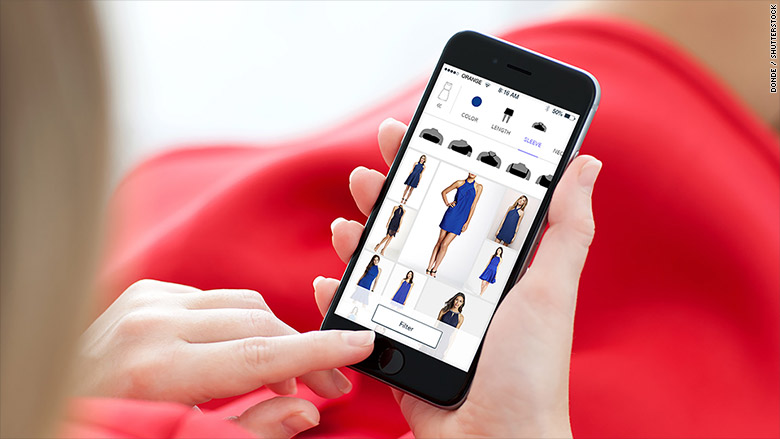 Shopping can be a time-consuming, frustrating hobby -- both in the real world and online.
Israeli entrepreneur Liat Zakay feels this pain -- and she's come up with a formidable solution.
Donde has developed an app that brings artificial intelligence to mobile shopping. It's eliminated the need to plug in a bunch of keywords, instead letting users tap style preferences that match what they're looking for.
"Traditional search engines are great when you're trying to find articles or documents, but when you're trying to find visual objects like in fashion, it's not intuitive enough," said Zakay.
Donde Fashion's app, available on iOS Thursday, crawls the web for offerings from over 6,000 major retailers like Banana Republic, Zara, J.Crew and Bloomingdales. Using artificial intelligence, Donde's technology analyzes the images and then classifies them by things like color, length and neckline.
On Donde, users first select an item to search for, then filter by everything from hemline and pattern to brands and price ranges.
Users can make purchases directly through the app. Donde gets a cut of purchases through certain affiliate partnerships -- but Zakay said that these partnerships will not dominate the search results.
Zakay, 28, and her two co-founders spent years in the Israeli military's esteemed intelligence unit, 8200, analyzing data and building algorithms. They've been working on the artificial intelligence behind Donde for nearly two years.
"We decided we weren't going to do the same as all of our friends and start a cybersecurity startup," said Zakay.
The idea for Donde stemmed from her own frustration with shopping.
"I don't have time to go to stores, and frankly, I don't enjoy it," she said.
She came up with the startup's name while on a trip to South America. Zakay, who doesn't speak much Spanish, said asking a simple "donde?" was surprisingly helpful. Donde similarly aims to helps users find exactly what they're looking for -- without doing a lot of work.
Zakay and her co-founders went through UpWest Labs in 2014. UpWest is a four-month accelerator that helps Israeli startups break into Silicon Valley. Zakay stayed in Silicon Valley, but the rest of Donde's eight-person team is in Israel.
Right now, the app is focused just on women's clothing and accessories but Zakay knows the shopping frustration is universal. She said there are big potentials for expansion -- to menswear, home goods, and more.
"I don't have any patience to browse, especially on my mobile. When I want something, I need to be able to find it quickly," said Zakay.