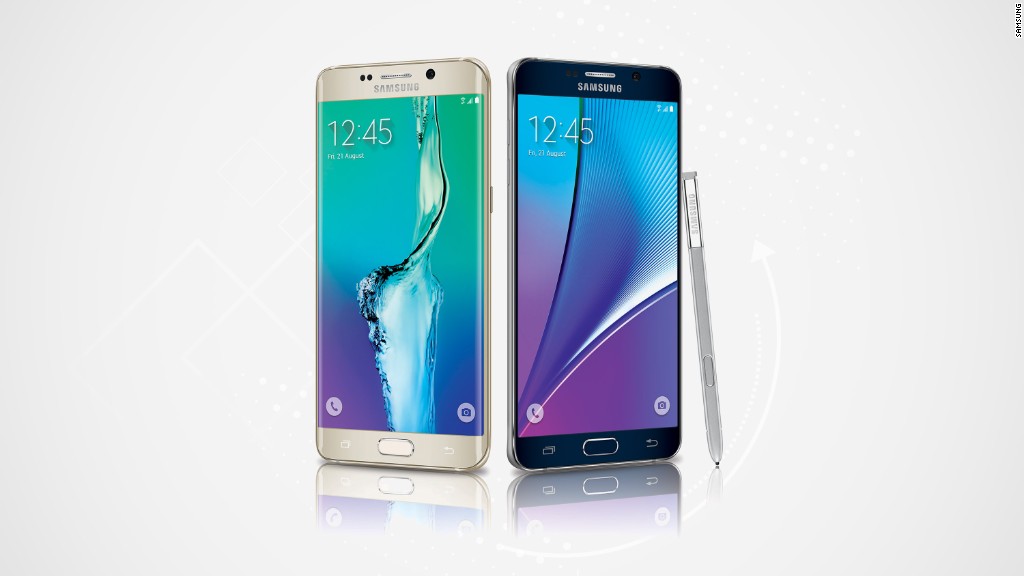 Love your iPhone? If you spend a month and a dollar, Samsung is betting it can get you hooked on a Galaxy smartphone.
Samsung is offering iPhone customers the ability to test drive its new lineup of Galaxy phones, including the Galaxy S6 and S6 Edge, in addition to the S6 Edge+ and Note 5.
For a buck, Samsung will give you the Galaxy phone of your choice, and it will include a month's worth of cellular service. If you don't like it better than your iPhone, you can return it with an included shipping label for free.
There doesn't appear to be much of a catch. You do have to enroll in the program from your iPhone -- sorry, Android customers.
Samsung continues to lead the overall smartphone market, capturing 22% of global sales last quarter. That's compared to runner up Apple's 15%, according to Gartner.
But Apple (AAPL) is closing the gap, as the iPhone 6 and the mega-sized iPhone 6 Plus continue to sell well, particularly in China -- a market Samsung had long dominated but Apple wrestled control of earlier this year.
In the United States, the iPhone continues to be the top-selling smartphone. Apple controlled 43% of U.S. smartphone sales last quarter, compared to just 29% for Samsung, according to comScore.
The Galaxy S6 was supposed to be Samsung's answer to Apple's explosive growth. Its sleek (iPhone-like) design has received rave reviews, but it wasn't enough to stop seven straight quarters of Samsung's sinking smartphone profits.
The giant Note lineup had been the only game in town, but now every major smartphone maker has a huge "phablet," including Apple. The brand new Note 5 and Edge 6+ are receiving positive reviews, but it's not yet clear that will be enough to squash the iPhone 6+ -- particularly with a new hyped-up iPhone announcement likely coming in a few weeks.
Samsung's new offer is similar to T-Mobile's promotion, in which customers can test out an iPhone on its service free for a month. It's unclear how many takers Samsung will get, but it might not matter: These kind of promotions are typically more about perception and brand awareness than converting customers.