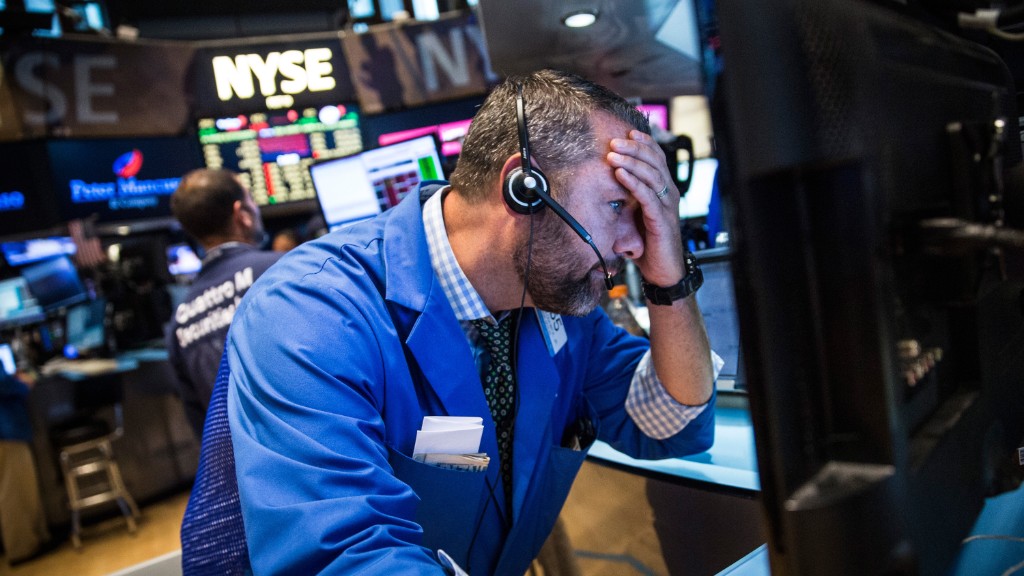 Stock markets are on high alert.
One of the biggest reasons is China's economy, which appears to be slowing down quickly.
And that has sent negative ripple effects through stock markets around the world, including the United States. The Dow plummeted over 1,000 points this past week -- the worst week since 2011.
Major global indexes logged dramatic declines and are showing no signs of turning around. The losses were far greater outside the U.S., with indexes in China and the U.K. stock market all falling more than 10% from recent highs. European and Latin American markets were all in the red too.
Concerns mounted after data showed that China's manufacturing activity had tumbled to its lowest level in 77 months. Next week, investors will get a closer look at Chinese imports, a key gauge for many countries that rely on China as a trade partner.
Related: China's economy is in trouble. How bad is it?
Three factors continue to hover over the markets:
1. Concerns that China's economy is slowing faster than its government has said.
2. Uncertainty over whether the U.S. Federal Reserve will raise its benchmark interest rate in September.
3. The effect of cheap oil, which has dropped to its lowest point in over 6 years.
Correction might not be a bad thing
Through all of this, it's worth remembering that U.S. stock indexes had hit record highs earlier this year, after logging double-digit gains in each of the last three years.
Arguably, the U.S. stock market was heating up, and weak company earnings weren't lining up with high stock prices.
Many on Wall Street believe a modest correction wouldn't be a bad thing. The idea is that it's better to take a 10% loss now than overheat and get hurt much more later (like China's Shenzhen A Share market, which has tumbled 35% since June).
Related: China manufacturing hits 6 year low
How bad is China's economic slowdown?
After the government devalued its currency last week, Wall Street has become extra worried about the China slowdown.
Although Chinese officials say the economy grew 7% earlier this year, many experts wonder if it's worse. China will publish more data on its recent exports and imports on Wednesday, according to FactSet. Wall Street and many countries that trade with China will be looking at those closely.
Related: China's stocks have tanked 11% this week
Will the Fed raise rates in September?
As if China wasn't worrying investors enough, the odds of a Fed rate hike in September seem to have lowered.
Earlier this week, the central bank released the minutes from its July meeting, which showed some members are ready to go forward with a rate hike while others are concerned about the global economy and non-existent inflation in the United States.
The uncertainty from the minutes -- along with China -- was a one-two punch that drove the markets down further.
"I am still saying yes [for September], but I have much less conviction," says David Joy, chief economist at Ameriprise Financial in Boston.
Related: Netflix shares dive 15% this week
Oil prices are at 6 1/2 year lows
And then there's oil. Crude oil prices fell below $40 a barrel for the first time since 2009. A year ago a barrel of oil cost about $100.
Oil is a lifeline of economic growth for many developing countries, which are also seeing their currencies lose value because of their economic exposure to China.
Brazil's currency, the real, has fallen 9% against the dollar in just the past four weeks. Colombia, Chile, Vietnam and Indonesia have also seen significant currency drops against the dollar.