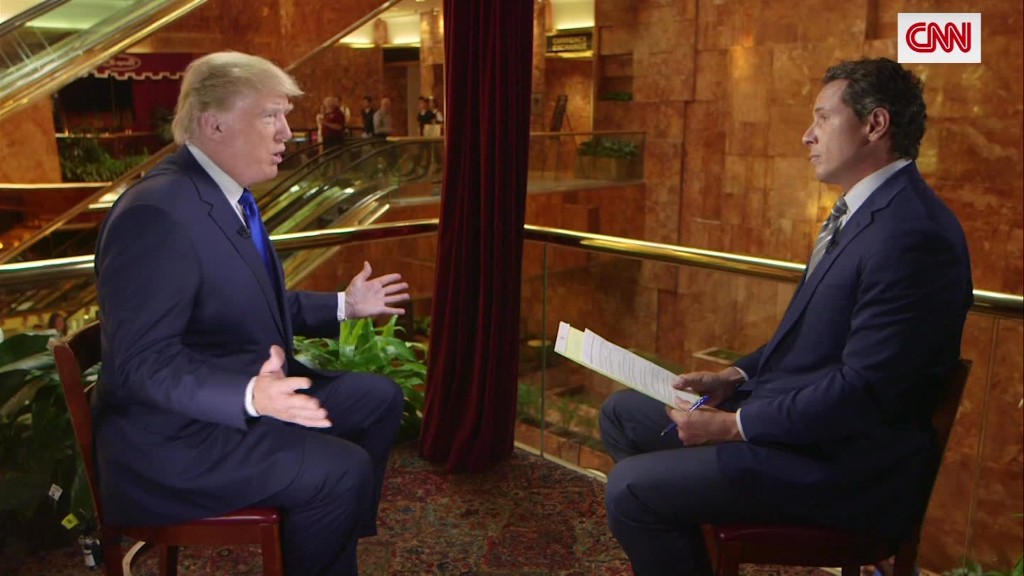 Donald Trump, presidential candidate and media critic, says Politico goes out of its way "to distort truth."
In a series of tweets on Saturday afternoon, Trump took aim at the political news site: "Politico covers me more inaccurately than any other media source, and that is saying something."
He then lauded one of Politico's main rivals, The Washington Post, for "the accurate and very discriptive [sic] story" about his Friday night rally in Mobile, Alabama.
The previous day, Trump blasted ABC News for a story he called "fraudulent."
Trump didn't elaborate on which Politico stories he was referring to. But a followup tweet referenced a piece titled "Donald Trump, Alabama and the ghost of George Wallace." The subtitle was "the South rises for Trump, but only 20,000 of them."
The story, by Politico reporter Ben Schreckinger, said "the ghost of George Wallace loomed large" at Trump's rally. It suggested parallels between Trump's current campaign and Wallace's multiple bids for the presidency in the 1960s and '70s.
Wallace, an avowed segregationist, died in 1998.
Schreckinger also said attendance at the rally "fell far short of expectations," citing media estimates "that the total was in the ballpark of 15-20,000," well less than the 40,000 expected, and linked this to a Trump event last month:
"Trump has repeatedly claimed that 15,000 people attended a rally he held at a convention center in Phoenix, Arizona, in July, but the room's capacity was just over 2,000 people."
The candidate fired back on Twitter: "I had 15,000 people in Phoenix but @politico said 'the rooms capacity is just over 2000.' But said Bernie Sanders had 11,000 in same room."
Schreckinger tweeted back that the Sanders comparison was "FALSE: Same convention center. NOT the same room."
Politico editor Susan Glasser declined to comment on Trump's slam.
Schreckinger's story also noted the the city of Mobile's official estimate for the rally attendance -- 30,000.
Meanwhile, the Washington Post story that Trump praised also took note of Trump's crowd size, saying that it filled "perhaps half of the 40,000-seat stadium."
"It was the most audacious Donald Trump spectacle yet in a summer full of them," Robert Costa and David Weigel wrote. "(T)he Republican presidential front-runner, in his Boeing 757, thundered over a football stadium here Friday night and gave a raucous speech to one of the largest crowds of the 2016 campaign."
Later on Saturday, Trump tweeted that "there were 30,000 people at last nights event, making it #1 for pol season."
Trump's media critiques are a steadfast part of his rallies and speeches. He usually generates loud applause when he says the media is "really dishonest" or "very dishonest" or "amazingly dishonest."
But he oftentimes adds that he likes some individual members of the press and sometimes calls out to the journalists in the room by their first names.