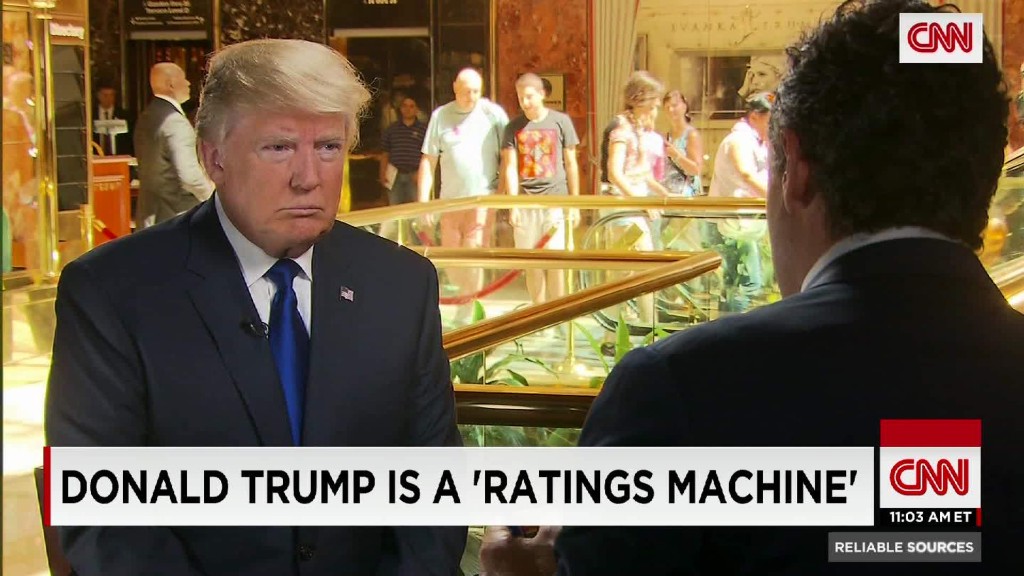 Since the first Republican presidential debate, Donald Trump has received more attention on the nightly news than his 16 rivals — combined.
In fact, Trump coverage alone almost doubled all the other GOP candidate coverage.
An analysis for CNN's "Reliable Sources" showed that Trump talk totaled 36 minutes and 30 seconds on nightly newscasts from NBC, ABC and CBS.
The next-closest candidate was Jeb Bush, who received 9 minutes and 22 seconds of coverage.
The data illustrates what many commentators have said anecdotally: Trump is thoroughly dominating the Republican primary season this summer.
The billionaire businessman is a frontrunner in GOP polls, but he's even further ahead when media coverage is measured.
"He is the one who's made this race interesting," New York magazine columnist Frank Rich said on Sunday's "Reliable Sources."
Rather than saying that Trump is taking away oxygen from other candidates, Rich said, "my feeling is, he is the oxygen."
Related: Donald Trump expected to appear on Rolling Stone
There were big differences between networks. ABC's "World News Tonight" spent nearly twice as much time -- 15 minutes and 37 seconds -- covering Trump as the "CBS Evening News," which spent 8 minutes and 35 seconds. "NBC Nightly News" was in between with 12 minutes and 18 seconds.
Following Trump and Bush, there wasn't much time left for any other GOP candidates on the evening news. John Kasich received 2 minutes 29 seconds of coverage between August 7 and 21. Marco Rubio received 1 minute 35 seconds, and Chris Christie got 1 minute 16 seconds.
Some lower-ranking candidates were barely mentioned at all.
Ben Carson was mentioned for 11 seconds combined; Rick Perry was mentioned once, for 6 seconds, by NBC; Ted Cruz and Mike Huckabee for 3 seconds each; and Lindsey Graham, just for 1 second, by CBS.
Of course, this data doesn't account for coverage on other network programs. Graham, for example, was mentioned on "CBS Evening News" in a plug for the network's Sunday talk show "Face the Nation," where he was a guest.
A separate analysis of GOP candidate coverage on The New York Times web site also showed a dramatic gap between Trump and the rest of the field.
The data accounts for all mentions of candidate names on NYTimes.com between August 7 and 22.
Trump led with 318 mentions, followed far behind by Bush with 180, Rubio with 115, Scott Walker with 105, and Christie with 84. (Some of the Christie coverage may reflect local attention from The Times, since he is the governor of New Jersey.)
Toward the end of the list, Rick Santorum was mentioned 17 times, George Pataki was mentioned 13 times, and Jim Gilmore was mentioned 9 times.