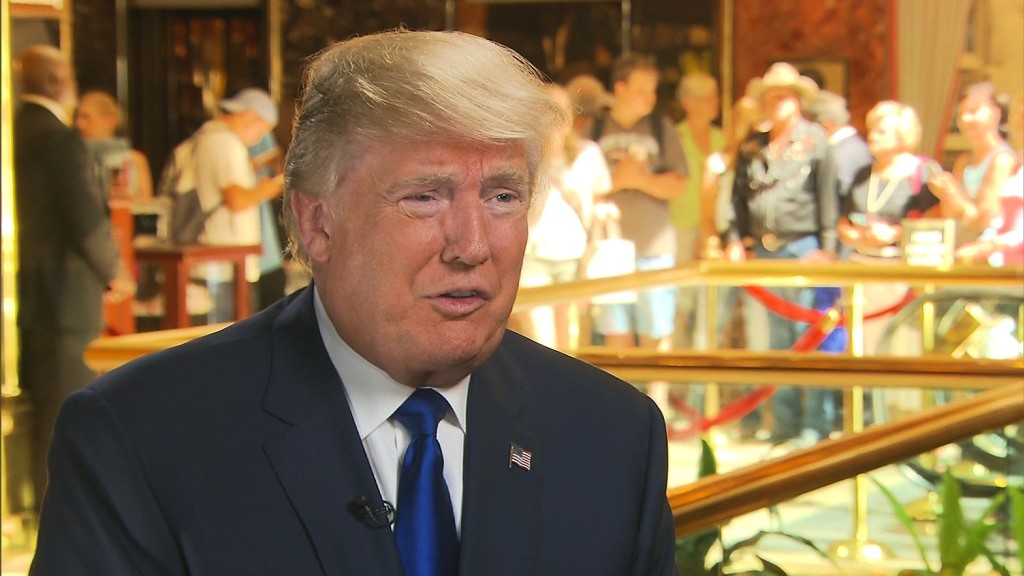 Donald Trump wants to protect U.S. auto jobs by taxing cars and auto parts that are made at Mexican plants.
He told CNN's Chris Cuomo last week that he'd tell automakers that if they want to manufacture in Mexico where wages are low, "they'll have to pay a tax to get the cars back in, you're going to have to pay a penalty."
But the U.S. auto industry is actually the healthiest it has been in a very long time. The Big Three are their most profitable levels in decades, and autoworkers are enjoying huge profit sharing checks and secure jobs. Starting a trade war with Mexico over cars could hurt auto workers and car buyers alike.
1. Sales of cars made in the U.S. are booming
Sales and market share for General Motors, Ford and Fiat Chrysler have climbed in recent years. And they are exporting more cars than ever.
Their overseas rivals, such as Toyota (TM) and Honda (HMC), make most of the cars they sell in the U.S. at U.S. plants.
In fact, Honda now exports more cars from its U.S. plants than it imports into the U.S.
Likewise, German automaker BMW is expanding its South Carolina plant to make it the company's biggest worldwide. And most of the cars made there are sold outside of the United States.
U.S. auto plants exported 2.1 million cars in 2014, a record for the industry. And the value of U.S. cars, trucks and parts that are exported has more than doubled since 1999, reaching nearly $160 billion last year.
2. U.S. auto plants are hiring
Strong domestic sales and record exports boosted U.S. auto jobs to 877,000 last year. That's up by more than 200,000 jobs, or 32%, since the sector bottomed out in 2009.
Employment has continued to climb this year, with the industry adding another 18,000 jobs so far.
GM (GM), Ford (F) and Fiat Chrysler (FCAM) agreed in the last round of labor contracts with the United Auto Workers union to shift more work from Mexican and overseas suppliers back to their unionized plants in the United States. Hiring has exceeded the targets laid out in the contracts for all three automakers.
3. An auto trade war means higher prices
Even Trump acknowledges that slapping tariffs on Mexican-made cars would drive up the cost for consumers.
"Maybe a person will buy fewer cars over the course of a lifetime. Who cares? We have to bring back our jobs," he told Cuomo.
But with Americans already paying record prices for new cars, higher prices will knock some potential buyers out of the market.
And U.S. automakers, who are finally back on their feet financially, would take a hit as well.
One of the things that has made U.S. cars so competitive here and abroad is the availability of Mexican-made parts. Making Mexican parts more expensive would just give an advantage to cars made in Asia, not in the U.S.
And if U.S.-made cars can't compete, that puts American jobs at risk.