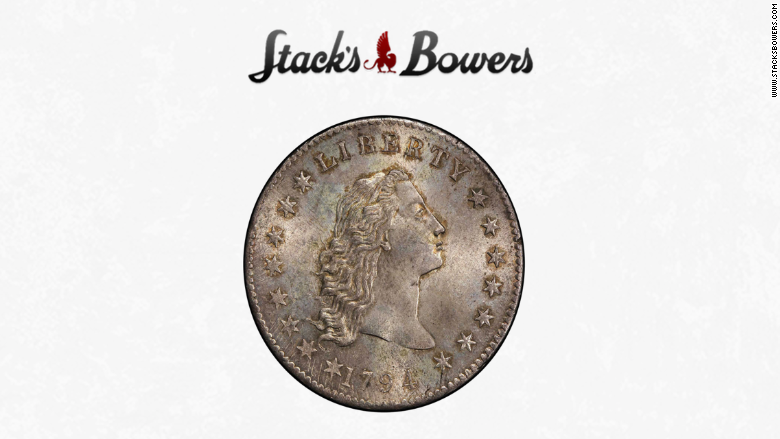 For one Texas coin collector, a dollar could be worth millions.
It's a 1794 Silver Dollar -- one of the few remaining from the country's very first batch of dollars -- and when it goes up for auction in New York City on September 30, it's expected to sell for between $3 million and $5 million.
There are only 150 of the coins known to exist, and this is one of the three best preserved; it's the kind of thing coin connoisseurs dream about.
John Kraljevich, a consultant for the auction house Stack's Bowers that's handling the sale, said the coin's historical significance has collectors craving it.
"The whole idea for the dollar begins with this coin," Kraljevich said. "It's foundational for [...] the U.S.'s place in world commerce."
As valuable as the coin is, it isn't expected to set a world record.
The finest known specimen of the 1794 Silver Dollar holds that title. It shattered the world record for a coin sale in 2013 when it fetched $10 million at auction. That more than doubled the previous record of $4.1 million set in 1999.
According to Kraljevich, that coin was specially crafted and intentionally preserved. The silver dollar up for sale next month, however, was a forgotten keepsake of an English lord that languished for 170 years in a cabinet.
The fact that the coin will fetch multi-millions next month makes it one wise investment for the Pogues, the Dallas family that currently owns it.
Their coin was last sold in an auction for $1.2 million in 2010 -- but pre-auction bidding for the coin on the Stack's Bowers website has already climbed over $2 million.
At the September auction, the silver dollar will sell alongside the rest of the Pogues' assortment of historic coins -- which is considered the most valuable privately held collection in the world. Their slate of 681 coins is worth an estimated $200 million.
Real-estate developer Mack Pogue and his son, Brent, began buying rare coins in the 1970s. They already sold the first batch of their collection for $25 million back in May.
The top seller among those coins was a 1808 Quarter Eagle that went for $2.35 million.
"The sale of my collection is bittersweet, but I feel now is the time to pass the torch to a new generation of custodians, who can appreciate the legacy of these great American coins," Brent Pogue said in a press release. "These coins conjure up many fond memories, and I hope the new owners will enjoy them as much as I have."