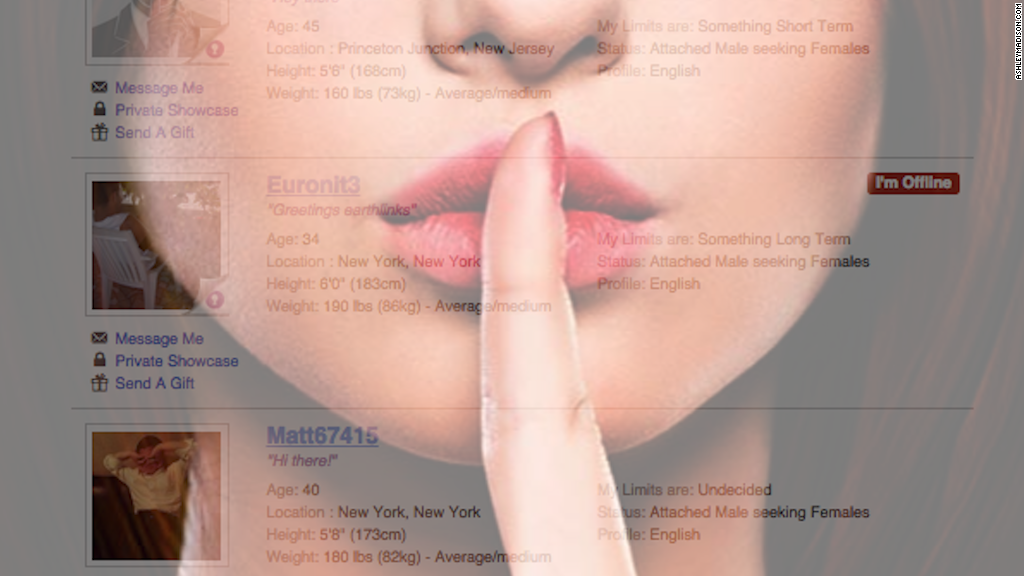 Life is short. File a lawsuit.
In recent days three federal lawsuits have been filed in U.S. courts by Ashley Madison customers angry that their information was stolen and leaked to the public.
They say the website and its owner Avid Life Media didn't do enough to keep their identities a secret.
One of the suits cites internal documents revealed by the hackers which showed employees warning the company about how vulnerable its systems were to hacking. Despite these warnings another suit charges that Avid CEO Noel Biderman routinely bragged in the press about his company's computer security.
A fourth federal suit was filed a month ago after the hack was first revealed, but before the data dump became public last week.
Related: Ashley Madison hack ruined my life
The plaintiffs in all four U.S. lawsuits are identified only as "John Doe," or in one case 'Jane Doe," despite the fact that their names, credit card numbers and other very personal details are now available on a public, searchable database. A suit filed last week in Canada, where Ashley Madison is based, identifies a plaintiff there by name.
The U.S. suits were filed in California, Texas and Missouri on behalf of eight clients that live in those three states as well as Georgia, Tennessee, Minnesota and Missouri.
Julian Hammonds, the attorney for a Los Angeles plaintiff, confirmed that his client is married but wouldn't say whether his client's wife has learned he was using the site or whether his client had had an affair with someone he met there.
Related: Can Ashley Madison survive the hack?
Several of the suits say plaintiffs tried to cancel their accounts and paid about $19 to have all of their information removed from the site. But the suits charge that their identities were still revealed when hackers posted 9.7 gigabytes of data stolen from the company last week.
One of the suits charges the hack had inflicted "emotional distress" on the plaintiffs. It says that the release of customer information "can only be described as a nightmare" for users of the site, and that the revelation of personal and financial information "is bound to have catastrophic effects on the lives of the website's users."
All the suits seek as least $5 million in damages, which is the minimum for a case in federal court, and all seek to be classified as class actions suits on behalf of all U.S. clients.
Related: Suicides may be linked to Ashley Madison hack
Ashley Madison and Avid Life Media did not respond to a request for comment Tuesday.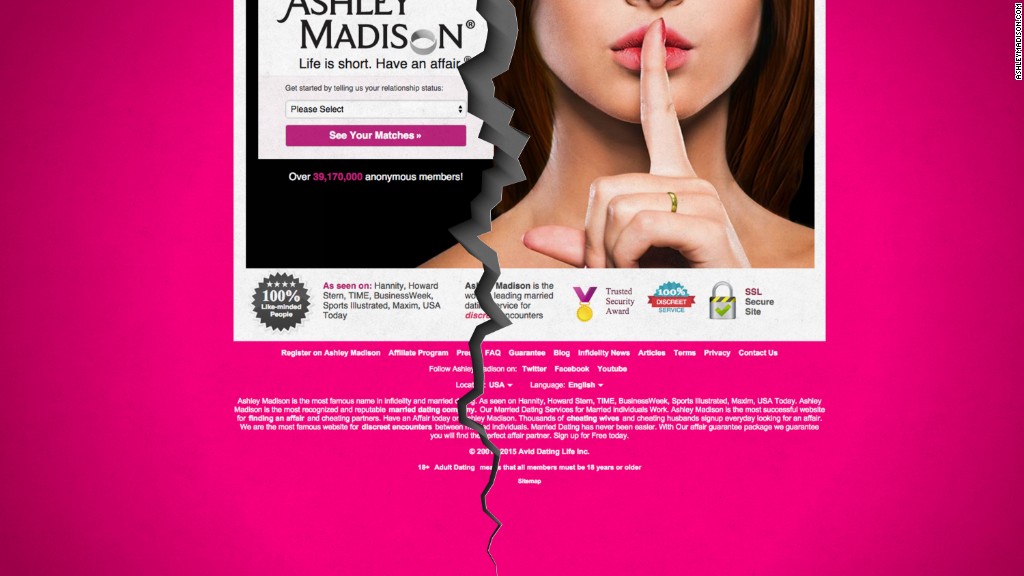 The hack was disclosed in July, when the hackers said they would post the stolen data is the Ashley Madison website wasn't shut down
Soon after the data was posted, web sites popped up to let users search the names and e-mail addresses of the firm's clients.