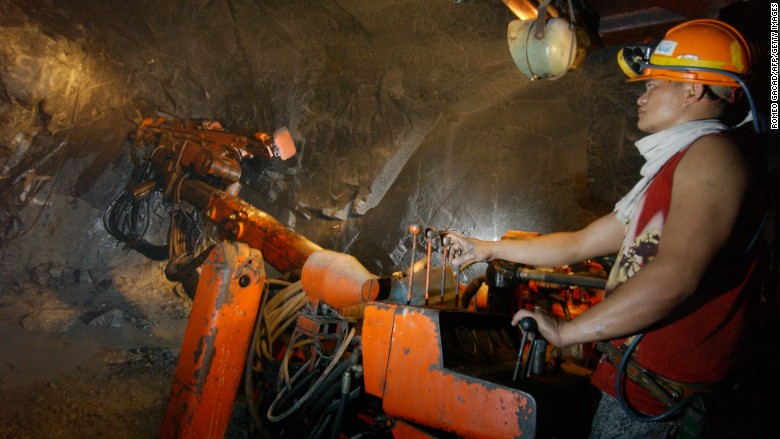 China's insatiable appetite for metals like copper is falling off a cliff. It's destroying prices of raw materials.
And killing U.S. jobs.
Copper -- a key indicator of global growth -- has been hit especially hard by China's slowdown. Prices have tumbled 40% since early 2013. There's now an oversupply of copper in the world, because the frenzied demand from China has fizzled.
Besides electronic products and cars, copper is widely used in wiring, plumbing and building construction -- key components in China's massive infrastructure development boom of the last decade. That building boom is now fading.
Miners are scrambling to react to the new environment. Several are aggressively scaling back mining activities, forcing them to cut U.S. jobs as well.
Related: Mining stocks are getting killed as copper, gold plunge
Copper giant cuts 10% of U.S. jobs
Freeport-McMoRan (FCX), the world's largest publicly traded copper miner, is slashing its mining employees and contractors by 10%. That translates to about 800 job cuts in Arizona and 200 in New Mexico, Freeport told CNNMoney. The company plans to suspend operations at a mine named Miami in Arizona and decrease output by 50% at its Tyron site in New Mexico.
It dramatically scaled back its 2016 capital spending plans by another 29% on Thursday. The move came after just earlier this summer the company said it was dialing back its spending targets on oil-and-gas projects due to the plunge in energy prices.
Carl Icahn takes stake
Wall Street loves Freeport's aggressive moves. Its shares spiked 23% on Thursday, their biggest gain since 2008. Part of Thursday's gains were also fueled by a big rebound in copper and oil prices.
Freeport rallied an additional 20% in after-hours trading after billionaire Carl Icahn revealed a stake in the company. The famed investor said he believes the stock is "undervalued" and suggested possible talks with management over a number of items, including cutting Freeport's "high-cost" production.
Despite the surge, Freeport shares have lost an incredible 75% of their value over the past year.
Related: Countries getting crushed by copper, gold plunge
American workers losing jobs
The layoffs offer a stark example of how trouble in China is already impacting everyday Americans.
In a statement, Freeport said it is responding aggressively to the recent plunge in commodity prices and "the current weakness in global economic conditions."
China is the biggest force behind both of those dynamics.
When China's economy was surging ahead, it needed a huge amount of raw materials like copper and iron ore to support the wave of construction.
In fact, China represents 40% of global copper demand, according to Garrett Nelson, a mining analyst at BB&T. That's more than the demand of the U.S, Europe and Japan -- combined.
Related: How the China trouble ripples across the world
Now there's a copper supply glut
Just like how the $100 oil price fueled a wave of new drilling, the China growth story triggered a gush of expansion by miners hoping to capitalize on the boom.
But now that China's growth has slowed drastically, the world has more industrial metal than it needs. China demand is down 3% so far this year, even as global production has increased 3%, according to the International Copper Study Group.
That's why copper prices are currently sitting at new six-year lows of $2.25 per pound, compared with nearly $4 in early 2013. Other metals like iron ore and nickel are also at lows.
Related: What's behind falling prices of copper, gold?
More mining job cuts likely
Prices may be depressed until the industrial metals supply glut is eased by production cuts. That means more job cuts like the one Freeport disclosed this week may be in the cards.
Several copper miners have higher production costs than Freeport, making them prime suspects for layoffs. According to a Southern Copper (SCCO) investor presentation, they include Antofagasta (ANFGF), BHP Billiton (BBL), Codelco, Vale (VALE), Glencore (GLCNF) and Anglo American (AAUKF).
BHP and Anglo have already announced layoffs, with the latter eliminating 53,000 jobs.
"The reality is there is going to be more pain ahead," said Nelson.