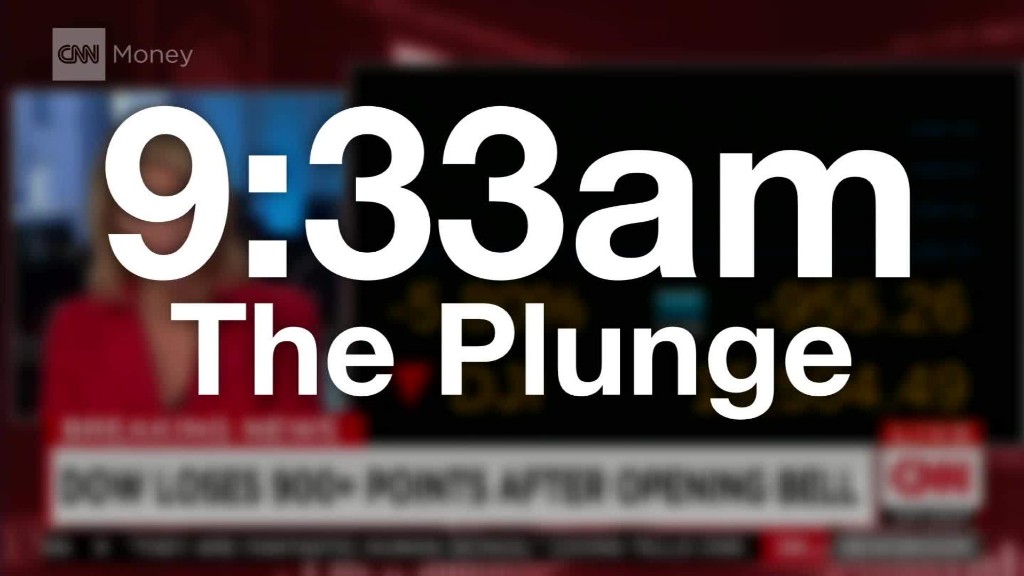 The wild ride for stocks may not be over yet.
The Dow fell 60 points at the open on Friday, capping off a week that experienced some of the biggest swings ever for U.S. stocks.
It all started with China. Investors are trying to figure out just how badly China's economy is doing -- and how much it will reverberate elsewhere.
China is the world's second-largest economy. Its explosive growth in the last two decades has been an engine of growth for the world, especially its enormous appetite for raw materials. But that story has been completely derailed by China's slowdown. The uncertainty has roiled China's stock market and now markets around the world.
Here are highlights of Wall Street's roller coaster ride this week.
Monday: Historic 1,000-point plunge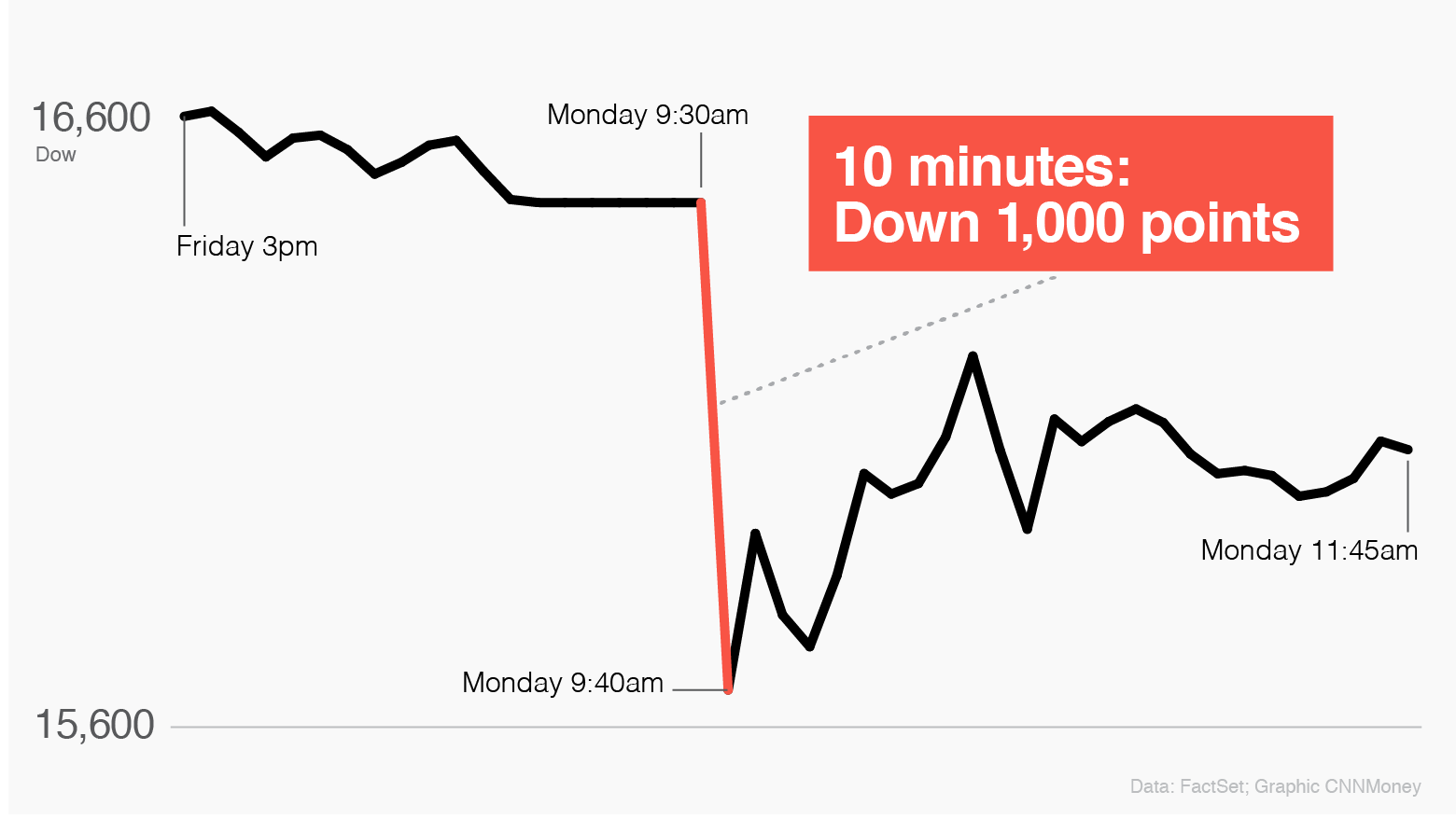 Within minutes after the opening bell, the Dow plummeted an unprecedented 1,089 points on Monday. It was the largest point loss ever during a trading day, surpassing the Flash Crash of 2010. The Dow closed down 588 points, its worst decline since August 2011.
Presidential candidates quickly waded in with tweets
Turnaround Tuesday's 442-point rally vaporizes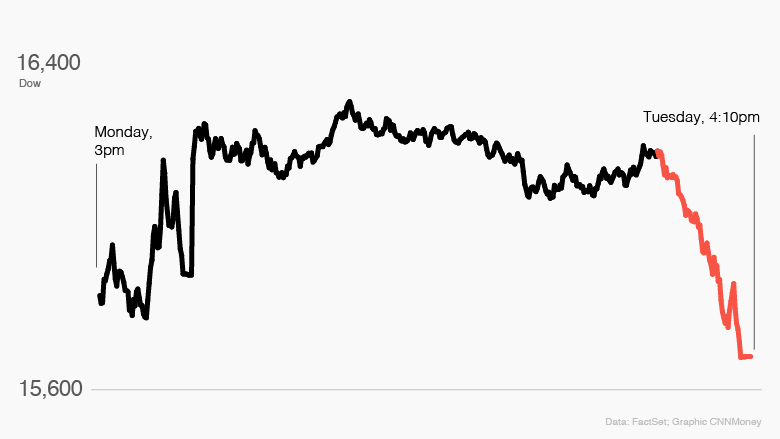 It was supposed to be Turnaround Tuesday and it started that way with the Dow surging 442 points. But after swinging wildly during the day, the Dow ended with a loss of 205 points, a sign of how anxious markets have become.
Wednesday: Third-biggest point surge ever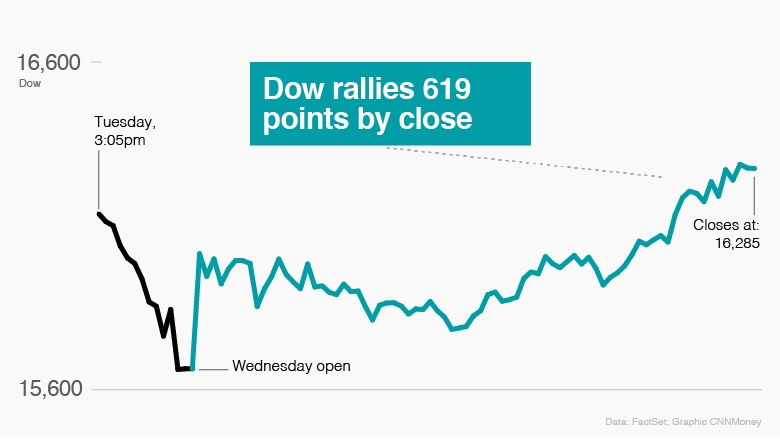 Greed did made a comeback on Wall Street Wednesday. The Dow raced 619 points higher, its most emphatic point gain since the 2008 financial crisis and the third largest in its history.
Volatility index spikes to 2009 levels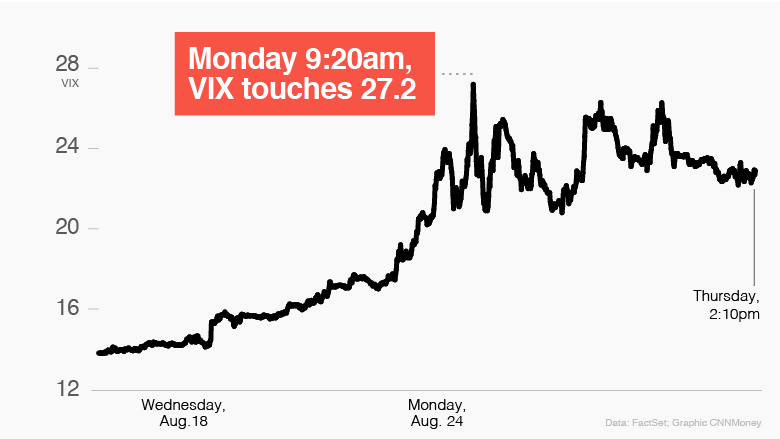 It was one the most volatile weeks since the financial crisis. The VIX -- the volatility index -- surged, signaling that more turbulence may lie ahead. CNNMoney's Fear & Greed Index continues to flash "extreme fear."
Netflix's stomach churning ride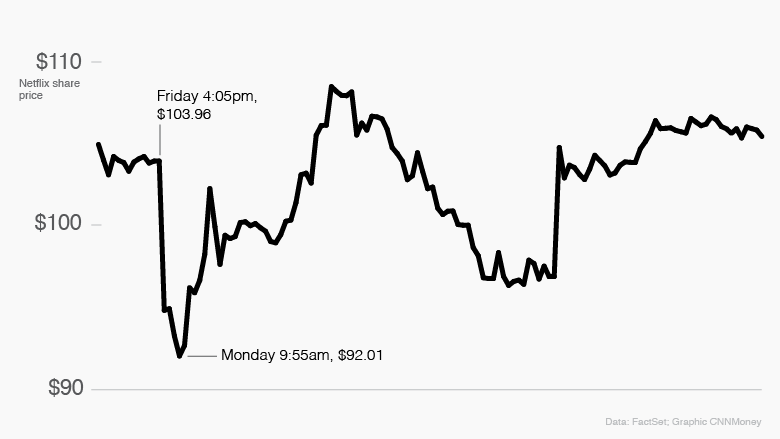 Netflix (NFLX) was one of the most heavily traded stocks during the turmoil this week. It dropped about 10% on Monday, then climbed about 13% on Tuesday, then fell 4% the next day, after which it has rallied about 13%. For all the jumping around, Netflix is still up 140% in 2015, a reminder that long-term investors shouldn't panic.
Thursday: Is the worst over? Rebound gains steam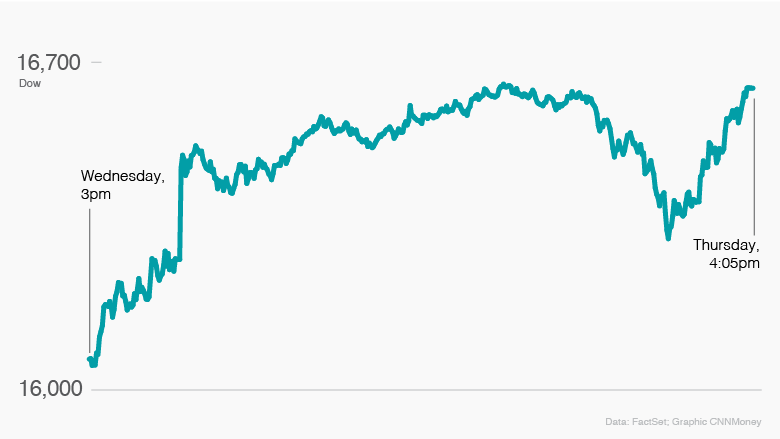 Thursday, stocks rebounded. But watch for more turmoil as new clues emerge about the state of China and also about how that affects an interest rate move in the United States.