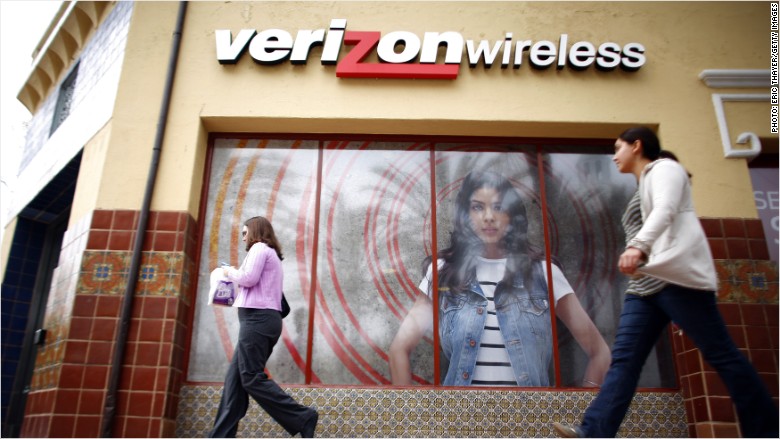 Verizon hasn't quite killed off two-year contracts just yet.
The nation's largest wireless carrier stopped offering two-year contracts to new customers earlier this month. But Verizon clarified last week that if you are currently under contract, you can renew your two-year deal with Verizon when you upgrade your phone.
You shouldn't do that.
Every single one of Verizon's new contract-free plans will save you money over the course of two years, when compared to Verizon's old two-year contract plans. At minimum, you'll save $3 a month by going contract-free. You can save up to $40 each month, depending on how much data you use.
Verizon's (VZ) new no-contract plans come in just four flavors: small (1 GB of data per month), medium (3 GB), large (6 GB) and extra-large (12 GB).
The new plans have no down payments or activation fees. You can either pay for the entire price of the phone up front, or you can pay the phone off every month over the course of two years.
"Our sole intention of this new pricing is to make things more simple for our customers -- so you know exactly what you're paying for and how you're saving," said Verizon's PR Director Chuck Hamby.
Verizon said that current customers can move to the new "Verizon Plan" offerings whenever they want to, even if they're currently under contract -- but they aren't allowed to switch back.
Customers currently under contract with Verizon will have to pay an additional $20 a month when switching to a new "Verizon Plan" deal until their term is up, so they can pay off the cost of their current phone. Once they're eligible for a new phone, Verizon will automatically drop the "per-line access charge" from $40 to $20.
By eliminating two-year smartphone contracts for new customers, Verizon is adding transparency to what was a pretty opaque process. Without knowing exactly how much you were paying for your phone, there was no way to know whether you were getting a good deal or getting bamboozled.
With Verizon's new plans, you'll know exactly what you're paying for. And you'll definitely be saving something -- potentially a lot.