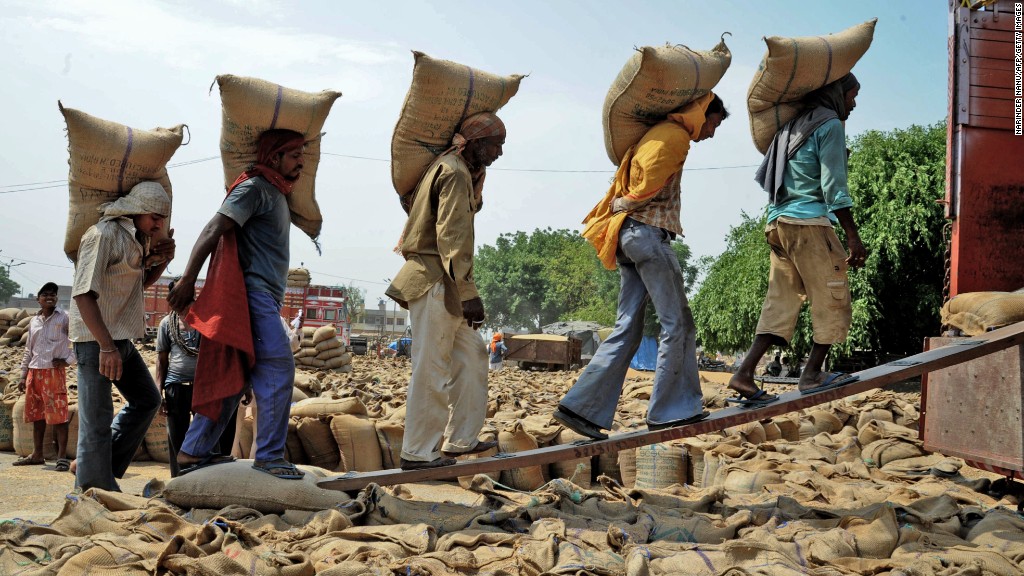 Even India is having trouble sustaining robust growth.
In the middle of a gloomy global landscape, economists were looking to India to provide a rare bright spot after it overtook China to become the world's fastest growing large economy earlier this year.
But those hopes were dashed Monday when official data showed GDP grew at an annual rate of 7% in the three months to June 30. That was down from 7.5% in the first quarter of the year, and weaker than analysts were expecting.
The BRICS group as a whole -- Brazil, Russia, India, China and South Africa -- and many other emerging markets are all suffering from weaker growth.
China's stock markets are crashing, and there are worries over slower growth in its economy. Brazil and Russia are already in recession, and South Africa's economy shrank by 1.3% in the most recent quarter.
The monsoon session of India's parliament, which concluded earlier this month, failed to produce major economic reforms, making it "one of the biggest disappointments" of Modi's tenure, according to Shilan Shah of Capital Economics.
A plan to modernize India's goods and services tax, which would help smooth trade and standardize costs, failed to gain enough support. Instead, the session was dominated by protests held by opposition parties.
"With attention soon likely to turn towards the flurry of state elections scheduled for mid-2016, a big opportunity to push through difficult reforms has been missed," Shah said.
The country's GDP statistics came under scrutiny this year, following major changes in how economic growth is calculated in Asia's third-largest economy.
In January, India's statisticians changed the base year used to calculate national accounts, and made adjustments to better reflect manufacturing activity.
Related: India-born CEOs are taking the U.S. by storm
Overnight, GDP growth in fiscal year 2014 was upgraded from 4.7% to 6.9%.
The dramatic revisions upended the prevailing narrative, which portrayed India's economy as one that was struggling to gain real traction, even if it was headed in the right direction following Modi's election in 2014.
Many of Modi's promised reforms have failed to materialize, and without the benefit of cheap oil imports, India's growth would likely be even weaker.