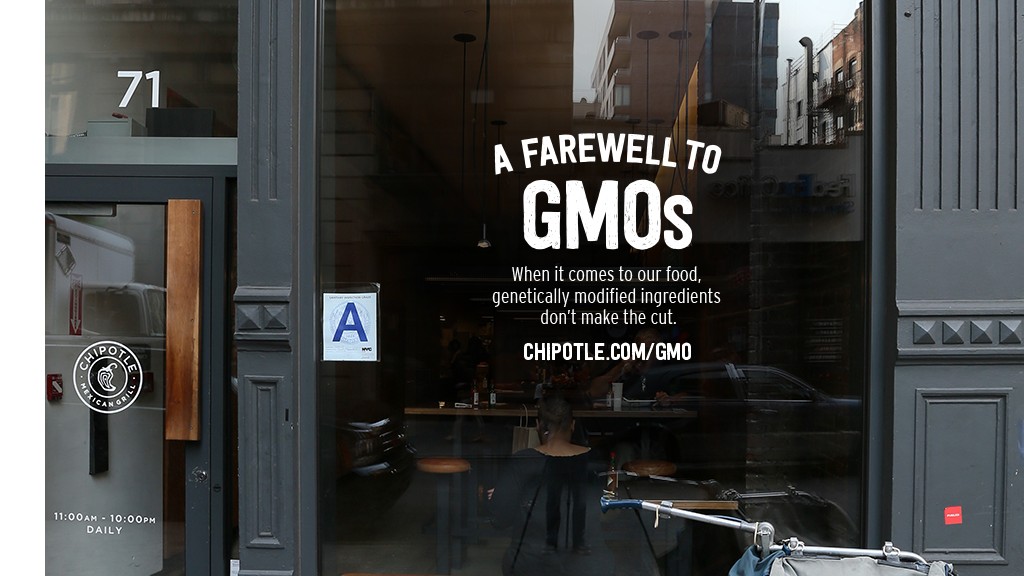 Chipotle makes a big deal about the quality of its products, but a lawsuit is calling some of those claims into question.
The company is facing a class action lawsuit alleging it misled customers about its use of genetically modified organisms, or GMOs. The complaint says Chipotle's menu was "never GMO-free," despite launching a big advertising campaign called G-M-OVER IT. The ads tout Chipotle's decision to drop GMO ingredients, which it announced in April.
In an exclusive video interview in April, Chipotle's CEO Steve Ells said going GMO-free had been years in the making and that the company had to wait for new crops to be planted.
While its tortillas, rice, chips, salsa and marinades are GMO-free, the company buys meat from suppliers who may raise animals on GMO feed -- a fact that CNNMoney included when reporting on the initiative four months ago. In addition to meat, the complaint says Chipotle's "sour cream and cheese ingredients come from dairy farms that feed animals with GMOs and that Chipotle sells soft drinks that are made with corn syrup -- a GMO."
Related: What the sugar industry doesn't want you to know
The lawsuit is "meritless" and "filled with inaccuracies" said Chipotle spokesman Chris Arnold in an email.
"We have always been clear that our soft drinks contained GMO ingredients, and that the animals from which our meat comes consume GMO feed," said Arnold. "But that does not mean that our meat is GMO, any more than people would be genetically modified if they eat GMO foods."
In the last year, fast food chains from Pizza Hut to Tyson (TSN) have all announced changes to their ingredients, including removing artificial colors and antibiotics. But industry experts and analysts often consider Chipotle the trailblazer for the movement to produce better food with greater transparency.
Chipotle (CMG) has gone to great lengths to support its "food with integrity" mantra. This year, it removed carnitas from the menu at some of its locations after firing a pork supplier that failed to meet its standards. It took the company about seven months to find a new farmer that met the requirements.