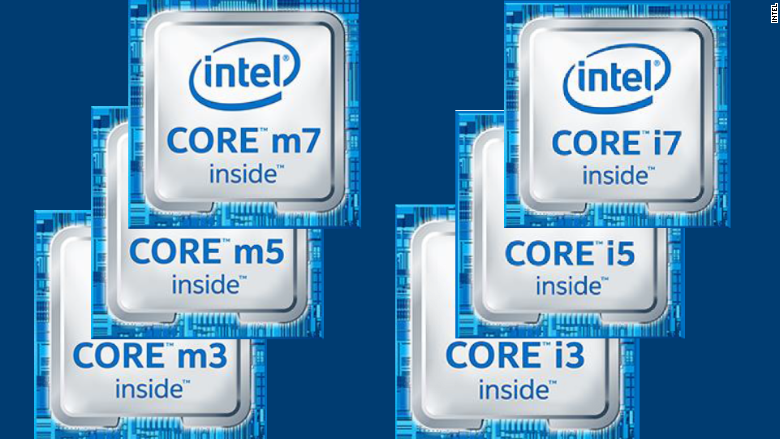 Kids are going back to school and Microsoft released a new version of Windows. That means it's officially laptop buying season.
Buying a new laptop is difficult. You have to choose between a dozen or so computer brands, each with its own multiple lines of laptops, each of which comes in various iterations and confusing specifications. (What's better: The HP Spectre x360 13-4100dx or the MacBook MK4M2LL/A?) It's enough to make your head hurt.
Now you've got yet another consideration: Intel (INTC) introduced a new lineup of Core processors on Wednesday, and you've got not one, not two, but six to choose from.
The new chips are Intel's sixth-generation Core processors. Intel claims that the new chips double the performance, triple the battery life and deliver improved graphics over the previous models. The smaller-sized chips will also let PC makers build their new computers to be thinner and lighter.
In addition to a new round of Core i3, Core i5 and Core i7 processors are three new members of the Core family: the Core m3, Core m5 and Core m7.
Intel announced the new chips at the international radio exhibition in Berlin, known as IFA. Like the Las Vegas Consumer Electronics Show in January, IFA showcases the latest and greatest gadgets from the tech industry.
So how do you decide?
Generally speaking, the "i" processors are faster and more expensive than the "m" processors, and the higher numbers are faster and more expensive than the smaller numbers. But determining how much much speed you really need can be tricky.
The best way to figure out which of Intel's six new processors to get is to consider what you plan using your new PC for. Do you want to use it for basic tasks, such as Web browsing, Facebook and Netflix? Do you want to do average tasks, such as using Office, business apps and iTunes? Or maybe you need your PC for advanced tasks, including video editing, gesture control or gaming?
Here's a quick guide:
1. Super-cheap tablet or a tiny PC + basic computing tasks = Core m3.
2. Moderately-priced tablet or tablet/laptop hybrid for average + average tasks = Core m5.
3. Higher-end tablet/laptop hybrid + average tasks = Core m7.
4. Inexpensive laptop or mini PC + average tasks = Core i3.
5. Moderately-priced PC + advanced tasks = Look for a Core i5.
6. High-end, full-powered laptop + seriously advanced computing tasks = Core i7.
Keep in mind that the speed of your processor isn't the only factor that determines how well your PC functions. For instance, more RAM allows you to run more tasks simultaneously, and a solid-state flash drive instead of a mechanical hard drive will allow your PC to boot faster.
But tailoring the processor for your computing needs is generally a good way to ensure that you're getting the right PC.
Intel hopes the new sixth-generation Core chips help to jumpstart the PC market, which has been in a slump. Intel unveiled its fifth-generation chips in January, but PC customers have largely been sitting on their hands, holding out for Microsoft to release Windows 10 (which debuted in late July).
As a result, Intel said over 1 billion PCs in use today are more than three years old, and the PC market is due for a rebound, as customers with older computers look to buy newer models.
The new processors will be available on Macs and PCs, but Intel said they have been designed with Windows 10 in mind. They're optimized for new Windows features, including Microsoft's Cortana voice assistant, the Windows Hello smart-login feature and other Windows-specific features.