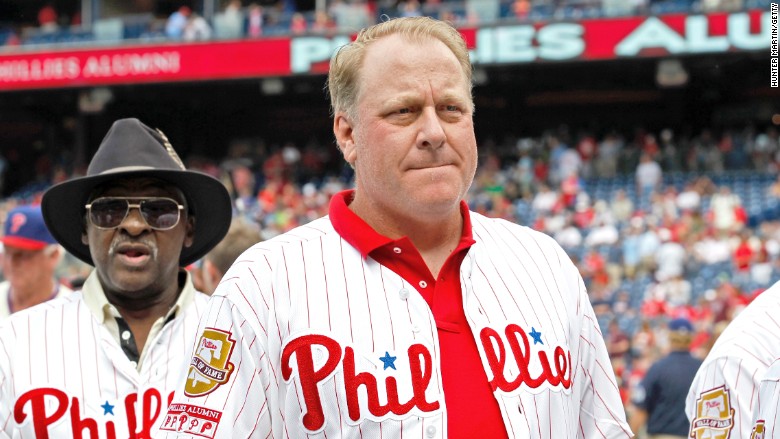 Curt Schilling's suspension from helping ESPN broadcast the Little League World Series was extended Thursday to include the big leagues.
"He will not appear on ESPN through the remainder of the regular season and our Wild Card playoff game," ESPN said in a statement.
Schilling was initially sidelined on Aug. 25 for re-posting a meme on Twitter (TWTR) that reads: "It's said only 5-10% of Muslims are extremists. In 1940, only 7% of Germans were Nazis. How'd that go?" on a red-tinted photo of Adolf Hitler. The post also appeared on his Facebook (FB) page.
ESPN said the initial suspension was "pending further review."
The sports network broadened the punishment on Thursday to include Major League Baseball games through the remainder of the 2015 season. ESPN's statement did not say why it extended the suspension, but a report on ESPN.com Thursday mentioned angry emails that surfaced this week between Schilling and bloggers at Awful Announcing.
In those emails Schilling defended his character and lashed out at the Awful Announcing site, claiming they distorted what he said.
"At all times during the course of their engagement with us, our commentators are directly linked to ESPN and are the face of our brand," ESPN said in a statement.
"Curt's actions have not been consistent with his contractual obligations nor have they been professionally handled; they have obviously not reflected well on the company," the network added.
After his initial suspension from ESPN, Schilling tweeted an apology. "I understand and accept my suspension. 100% my fault. Bad choices have bad consequences and this was a bad decision in every way on my part," he wrote.
Schilling has not issued a public comment since ESPN's announcement.