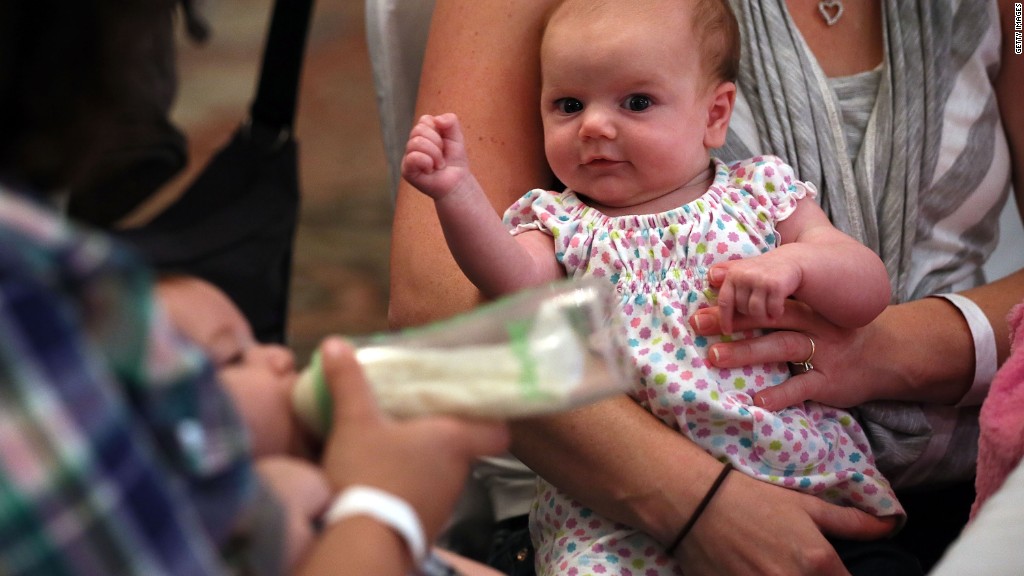 It's not just high-paying tech companies and consulting firms giving more paid time off to new parents.
New moms working at Hilton will soon be able to take more than two months off at full pay -- even if they work in the hotels and get paid by the hour.
The new policy extends to hourly and salaried workers in any position, including those in corporate, housekeeping and concierge roles.
The hotel chain upped its parental benefits on Friday to give all workers who have been at the hotel for at least one year -- even those who work part time -- paid time off after the birth or adoption of a child.
Starting next year, new birth moms will get 10 weeks off paid leave, and fathers and adoptive parents can take two weeks at full salary. There was no formal paid leave policy for new parents working at the company in the U.S. prior to the announcement.
Related: These companies have awesome benefits for parents
"The No. 1 thing we hear from team members across the world is the desire for flexibility," said Matt Schuyler, chief human resources officer of Hilton Worldwide (HLT).
The new policy runs concurrently with the Family and Medical Leave Act (FMLA), which mandates certain workers get 12 weeks of unpaid leave and job protection after the birth of a child. New mothers at Hilton would be able to take two additional weeks at no pay following the 10 paid weeks.
Hilton Worldwide (HLT) said the new benefits will cover around 40,000 workers in the U.S.
The U.S. is the only developed nation that doesn't mandate paid maternity leave, according to the White House.
Several companies have announced enhanced parental benefits recently. Netflix made headlines in August with its plan that allows new parents to take as much time off as needed during their child's first year at full pay. And last week, consulting firm Accenture beefed up its policy to allow parents to work local and avoid travel during a child's first year.
Paid time off is most commonly offered to full time or salaried workers. A 2014 White House report showed the leisure and hospitality industry paid an average hourly wage of $14 and less than a quarter of workers had access to any form of paid leave.