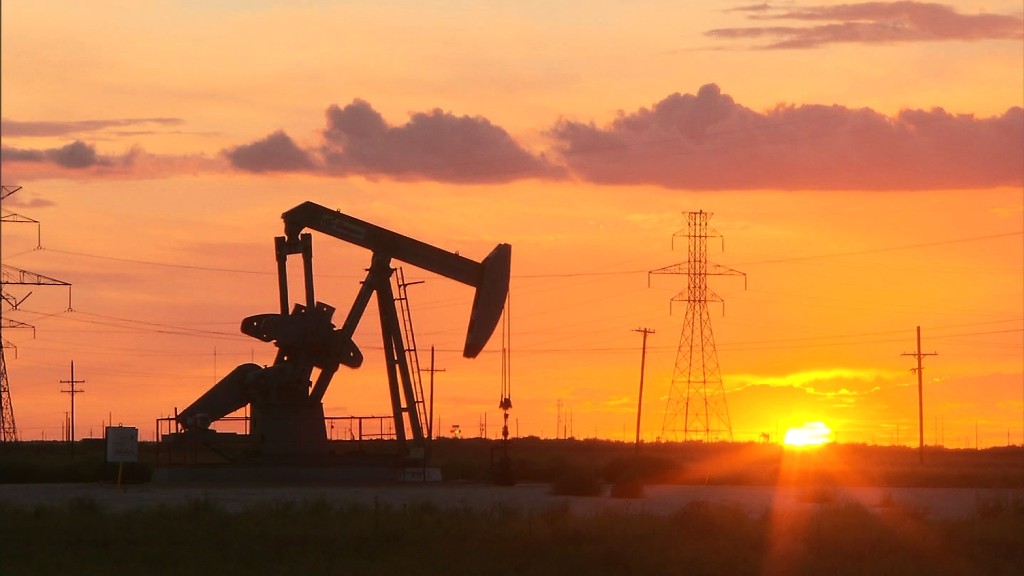 America could soon be exporting a lot of oil.
Momentum is building fast on lifting the ban on U.S. oil exports. Some believe the ban may not even live to see its 40th birthday this December.
A powerful combination of forces, starting with the massive United States shale oil boom, cheap gas prices and the Iranian nuclear deal is propelling this move much quicker than anybody expected.
A historic agreement with Iran could soon pave the way for Iranian oil to flood the global markets.
Proponents of lifting the ban wonder: If Iran can export lots more oil, why can't the U.S.?
"The political calculus has been changed by this Iran deal," said Joe McMonigle, who was chief of staff at the Energy Department in the George W. Bush administration.
Support is building to kill the ban
The effort is picking up a lot of political support in both Houses of Congress.
A House subcommittee has scheduled a vote for Thursday on a bill that would eliminate the oil export ban. The vote would clear the way for it to move forward. The bill was introduced by Rep. Joe Barton, R-Texas, and has 13 Democratic co-sponsors.
"It's a no-brainer. It pressures the Russians. It pressures the Saudis. It doesn't raise gasoline prices. It puts people back to work," Barton told CNNMoney.
Barton said he hopes to give the American people a "Christmas present" by getting a bill on President Obama's desk before the end of the year.
The campaign has already received key backing from House Speaker John Boehner and Rep. Fred Upton, chair of the House energy and commerce committee. Even Senate Democratic Leader Harry Reid told Politico last month there is room for a "compromise" on the issue.
McMonigle, who is now senior energy analyst at Potomac Research Group, believes there is a greater than 75% chance the ban gets removed as early as this fall.
Related: How cheap oil will hurt Iran's comeback
Cheap oil provides political cover
In the past Congress didn't act on this issue at least in part because of fears of incurring the wrath of voters about a sensitive issue like gas prices.
But the American shale oil boom created a supply glut that has sent prices of oil plunging. Labor Day gas prices tumbled to their lowest level since 2004, averaging just $2.40 a gallon, according to AAA.
But would removing the ban send prices spiking back up? Experts argue that's not likely to happen, either.
The Energy Information Administration published a closely-watched report last week that argued unrestricted exports of U.S. crude oil would either leave U.S. gas prices unchanged or even slightly reduce them.
Related: The return of cheap gas
Reasons for ban outdated now
The U.S. passed the ban in 1975 on most -- though not all -- exports of crude oil on the heels of an OPEC oil embargo. That embargo sent oil prices skyrocketing and took a huge toll on the U.S. economy, which had grown dependent on foreign oil.
The ban was put in place to prevent such disruptions in the future and protect domestic resources.
But it's a very different world now. Thanks to the shale oil revolution, the U.S. has become the world's top producer of crude oil and natural gas, surpassing even Saudi Arabia.
Oil jobs at the rigs may be saved
Removing the ban could actually help save some oil jobs, since the producers can then tap into demand from overseas refiners.
The U.S. oil industry is reeling from the crash in prices, with more than 86,000 job cuts since June 2014, according to outplacement firm Challenger, Gray & Christmas. Companies like ConocoPhillips (COP), Schlumberger (SLB) and Baker Hughes (BHI) have all slashed thousands of jobs.
Oil drillers are in favor of lifting the ban.
"We're not asking for a handout or Congress to give us billions like they did for the auto and banking industry. Help us help ourselves," said Jodie McDonald, who works as an office administrator at The Mud Guys, a Bakersfield, Calif. drilling consultancy.
"Our business is at a screeching halt. We are hurting," said McDonald, who created Standing Oilstrong, a grassroots effort to bring attention to the economic benefits of getting rid of the ban.
Tom Kloza, chief oil analyst at the Oil Price Information Service, is skeptical that ending the ban would have a "dramatic impact" on gasoline prices or drilling activity. He argued higher oil prices would do a lot more in the short to medium term to improve conditions in the oil patch.
Related: Oil crash cut my pay and killed over 86,000 jobs
U.S. refiners would get hit hard
While oil companies are in favor of lifting the ban, the powerful American refinery industry would get slammed because it would lose its exclusive access to cheap U.S. crude oil.
If the ban is lifted, the EIA estimates refiners' profits could shrink by more than $22 billion a year by 2025 and would lead to job cuts.
"Refiners would scream bloody murder," said Kloza.
Related: ConocoPhillips cuts thousands of jobs
Would Obama support ending the ban?
If Congress approves a bill to end the ban on exports, Obama may be pressured by his base to veto it. Environmentalists fear a surge in U.S. oil exports would spark accidents and more oil spills.
But the White House hasn't signaled it would veto a bill and McMonigle doesn't believe Obama will be swayed by that argument -- unlike with the stalled Keystone XL Pipeline project.
"The Iran deal will put Obama in a corner here. There's no way he could veto a bill that lifts the crude oil export ban," said McMonigle.