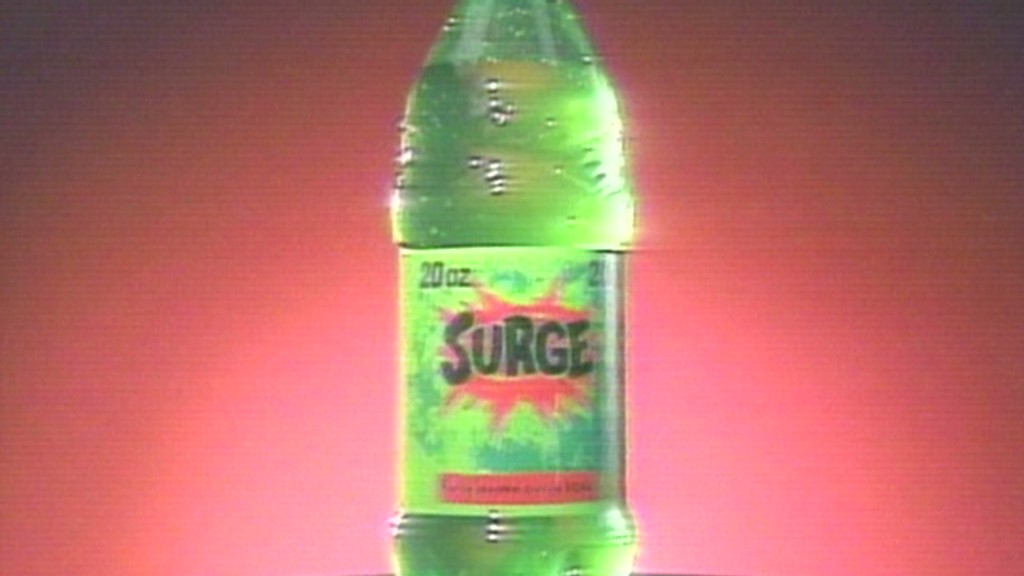 Surge soda has returned to some store shelves, a year after Coke brought back the 1990s drink through Internet sales.
There is still a loyal base of hard-core fans for the citrus-flavored soda with a kick.
When Coke brought it back via Amazon (AMZN) in 2014, fans bought out supply available on the first day, despite a price of $14 for a 12-pack of 16-oz cans.
A Surge Web site currently shows it for sale in the Midwest, South, upper Great Plains states, as well as some eastern states. There's also a map of independent resellers nationwide, though mostly collectors' stores rather than grocers.
Coca-Cola (KO) did not respond to requests for comment.
Surge had its heyday in the 1990's, but Coke discontinued it at the start of this century.
Fans of the soda started The Surge Movement, seeking to convince Coke to bring it back. It's page on Facebook has attracted more than 200,000 "likes." In 2013, the group raised $4,000 to a buy a billboard near Coca-Cola's Atlanta headquarters that read: "Dear Coke, we couldn't buy Surge, so we bought this billboard instead."