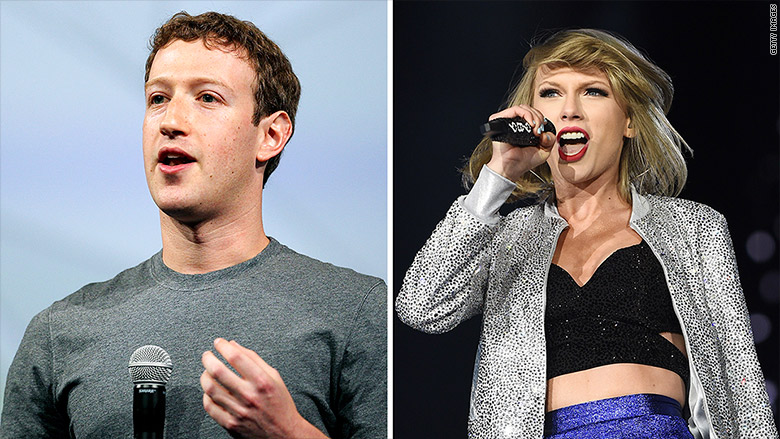 Need evidence of the tech industry's vast influence? Look no further than Vanity Fair's latest New Establishment list.
The magazine's cover features 31-year-old Mark Zuckerberg: The Facebook (FB) founder snagged the top spot on Vanity Fair's 21st annual ranking of the most powerful people in business and media.
The list is broken up into two categories: "Disrupters," which ranks 50 people who are shaping the way we interact, work, play and consume, and the "Powers That Be," which includes 25 visionaries in business and entertainment who have used their influence to impact cultural change
This year, tech founders and funders monopolize the 75 slots. It's further evidence of tech's impact, according to Vanity Fair writer Andrew Ross Sorkin. The economy, he writes, is increasingly centered on "information, technology and entertainment in one form or another."
On the Disrupters list, "you are likely to find people who were in grade school when the New Establishment began publication," Sorkin wrote. "A few were in their cribs."
The Powers That Be list, on the other hand, includes "many of whom earned their renown after decades of hard work and striving," Sorkin wrote.
But it's 25-year-old Taylor Swift -- who made headlines this summer for prompting policy change at Apple -- who leads that ranking.
Zuckerberg is the youngest person to ever top the New Establishment list.
"The $240 billion company he scratched out of his dorm room at Harvard is apparently just his first step toward world domination in the realm of social networking," wrote Vanity Fair editor Graydon Carter.
Zuckerberg -- who was number five last year -- made major strides this year demonstrating Facebook's potential outside the social networking space. That includes partnering with major news organizations like The New York Times and exploring virtual reality integration in users' newsfeed.
Newbies to the list include CEOs of tech "unicorns" -- privately-held companies valued at $1 billion or more -- like Slack's Stewart Butterfield and Theranos' Elizabeth Holmes. It also includes venture capitalists like Y Combinator CEO Sam Altman and Lowercase Capital's Chris Sacca.
There are a few controversial CEOs on the list as well, including Jeff Bezos, who came under fire last month for Amazon's work culture, and Jessica Alba, whose Honest Company was sued this month for allegedly mislabeling products.
The list -- which is crunched and crafted by Vanity Fair reporters -- is dominated by men, and includes just 17 women.
That includes CNNMoney's Upstart30 list's Meredith Perry, comedian Amy Schumer, as well as Kim Kardashian and Beyonce (who both shared their rankings with their male counterparts, Kanye and Jay Z).
Top 10 "Disrupters"
1. Mark Zuckerberg (Facebook)
2. Travis Kalanick (Uber)
3. Jeff Bezos (Amazon (AMZN))
4. Tim Cook and Jonathan Ive (Apple (AAPL))
5. Sergey Brin and Larry Page (Alphabet/Google (GOOG))
6. Elon Musk (Tesla Motors, SpaceX)
7. Ted Sarandos and Reed Hastings (Netflix (NFLX))
8. Brian Chesky (Airbnb)
9. Sheryl Sandberg (Facebook)
10. Elizabeth Holmes (Theranos)
Top 5 "Powers That Be"
1. Taylor Swift (singer/songwriter)
2. Bob Iger (The Walt Disney Company (DIS))
3. James, Rupert and Lachlan Murdoch (21st Century Fox, News Corp (NWS))
4. Brian Roberts, Steve Burke (Comcast (CCV))
5. Richard Plepler (HBO)