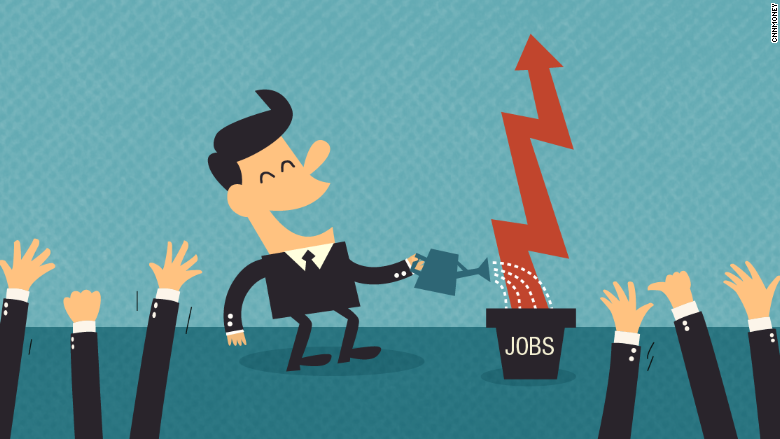 America has a record number of job openings.
There were 5.8 million job openings in the United States in July, according to the Labor Department. That's much more than the previous high -- 5.4 million -- from last May, and the highest figure since the government began counting job openings in 2000.
The spike in job openings represents a mix of good and bad news.
On the upside, employers are hiring more and the U.S. economy is growing -- a healthy sign as concerns rise about the global economy potentially weighing down U.S. economic growth. In some respects, a large number of job openings indicate that America's job market is improving, economists say.
However, job openings also mean some employers can't find the right people to hire. Too many job openings represent a problem: The job skills gap in America, experts say.
Related: America's persistent problem: job skills gap
For years, experts have warned that Americans don't have the skills required for new job fields, especially in engineering, technical and science-related jobs.
"It's definitely a concern, and it should be a concern for anyone who cares about the future of U.S. workers," says Chris Tilly, an economics professor at U.C.L.A.
The issue is even getting attention from the White House. The Obama administration announced a $100 million initiative last December to improve the number of apprenticeship programs in the U.S.
On the other side, some argue that employers are raising the bar too high on job qualifications and don't want to take the time to train new workers.
Consider this: 65% of job postings for executive secretaries or administrative assistants require a college degree. But among current executive secretaries, only 19% have college degrees, according to Joseph Fuller, a Harvard Business School professor.
Related: America has the most job openings in 15 years
"Employers want ready-now people," says Fuller. "As you get to the type of labor market where we're in now, that's not going to be available in a lot of these jobs."
Despite employers' sometimes high demands, experts agree: At the core of the job skills problem is a lack of technical skills. Some Americans choose to go to a 4-year college when they might be better suited for a career as an electrician or plumber, experts say.
It's these 'middle skills' jobs -- ones that don't require a college degree but do require more than a high school diploma -- that aren't being filled, Fuller says.
"I can't solve the problems that my plumber and my electrician can solve," says Tilly. In those jobs: "You can make a fair amount of money."